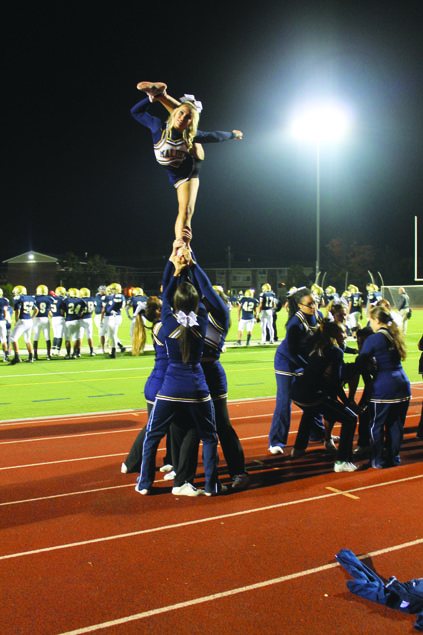 The Malden High School cheerleading team has been doing a great job cheering alongside the Golden Tornadoes this fall season. Led by senior captains Olivia Verdone, Rebecca McCabe, and junior candidate Santina Solis, along with coach Diane Buonopane the girls are ending the season on a strong note.
Throughout the season, the team was able to maintain all 40 girls that they started with. Buonopane stated how "the girls are still motivated and looking forward to the end of the season events that occur." Such events including the Greater Boston League championship competition that will be held on Nov. 9, 2014, the pep rally, and the annual Malden vs. Medford Thanksgiving football game, where they'll be on the sidelines cheering the football team on.
The first competition that the girls participated in was on Nov. 1, 2014, in Dracut, MA. Even though the competition were tough, with some of the top teams in the state participating, and did not place, Buonopane explained how the "team definitely made their mark." With a mix of new and old faces on the team, "the competition allowed [the girls] to what range [they] would be scoring in" explained Verdone. Solis also commented how "[the team] did a whole lot better than [they] expected to."
Due to the fact that cheerleading is a team sport and requires dedication from everyone, the girls look beyond themselves as just a team, and more of a family. Solis explained how "being able to compete with this team  makes it all the more fun, because they aren't just teammates to me, they're sisters." In addition to bonding off the field, other highlights include the football games, according to Verdone. She stated how "[they] would not choose to spend our Friday nights anywhere else."
As the season comes to a close, the girls are still looking forward and anticipating the pep rally and other upcoming events, where they'll be able to show the school what they're made of.
And in addition to the girls success, they have also won the GBL title at the championship on Nov. 9, 2014.