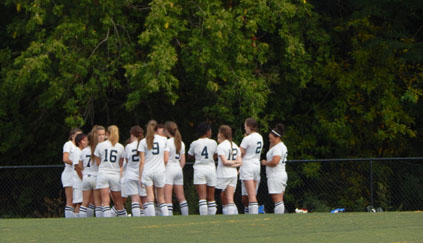 Officially, the end of the girls soccer season has come, and the games pause until next season. While the team may have had a rough start to the year, the season still came with some amazing wins, often winning by more than five goals over the opposing team. Senior captain Samantha Drapinski states that the girls "are still a team," despite the end of the season. Along with Drapinski, senior captain Betty Yascavilca and junior captains Alexandra Lombardi and Sabrina Barreto led the team this year.
Many girls of the team seemed to have one thing to say about their performance throughout the season: it improved tremendously. The team "played to their highest standards," as said by Barreto.
The girls had a chemistry with each other that no one seemed to be able to come between, especially given that the girls had been playing together for years, for most of them, even when they were young they played together in the Malden Youth Soccer program. As a team, they expected as a whole to work together, to communicate, and to compete heavily against their opponents. Yascavilca believes that during their season they "worked for that expectation" as much as possible.
Hopeful thoughts in mind, the girls pulled a great success on Oct. 15, 2014 over Everett with a final score of 6-0. The goals scored made huge potential for the team in the Greater Boston League ranks. What had made the team successful was the formation change set up by the coach,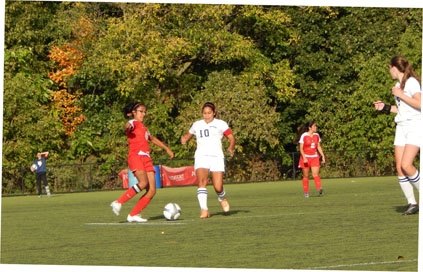 Rick Caceda, pointed out by Drapinski.
In the game against Somerville on Oct. 20, 2014, the girls had another win of 6-0. All of the goals scored were made by sophomore Felicia Lombardi, who has been named the leading score in the GBL for girls soccer. Another impressive aspect of this game was the shutout by Malden's goalie, junior candidate Carly Amos, and the efforts from the defensive line, consisting of: Barreto, junior and Blue and Gold member Lucia Quesada Nylen, and sophomores Brynn Kankel and Desiree Delgado.
For the title, the girls needed to score over Medford in order to get the co-championship. Alas, the girls did not win the game, but just the chance of getting the championship was an accomplishment to the team.
As the senior players return their jerseys for the last time, they leave the rest of the time with positive attitudes towards next season. Barreto says that the girls have had "much improvement over the years" and, due to the depth in talent the team has among their underclassmen, are only going to continue improving in the upcoming seasons.