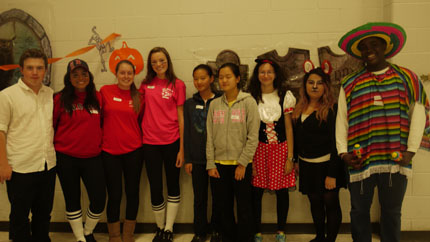 Dressed as witches, ghosts and ghouls, members and volunteers of the Eastern Middlesex ARC (EMARC) attended the annual Halloween Dance organized by EMARC at WS Parker Middle School in Reading, Massachusetts on Oct. 25, 2014. EMARC is an organization that works with people with developmental disabilities and helps to involve them in their communities. The organization also works with members of local high schools including the Helping Hands club at Malden High School.
Upon arrival at the dance, EMARC members entered through cobwebs and streamers to what would usually be a cafeteria but what was transformed into a dance floor for the evening. The walls and windows were decorated with skeletons, webs, and other Halloween inspired decorations. Volunteers from Malden High School's Helping Hands club, Reading Memorial High School and North Reading High School arrived before EMARC members to set up for the dance.
A disc jockey provided the music for the night, playing songs from 7:00 to 10:00 pm. Becky Siok, Assistant Director of Recreation at EMARC, expressed that the dances are a "great opportunity for Emarc teens to practice their social skills with peers, get some exercise and be a part of their community." Volunteers and members danced together and made sure that everyone was included in the festivities. "[The dances] bring out the similarities in people, not the differences," mentioned Siok. Helping Hands club member Kevin Irungu commented that "the best part [of the dance] was seeing the creativity of the members that created really great costumes."
Siok also informed that the "dances were started about 10 years ago by a mother of a teen who has special needs [who] wanted her son to be able to have the same social experience that teens have when they go to proms or other social functions [while also] making sure that there was enough support available to help the teens with special needs with their social skills." Through the dances Siok hopes that  "all teens gain more confidence in their social situations." Irungu added, "[He] enjoyed dancing with all the members and volunteers from the other schools."
The annual costume dance is one of the many events hosted by EMARC. Other dances held during the year include the Winter Ball in January, Spring Fling in May, and the Summer Sizzler in July. At the YMCA in Malden, adapted swim programs are offered to members by the organization as well. Helping Hands members volunteer to help EMARC members with their aquatic skills in the aquatic program because drowning is a leading cause of death for people with autism. Each year EMARC sends between 14 and 17 teams to the Special Olympics that is held in the spring.
EMARC helps people with and without disabilities to gain a greater sense of confidence through the programs they hold.