To view the entire volleyball photo gallery click here. 
After testing positive for meldonium, tennis sensation Maria Sharapova has been suspended from playing until the case has been reviewed. Following her suspension, her major sponsors, including Nike, Porsche, TAG Heuer, and Continue Reading
The Catholic church outlaws contraception as it believes that forms of birth control are associated with promiscuity and adultery. But with the rise of Zika virus,a mosquito-borne virus which is most prominent in Latin Continue Reading
Come 2018, General Electric Co. will be fully established at its new home in the Seaport District of Boston. Originally located in Fairfield, Connecticut since 1974, GE decided to make Continue Reading
In this new year many of us have set resolutions whether it may be to eat healthier, help others, or be more academically focused. But how many of us actually Continue Reading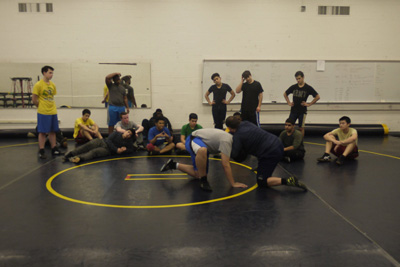 Posted by The Blue & Gold on Tuesday, December 22, 2015 Wrestling Into the Season To read the season opener to wrestling click here. 
The holidays always seem to creep up on us, leaving many scrambling to find last minute gifts, myself included. I usually opt for online shopping as stores are often hectic Continue Reading
As the college admissions season continues to linger on, schools may have to rethink their process for admitting students as the affirmative action program has been called into question yet Continue Reading
On the morning of Wednesday Dec. 2, 2015, two gunmen open fired on the Inland Regional Center in San Bernardino, California at a holiday staff party. Since the Sandy Hook shooting Continue Reading
When I think of Thanksgiving, ideas of family, food, and memories come to mind. But this holiday is often overshadowed by the biggest shopping day of the year; Black Friday. People become Continue Reading