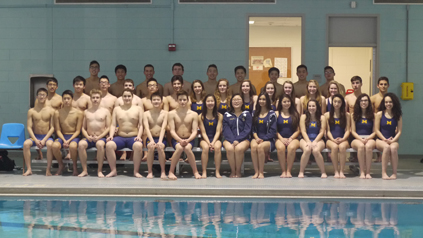 After a season of vigorous training and strenuous efforts, the Malden High School swim team continues to hold the title of Greater Boston League champions from last season. Ending the season with 6-0 score, the team is led by Paul Devincentis and MHS math teacher Jessica Bisson, along with the help of senior captains Tristar To, Kelvin Nguyen, and Sammantha Dorazio.
"This swim season has been one of the craziest, if not, the craziest season [we have] had," Kelvin Nguyen said. "We had the shortest winter season in history," he states regarding the subject of the abundance of snow days. "We had to cram in a lot of meets and cancel multiple meets, lowering the chances of qualifying for states and sectionals."
Apart from that, Nguyen is satisfied with the turnout of this season. "I truly believe that this team did the best we could with the little we had to work with resulting in multiple old high school records broken and the biggest states and sectionals team in a while," he says.
The newer additions to the team have proven themselves worthy throughout the season, as spotted by several older members. "For the newcomers, [they have] really improved. Being a returning swimmer, it's fantastic to see the swimmers get faster and bonds growing stronger," sophomore Vivian Nguyen says, regarding the improvement both the of skill and character of the group, "the diversity of our team and of the school sets us apart from others. You meet people from every background on this swim team."
"A lot of people come from club teams and YMCA teams [previously]," freshman Dylan Ha says, adding upon  the diverse makeup of the team. Ha, who swam on the YMCA swim team during his middle school years, was fortunate to join a team just as vivacious as his last. "Everyone gets along with each other and works to improve each other," he added.
What separates this team from others is their incomparable bond. "At the beginning of the season, [it is] not that we were bad, but as a team, we [were not] really a well-oiled machine. Throughout the season, everyone got closer and we did better as a team," junior Stephen LaFauci says on the group's alliances. "Everyone is just so friendly and nice and even when [we are] not practicing or at a meet, I can rely on them to hang out with me after school or something. [We are] just one big family."
"I think we could improve on incorporating newer members into daily activities. I know some freshmen [are not] really outgoing and open to making new friends. I feel like if we could have the whole team do team bonding with some of the new members," LaFauci added. "Try your best, [do not] give up and keep going. Even though some practices might get hard, if you could push and give a hundred percent, [you will] definitely get better."
Their last meet was against Medford was on February 5th at Medford High, where the team claimed their title as GBL Champs. "I feel like we have gotten, well, faster, of course, and a lot more cooperative," freshman Nathan Wong states regarding the improvement of the team. "Our coaches and captains really helped us become better physically and mentally. They teach and encourage us to be better swimmers and also better people."
"What lasts longer? The pain or the regret?" Captain Nguyen says. "What I mean by this is the pain that you endure at practice is only a temporary pain that we all go through but the end result and the pride in potentially winning sticks with you for a longer time. But, if [you are] not willing to put in the pain and you fall short of your goal, the regret that stays with you lasts the longest."
"You have to learn how to push yourself beyond your capabilities because half the time, [you are] fighting for your breath," Vivian Nguyen advises to newer athletes.
At sectionals, the girls team got seventh place, with juniors Samantha Forestier, Alexandra Lombardi, Vivian Nguyen, and sophomore Felicia Lombardi. The boys team finished in third place with Captain Nguyen, freshman Pete Jinapin, junior Ryan Luu, and To.
At States, the girls swim team came in at eighth place, with Forestier,  Alexandra Lombardi, Vivian Nguyen, and Felicia Lombardi. At the 200 yard Individual Medley, Alexandra Lombardi placed fourteenth. In the 50 yard freestyle, Vivian Nguyen and Felicia Lombardi came in at fourth and ninth place respectively. In the 100 yard butterfly, Vivian Nguyen got fourth place, while Felicia Lombardi got seventh place at the 100 yard freestyle. In the 200 yard freestyle relay, Malden came in with a triumphant third place, consisting of  Vivian Nguyen, Forestier, Alexandra Lombardi, and Felicia Lombardi. In the 100 yard breaststroke event, Alexandra Lombardi finished in thirteenth place and sophomore Cleverina Cong in thirty-fourth place.
As for the boys team, the group came in at fourth place, with Captain Nguyen, Jinapin, Ryan Luu, and To. At the 200 yard event, Captain Nguyen got twenty-fifth place. In 50 yard freestyle, Luu placed seventh and To got eighteenth place. In the 100 yard butterfly, Luu got placed fifth, sophomore Kevin Luu got twenty-ninth place and Jinapin got thirty-fourth place. In the 100 yard freestyle, To got nineteenth place. In the 200 yard freestyle relay, the team came in at seventh place, with Captain Nguyen, Kevin Luu, To, and Ryan Luu. In the 100 yard backstroke event, Captain Nguyen got sixteenth place. In the 100 yard breaststroke event, Jinapin placed fourteenth and Dylan Ha got twenty-fifth place.
As the season comes to a triumphant conclusion, the team hopes to be as successful next season as they were this year.