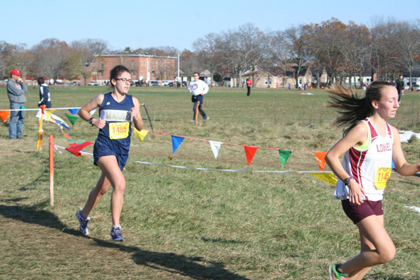 Every year as April rolls around, runners from all over the world come together to participate in the Boston Marathon. This year, one of these runners happens to be a former Malden High School student and Blue and Gold member: Lauren Benoit.
Benoit was also a runner during her time at MHS, and was on the track & cross country team. She explained that she was always a mid-distance runner, so "marathon training is a completely different animal." She has been training since December and logging in extra miles than usual to increase her milage since she is already experienced in running.
Even though Benoit describes running as something she loves to do, she expressed that she "wanted to focus more on [her] academics. [She] knew that college running would require a lot more time." She did participate in club running, which kept her in the realm of competitive running during her time at college.
This year will be Benoit's first marathon, but she believes that it is certainly not her last. She is also looking into running in the Disney Marathon, and another marathon in California. Benoit explains that "[she] really [enjoys] traveling, and [she thinks] this would be a great way to travel around, while doing something that [she loves]."
Not only is Benoit running her first Boston Marathon, but she is also involved in raising money for the non-profit organization called "The Children's Room." This is an organization dedicated to supporting grieving children, teens, and families. Every year, the Children's Room's marathon team raises money that goes towards the organization's services. Benoit feels as though this is her "chance to give back to an organization that has given so much to [her]."
Benoit also feels a special connection to her Boston Marathon experience. Since she grew up in the Boston area, her influence to run in a marathon "all started with the inspiration of the runners from the Boston Marathon," and she "would not want to kick off [her] first of many marathons any other way!"
She feels that the Boston Marathon is such a great event because "it draws people from all corners of the world, and [it is] so inspiring that those runners have spent so much time and dedication to prepare for this one race."
Although Benoit is investing most of her time into academics, she is still determined to run another marathon. She expressed that "it may seem weird that [she is] already planning for [her] next one without even doing one yet, but the whole process of marathon training is so exciting. Logging twenty mile runs is such a cool accomplishment." Benoit believes that the Boston Marathon will "kick off a new chapter in [her] running experience."
Since graduating from MHS in 2013, where she was a member of the Blue and Gold Newspaper, she has been attending Northeastern University. Benoit is not only a runner, but she also enjoys hiking and skiing, and is a part of the outdoors club at her university.