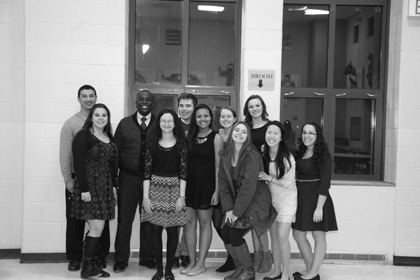 On Jan. 30, 2015, members of the Eastern Middlesex ARC (EMARC) gathered at WS Parker Middle School in Reading, Massachusetts for the annual Snow Ball Dance. EMARC is a nonprofit organization that works with people with developmental disabilities and helps to involve them in their communities. EMARC serves over 1,000 families from Everett, Lynn, Lynnfield, Malden, Medford, Melrose, North Reading, Reading, Saugus, Stoneham, and Wakefield. In addition, the  organization also includes members and volunteers from local high schools including the Helping Hands club at Malden High School.
The Snowball Dance is just one of the many events hosted by EMARC. They hold other dances throughout the year but the Snowball Dance is the most formal out of all of them. Other dances held during the year include the Halloween Dance in October, Spring Fling in May, and the Summer Sizzler in July. Helping Hands member and Blue and Gold member senior Julie Lam started the Summer Sizzler for the organization.
Volunteers arrived at the school an hour in advance to decorate the cafeteria at WS Parker Middle School with snowflakes, lights, and other festive winter decorations. The members joined them soon after in formal wear ready to dance and mingle. From 7 o'clock until 10 o'clock, members and volunteers danced to music provided by a disc jockey. Helping Hands club member junior Kevin Irungu stated, "the dances are a fun way for everyone to socialize and get involved in their community." He also added that he enjoyed "volunteering and doing [his] best to make a difference, not just in Malden but throughout Massachusetts."
The dances started about 10 years ago by a mother of a teen with special needs. The dances allow children and teens with special needs to be able to have the same social experience that one would have at a school dance. EMARC dances have support available from workers and volunteers to help them with their social skills and to involve them in their community. EMARC helps people with and without disabilities to get involved and gain a greater sense of confidence through their programs.