¨Reading is stupid,¨ and ¨I bet the teachers don't even read," were some of the remarks Jessica Haralson once overheard from a group of students. As a English Second Language (ESL) teacher, Ms. Haralson is very passionate about getting students to grab an interest in literature. Though she knows a lot of students have a hatred for reading and this project will not change their perspective, she thinks ¨It's important that Malden High students see that strong role models in their lives; teachers-are active readers and read for fun.¨
    Ms. Haralson chimed the idea of doing a gallery from a famous English Language Arts teacher, Kelly Gallagher. She suggested to starting a public faculty book club to prove to students that teachers are actively reading. Although Ms. Haralson would like to start a book club, she thought for now, a gallery display would give students a good visual and ¨could even give people some ideas for books to check out.¨
   Since Ms. Haralson is an ESL teacher, she only knows a small amount of students and does not have the time to get to know them well, which is why she chose teachers. In the near future, she would like to feature both students and teachers. She was thinking that a publication like the Blue and Gold or the Maldonian can do a section review by the students.
   Even though she does not expect a big impact from this gallery, she does want to play her role in changing the school culture and perspective of literature. If even a few of the students notice the display and see that their roles models are active readers and it becomes their concern, she consider this a project a success.
   Not only does the project influence the students,but also the teachers. Some of them have even emailed Ms. Haralson about how the display has encouraged them to start reading more. A favorite of the teachers was ¨Let's Explore Diabetes with Owls¨ by David Sedaris chosen by Ms. Huth.
   Seventeen faculty members (not only teacher,) emailed her with their choice of story. Genres vary from fiction to fantasy and science. A book choice that surprised from two math teachers, who chose a book from the popular series ¨Games of Thrones¨. Popular classics included The Martian and The Girl On The Train.
      To promote the project, she emails every faculty member and suggested they informed their students. She was thinking for the next display, they could showcase in a central place so it can grab more people's attention. Asking will she continue to do this she replied with ¨I'll do it every year until someone tells me to cut it out.¨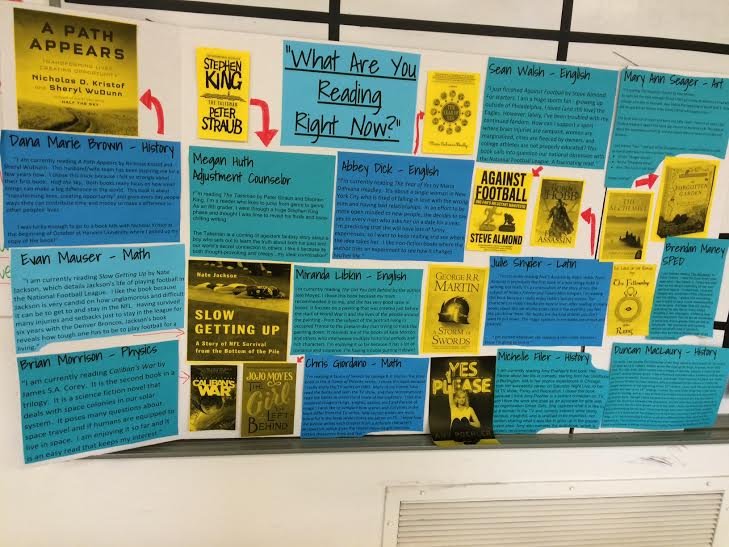 Correction: In a previous version of this article, photo credit was given to Blue and Gold reporter Neden Bernadin. This is incorrect; the photo at the bottom of the article was submitted by Jessica Haralson.