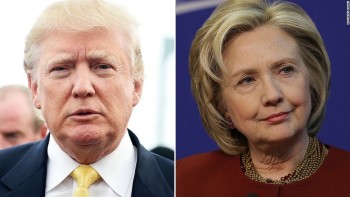 Super Tuesday, this year on Mar. 1, 2016, is the most important day of the primary election season with the largest amount of delegates at stake. The people of 12 states and one territory, including Alabama, Alaska, Arkansas, Colorado, Georgia, Massachusetts, Minnesota, Oklahoma, Tennessee, Texas, Vermont, Virginia, and American Samoa, participated by going to the polls to vote.
These primaries and caucuses followed last week's elections in Nevada and South Carolina that put Hillary Clinton and Donald Trump at the top of their parties. Anything is possible on Super Tuesday, but according to the polls, Clinton and Trump are on the road to winning the nomination.
In order to win the nomination for the Democratic Party, 2,383 delegates are needed. This is a combination of pledged delegates and superdelegates. Superdelegates, unique to the Democratic Party, are allowed to support any candidate for the nomination at the party's national convention in July of 2016. Before Super Tuesday, Clinton had 544 delegates, and Bernie Sanders 85, both a combination of pledged and superdelegates. Although, super delegates can change their pledge anytime before the convention, causing the numbers to slightly shift overtime.
Only 1,237 delegates are needed to win the Republican Party nomination because the party does not have super delegates to contribute to their overall numbers. Trump had 82 delegates before Super Tuesday, followed by Ted Cruz with 17, Marco Rubio with 16, John Kasich with 6, and Ben Carson with 4.
Both parties still have a long road ahead of them. Even with twelve more states and one territory's votes casted, it is still easy for the remaining states to completely flip the leaderboard.  Although this was not the case for Super Tuesday.
Here are the winners of Super Tuesday in the respective states:
Alabama: Clinton and Trump

Alaska: Cruz (Democratic primary to be held on Mar. 27).

Arkansas: Clinton and Trump

Colorado: Sanders (Republicans do not have a primary election).

Georgia: Clinton and Trump

Massachusetts: Clinton and Trump

Minnesota: Sanders and Rubio

Oklahoma: Sanders and Cruz

Tennessee: Clinton and Trump

Texas: Clinton and Cruz

Vermont: Sanders and Trump

Virginia: Clinton and Trump

American Samoa: Clinton (Republican caucus to be held on Mar. 22).
Clinton and Trump were the overall winners of Super Tuesday. Clinton won in seven states and America Samoa, and Trump in seven states. Even though nationwide wins were predicted for both of them, Sanders won in four states, Cruz in three, including his home state of Texas, and Rubio in one.
In the Democratic Party, Clinton now has 1,034 delegates, and Sanders 408, again a combination of pledged delegates and super delegates. Currently 457 super delegates have pledged to vote for Clinton, and 22 for Sanders, but to reiterate, they can change their minds at any given moment up until the convention.
For the Republicans, Trump is leading with 316 delegates, followed by Cruz with 226, Rubio with 106, Kasich with 25, and finally Carson with 8. Carson, following Tuesday's results, alluded to suspending his campaign saying he sees "no path forward", but has not yet officially announced its' suspension.
The road to the nomination is looking great for Clinton and Trump as they continue to gain the support and votes of Americans all over the nation. Although, the fight for the nomination will not be easy for Clinton against her opponent Sanders.
Clinton was seen campaigning with her husband, former President Bill Clinton, in Boston on Tuesday the 1st. The race between her and Sanders was neck-to-neck, but ultimately she won Massachusetts with 50.1% of the votes. The numbers from the Malden polling centers were very similar to the state's: Clinton defeated Sanders by only a difference of 178 votes (Patch). Trump on the other hand, won in Malden with more votes than the other four candidates combined.
Even though Massachusetts does not have a population size like California that awards a much larger amount of delegates to the winning candidates, Clinton and Trump were still excited about how well they performed in The Bay State:
Back at you, Massachusetts. #SuperTuesday pic.twitter.com/gs42BigKus

— Hillary Clinton (@HillaryClinton) March 2, 2016
Thank you Massachusetts! #Trump2016 #SuperTuesday

— Donald J. Trump (@realDonaldTrump) March 2, 2016
The next set of upcoming elections is on Saturday, Mar. 5, and then Sunday, Mar. 6. States and territories voting over the weekend include: Kansas, Kentucky, Louisiana, Maine, Nebraska, and Puerto Rico. Elections will continue all the way into June. The Republican nominee will be determined after the last set of elections on Jun. 7, 2016, but the nominee from the Democratic Party will not be until the party convention in July when superdelegates will finalize their pledge to either Clinton or Sanders.
The schedule for the remaining primaries and caucuses through June can be found here. Remember, if you are eligible to vote, then vote. If you have not registered to vote, you have until Wednesday, Oct. 19, 2016, twenty days before the general election, to do so. You can register to vote online here. All you need is a valid driver's license, learner's permit, or non-driver ID issued by the Massachusetts Registry of Motor Vehicles. If you prefer not to register online, more information about how and where to register can be found here.
Voting is a not only a right we have, but a privilege as Americans. Be a part of the voice of the people and exercise your civic duty, especially when it comes down to electing the next commander-in-chief.