By Megan Downer and Christina Appignani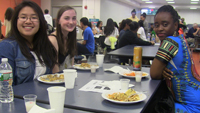 Malden High School held its fifth annual Multicultural Celebration in Cafeteria DiSano on Friday, May 13th. The event was organized by the Multicultural Club with help from its advisor, English teacher Yahaira Marquez.
Marquez explained that the idea for Multicultural Night was developed from "a conversation [she] had with some students about the diversity of Malden and how it's one of the factors of Malden that is highlighted. [They] were discussing how diversity is celebrated and ways to get students involved into cultural celebrations." She stated that the purpose behind the event "was to have students celebrate their own culture, but also learn about other student's cultures and to teach their culture to others. Being more open with each other about culture was one of the main takeaways from the event."
Marquez recalled that "at first, the event was in the gallery but since more and more students come each year, it's now in the cafe and [Marquez] thinks students look forward to it each year [because students] ask [Marquez] how they can help with the event." While there were over twenty dishes served at the event, Marquez was excited about a dish called "Beef Momo" from Tibet and commented that "there was a good spread of types of foods from different cultures."
Throughout the year, the Multicultural Club shifts its focus, whether it's teaching each others how to prepare a dish or dessert, having people come in from the community, or thinking of other ways to teach and share culture throughout the year in the school.
The money raised by the Multicultural Celebration goes towards the club to fund these types of events, as well as purchases for next year's celebration. Other than the food aspect of the event, there were many booths for attendees to observe. The Fine Arts Club had a table where face-painting was offered for younger children, the Chinese Culture Connection wrote names in Chinese characters, and the Haitian Club did a presentation with their advisor, French teacher Paul Degenkolb. Additionally, a traditional Vietnamese fan dance was performed during the night.
The event was an enjoyable night for families to attend to emerge themselves in other cultures and to interact with other Malden residents. Sophomore Rowan Marcus attended the event with his family. Marcus admitted that his family is "into… ethnic dining and cultural immersion [event] so [he has] been exposed to a lot of different cultures." In fact, "[his family was] looking forward to coming to the event." Multicultural Night is truly a family event where students brought their parents and siblings and even Malden High teachers came with their families.
Marcus claimed that it "might sound cliche, but [he] really think[s] MHS's diversity shines through in events like this." He stated that this was prominent because he "saw many people talking that wouldn't otherwise talk during the school day. No matter what culture a person comes from, it seems like everyone is able to bond over food."
Overall the night was a success and the Malden community looks forward to the next Multicultural Celebration.