BY ANA PIROSCA, JEMISHA SYLIANT, & ANNA POWERS
Malden High School welcomes new teachers every year, and along with a new teacher comes a new aura of excitement, nervousness, and determination. Arielle McCoy, who can be found by the signature Pikachu on her door, is ready for the new year of Algebra 2 (CP and Honors), and Intermediate Algebra. McCoy's journey from California to New Mexico to finally here in Massachusetts proves that she knows a thing or two about adjusting. Her fresh face radiates excitement to teach and learn.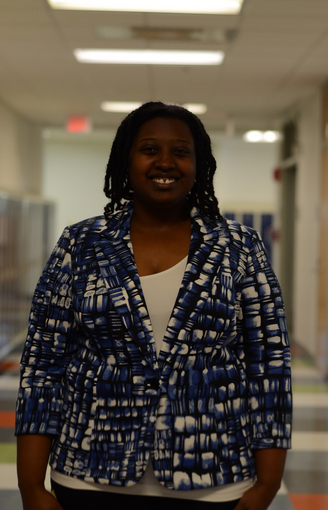 McCoy has studied and lived across the continent. Although she was born in California, her studies began at New Mexico University with chemical engineering, and later to Smith College to study math. When she finally arrived to Tufts University, here in Boston, McCoy decided to earn her masters in math education. She took night classes here and as a result didn't find much time to explore the campus. "[She] didn't have a chance to really mingle with people there." Also, California and New Mexico are almost the complete opposite of the New England. McCoy had to learn to adjust to cold weather quickly. "The weather is really beautiful to look at - not nice to be in. So it took [McCoy] 5 years to get a real winter coat… but [she] thinks [she's] acclimated here now." The struggle was worth it, since Malden gained an amazing member in the math department.
Like every other teacher she understands that she is going to change lives, though this is not new news to her as it is McCoy's 4th year teaching. Her experience as a teacher was with the Boston Public School System, teaching math at both Fenway High School and Excel High School. At first glance, Malden High School is rather big, as McCoy explains: "Fenway was the smallest, when [she] was there. There were about 300 students.. and Excel High School was about 600 students, so now this is 3 times as much," which excites McCoy. "The students [here] are amazing - the students are so responsible; they check each other, if they start getting a little disrespectful, like, talking while [she's] talking, they check each other before [she has] to say anything."
It is quite evident that McCoy enjoys working with kids. Growing up, she always felt like a peer tutor. "[She] was always someone who liked to help other people [because] [she] honestly [believes] that if [she] can get to the top, [she doesn't] want to leave [her] peers behind. [She wants] to help them get up there too so that [they] can reach even higher levels." Thus, McCoy thought teaching would be a great job for her, because "it's kind of like giving back to the community as well, but also just uplifting everyone and making them believe that they can do anything they set their minds to." Her ultimate goal is to change peoples' feelings towards math, "It's very rare that [she comes] across students or people in general who say 'I can do math and I like it,' so [she's] hoping that [her] personality is pretty fun and engaging."
This year at Malden High School, Intermediate Algebra is a new class that's designed for kids who might struggle in Algebra 1 and require a little assistance in Algebra 2. McCoy was pleasured with the fact of being able to help these students. "[McCoy] usually [runs] into students who say 'I hate math'; 'I'm not good at math'; 'I'm terrible at math", and she believes she will be able to help students believe the opposite by being relatable and interesting; "When [she is] very happy, [she says] 'Awesome sauce' a lot; 'Awesome blossom', [she'd] do a little dance, [she is] a little silly in class."
McCoy wants her students to help her be the best teacher she can be simply by being who they are because "people are who they are, and there is a lot of diversity in that, and [she likes] to learn about peoples' cultures, peoples' languages, and it's just fun to get to know people as themselves." Overall, she loves what she does, and is very happy to join Malden High School in another year of learning.