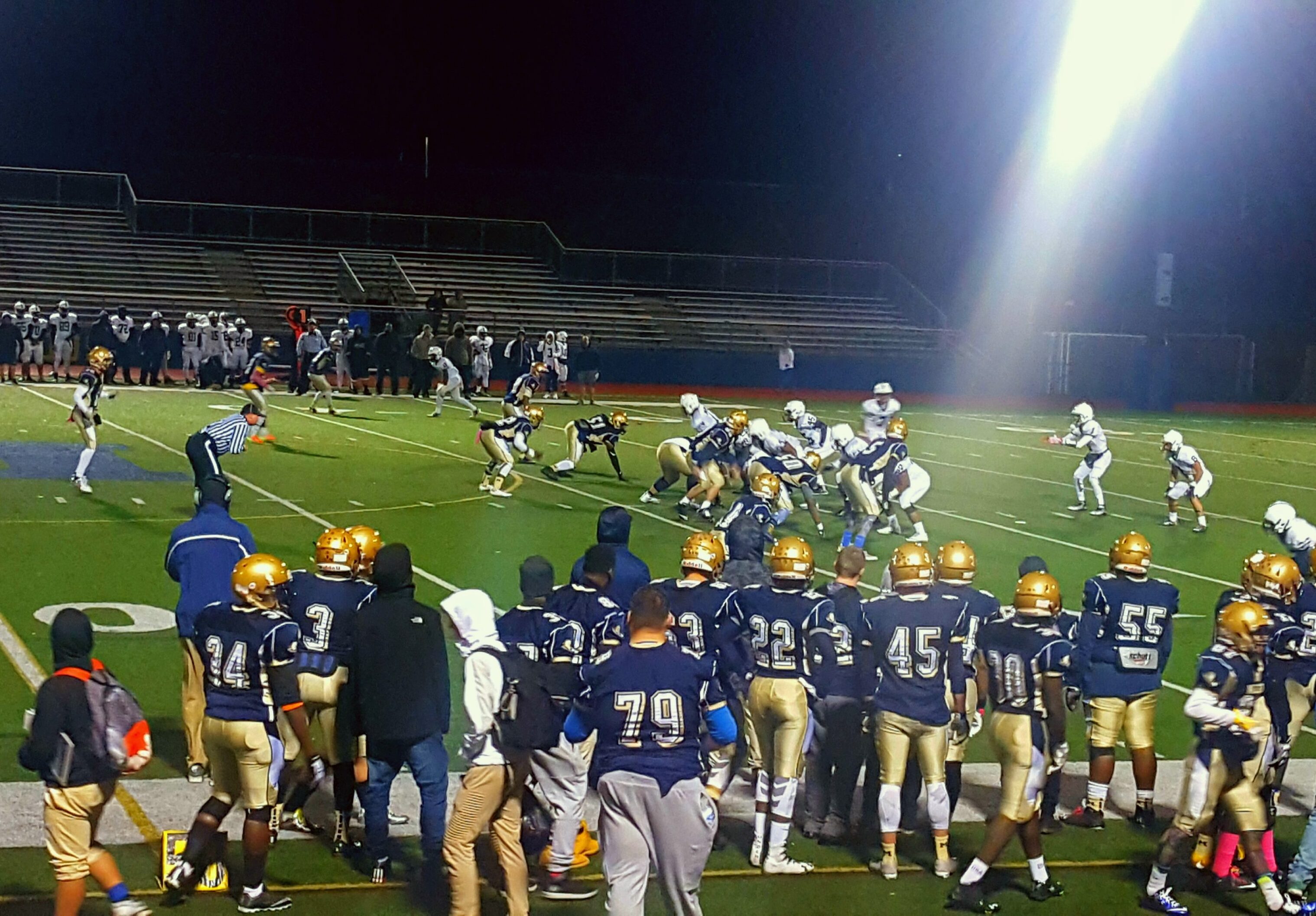 On Friday, October 28h, the Malden High School Golden Tornadoes hosted the Lawrence Lancers at MacDonald Stadium for their eighth game of the season.

The Golden Tornadoes entered the home game with a 2-5 record, after two games on the road against the Catholic Memorial High School Knights and the Everett High School Crimson Tide. The away games did not go to plan as the Tornadoes received a loss in both games with the offence having not been able to produce well in both.
The loss to EHS essentially eliminated Malden High from playoff contention. However, the Tornadoes got a chance to redeem themselves against a Lawrence team that were 0-7 heading into the game.
Despite their winless record, Lawrence were able to make the game fairly competitive, especially in the first half.
MHS got the early lead in the first quarter after a 68 yard touchdown pass from junior captain and quarterback, Jared Martino, to junior wide receiver, Marlon Cook.
Soon however, in the second quarter the Knights responded with two touchdowns of their own. Lawrence were leading 13-7 after their second straight unanswered touchdown, when they tried a 2-point conversion to go up by 8.
However, this gutsy call by Lawrence head coach, Michael Yameen, backfired when junior Martino, playing free safety, intercepted the ball and ran it back for 99-yard conversion return touchdown into the end zone for the Golden Tornadoes. This gave Lawrence only a 13-9 lead over Malden heading into halftime, instead of the possible 13-7, or 15-7.
After the game, Martino commented on his interception and its impact on the rest of the game. He mentioned that "it pumped [the team] up and it definitely gave [them] some momentum that [they] needed."
The 2-point conversion return completely changed the momentum of the game as the Tornadoes never looked back during the second half. They took a 15-13 lead in the third quarter thanks to a 1-yard touchdown run by Martino. Then finally in the fourth quarter, Martino iced the game with another rushing touchdown, giving Malden the win with a final score of 22-13.
This win improved MHS' record to 3-5 and gave them some much needed momentum heading into their last two games of the season. The Tornadoes now have won three home games in a row and and are 3-1 overall at home, with their only loss coming in their home opener back in week two.
The team will go on to play the currently 1-7 Newton South High School Lions on November 4th and close out the season with the annual rivalrous Thanksgiving game on November 24th against the presently 3-5 Medford High School Mustangs.          
After the game, when asked about how the team can finish their season strong, Martino mentioned that "the coaches preach that games are won [during practice] on Mondays through Thursdays,and not just on Fridays." He continued to say that "if [they] continue to practice hard, and play harder [they] should win these last couple games."