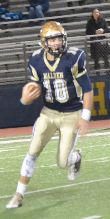 The Malden High Football team have had a season of ups and downs. The Golden Tornadoes have a record of 4-6, with just the annual Thanksgiving rivalry game against Medford left to play. The Tornadoes will finish the year below .500, but despite the record, William Manchester's first year as head coach can be looked back upon with optimism.
Throughout the season, the tornadoes went on multiple streaks, but their season started winless. After losing three straight games to begin the season, all of which came down to the wire, the Tornadoes bounced back. Losses at Methuen, Malden Catholic and versus Peabody were followed by two straight victories when they hosted Somerville and Lowell. The only difference between the victories and defeats were that in the victories, the Tornadoes were able to execute in late game drives. In fact one of these victories came in a dramatic 48-42 game with the win coming in triple overtime against Lowell.
However just when it seemed that Malden High had turned its fortunes around, they were faced with a tough two game road trip at Catholic Memorial and Lawrence. On both away games the team was not able to produce much, both offensively and defensively. The two losses made their record 2-5, essentially eliminating them from playoff contention.
Despite this, the team still fought on, winning their next two games versus Lawrence and Newton South. This included their 42-20 win against Newton South, their largest margin of victory this season.However, just like the rest of the season however, the Tornadoes were not able to extend their winning streak, losing 27-21 at Lynn Classical on November 10th.
Inconsistencies and the inability to win close games early in the season may have cost Malden High a playoff berth. However, throughout the season, the Tornadoes showed their potential that can be maximized in Manchester's second year as head coach.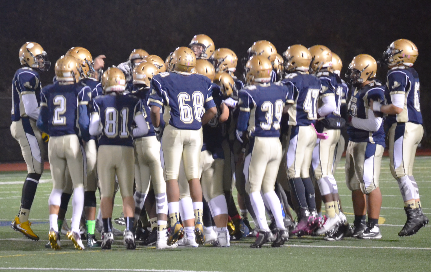 Sophomore Reginald Charles stated that the most positive aspect of the season "was [them] becoming a team and playing together to win." In addition, it was also their impressive overall home record of 4-1, with their only loss coming in their home opener, back in week two.
Charles mentioned that their impressive home record is due to "[their] fans cheering [them] on," which gives them the added "confidence to play better."
Their 4-1 record at home is a particularly important stat as the Tornadoes will play the annual Thanksgiving rivalry game at home, hosting Medford on November 24th. The Medford Mustangs are currently 3-7 and both teams will look to end their season on a high note.