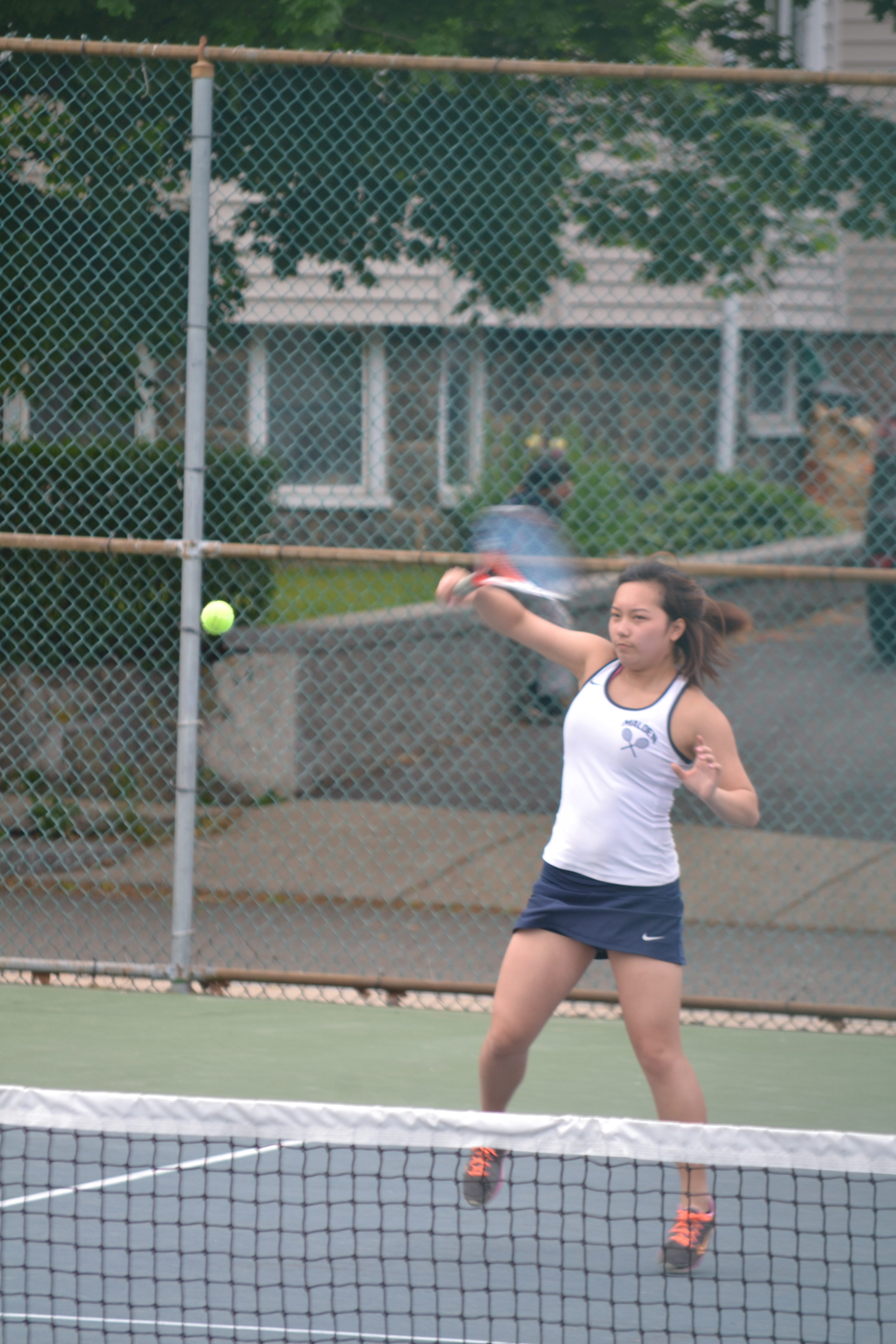 The spring weather might not be here just yet, but the spring sports at Malden High most definitely are. Included in these sports is girls tennis. Starting Monday March 20th, tryouts for all sports were in session. By Wednesday, cuts were being made. The girls who got through the team were ecstatic, the ones who got cut; not so much, but there is always a chance for them and newcomers to come and try again next year.
Last season was a great one for the girls tennis team. They won a large majority of their matches and won the GBL title and advanced to states. They all wish to advance as much as they did last season into the new league that they are entering into this season.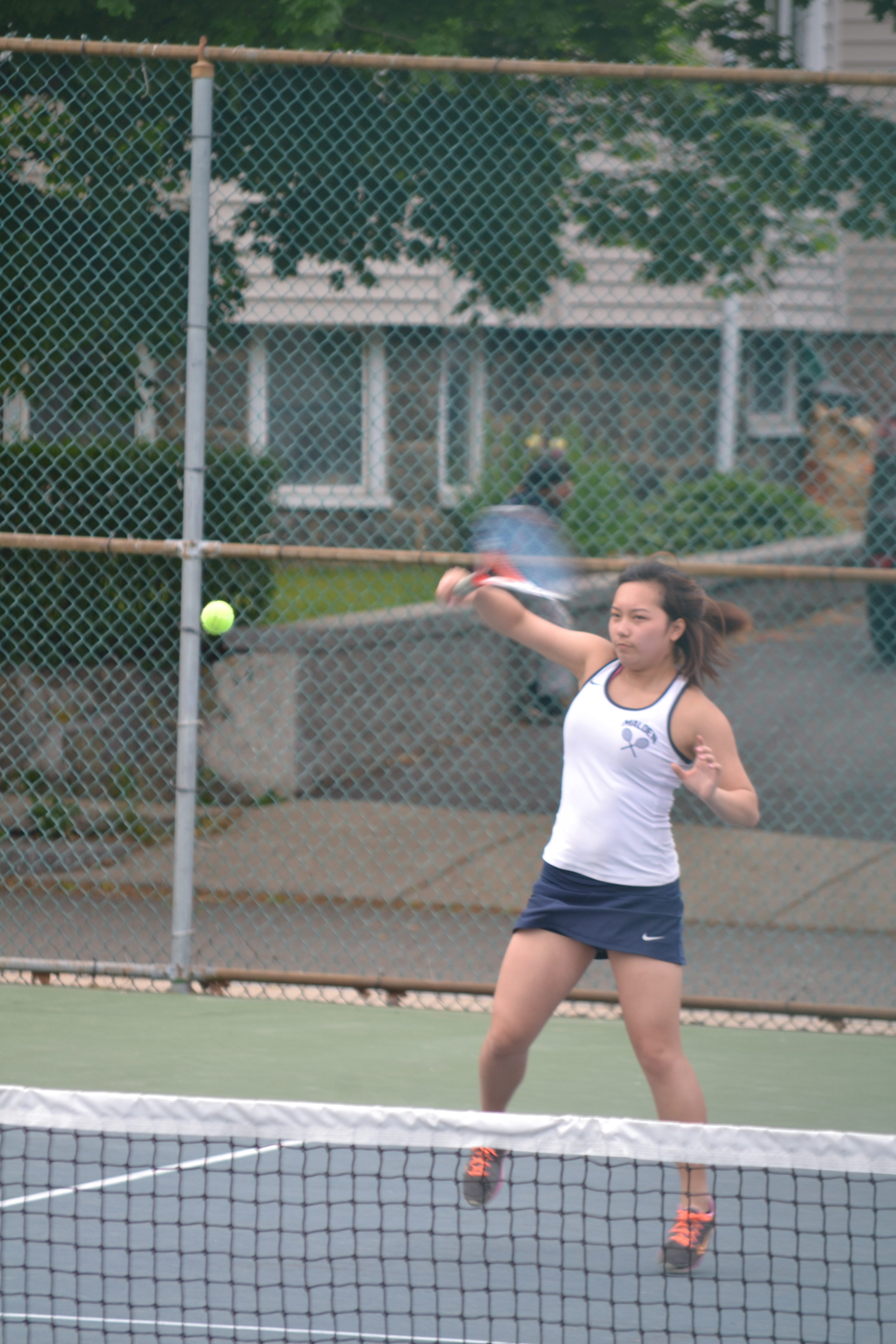 Last year, Coach Julie Fox was the new coach for the girls, and now they have another new coach, Cheryl Camassa. This is Camassa's first year coaching girls tennis. She loves to coach, and previously coached girl's volleyball for the past two seasons. She is "hoping the girls have a great season and improve on their skills and confidence on the court. Even though tennis is thought to be an individual sport, it is important the girls work together and support each other as a team. [Her] number one goal for the season is for the girls to have fun no matter if they win or lose." Camassa really wants to help the girls improve as much as they can this season and overcome their competitors on the tennis courts.
Tryouts for girls tennis this year was huge. Coach Camassa wanted to pick plenty of girls, but due to player amount restrictions, she couldn't. "[They] had a big turnout this year for tryouts. With so many returning players from last year, [she] was only able to select a few new players to the team. Selection was based on consistency of their strokes. The girls that did not make the team all have potential and are encouraged to tryout again next year."
When it comes to the players that remained and got onto the team, she already thought "they all seem like a great group of kids," even though she is just getting to know the players. She is looking forward to this season.
Besides coaching, Coach Camassa is a behavior analyst for Malden Public Schools. She mainly works at the Linden S.T.E.A.M Academy servicing the students in the Pathway and PACE programs. She also works part-time consulting to families that are in need in behavioral strategies for their children.
This year's captain is Samantha Tso, a senior here at MHS. Tso got on the varsity team her sophomore year, due to always wanting to be the "top player of the team," and wanting to play first singles. Last season was the first season she played first singles, which meant that her goals were accomplished. She "didn't expect the pressure of playing singles and especially first singles" last season, but she overcame the pressure and came out victorious often for her team.
As a senior, this is her last year at MHS. "This year, [she does] not want to play with the same pressure on [her] back as last year. This year, [she] will play first singles wholeheartedly-- the best that [she] can without worrying about winning or losing. So for [her] last season at Malden High, [she wants] to give it [her] all. [She] would play club tennis in college if [she] could, but the school that [she is] currently deciding on does not have tennis courts, but that won't stop [her] from playing with [her] friends when [she comes] home."
She only played tennis after her cousins introduced her to the sport the summer before freshman year, which is what prompted her to try out freshman year, which was a huge success for her.
Senior Zanta Ephrem thoroughly enjoyed playing varsity first singles and second singles last season. She enjoyed that on varsity, she got to play all the time, when if you're on JV you only played conditionally. She thought last season was a great success because of the connection and communication throughout the team. Even though they had a new coach, they still adapted quickly "and made the best out of the season." The season didn't go the way she thought it would because she didn't think she was going to get as improved as she did because she cooperated with the team so much better and they had so much more chemistry which made the whole experience of being on a team and sportsmanship so much better. Her goals for last season were to get along with the team better and win the GBL title, which were both achieved. This year, if her shoulder injuries were not persistent, she would've wanted to try to be co-captain, or have a leadership quality so she could help the newcomers and anyone who needed help.
Emily Zou is a senior on the varsity team, and plays second doubles. Last season was good in her opinion, but they had some difficult matches where they lost but it was fun. They won most of the matches that were in the league. She "tries not to have expectations, but it went really well." Her goals for last season were to make it on varsity, which she did. "Since [they are] in a different league, [she thinks] [they'll] get harder matches and [she hopes] the team does well," Zou said. Personally, she hopes she makes it to singles. When asked about what she wants this season she said, it doesn't matter if [they] win or lose, as long as everyone tries their best and has a good time, that's most important." She doesn't know where she's going but wants to play tennis in college, and hopes they have a tennis team. She played tennis in middle school and didn't really like it and then when she got to high school she tried it out and thought it was really good, and doesn't play anything else besides tennis.
The girls tennis team has a bright vision for their future and it looks like they're going to have a successful season once again.