Magical Girl Raising Project was originally a light novel created by Asari Endō and illustrated by Maruino. The Japanese name of the light novel/anime is called Mahō Shōjo Ikusei Keikaku. It was released in Japan on June 8th, 2012. It was later turned into a manga series with a total of ten books being released on December 2016. It was later turned into an anime for people to watch.
The basic plot of the anime/novel/manga series is that there are sixteen girls who had played a mobile app game. Then they were selected to become magical girls. Fav,  the game mascot, was the one who had selected these magical girls. Then he had decided that there were too many of them and decided to cut the amount of magical girls in half to eight. So each week, the magical with the least amount of candy will be eliminated. They get candy by doing good deeds like helping people out in any way like picking up trash, helping people cross the street, or even finding someone's lost keys.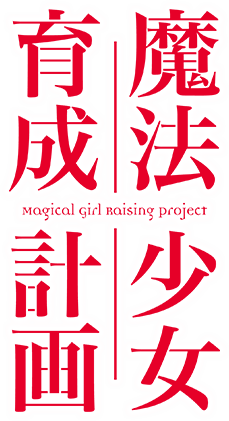 The main character of the story is named Koyuki Himekawa or is called Snow White, which is her magical girl form. The magical girls get a device to be able to transform and each one has different abilities to use. Some magical girls are better for saving people, combat, or even making things disappear. While being in the magical girl form, their physical abilities are extremely enhanced. Snow White's ability is to hear the thoughts of people who are in trouble. This makes her able to gain candy a lot faster than any other magical girl in the series.
In the series, she has one of her childhood friends with her and his name is Souta Kishibe and his magical girl form is La Pucelle. He has the ability to summon a sword as his weapon. He can also control the size, length, and width of his sword. But when he does, the weight of the sword changes as well, so it would be harder to move it and to control it. Snow White and La Pucelle had teamed up to try and avoid being eliminated.
In the series, the first one to get eliminated was Nemu Sanjou and her magical girl name is Nemurin. She has the ability to control a people's dreams and can change their nightmares into wonderful dreams. Since she got candy within the dream instead of the real world, she had gotten zero candies. So, she was eliminated from being on of the magical girls. The characters did not care if they were eliminated because they did not know the consequences.
When a magical is eliminated from the group. they do not just lose the ability of transforming into a magical girl, but they also lose their right of being alive so that they do not tell anyone else about the magical world.
There are other ways that a magical girl can be eliminated as well. A magical can eliminate another magical girl by killing them. When a magical girl dies this way, no one else is eliminated during the week. The first person to get eliminated this way and is the second one eliminated was La Pucelle.
I really suggest watching the anime if you like to watch dark fantasies. I do not suggest it if you do not like gory animes and violence. It has good character development, good quality of the anime, and has a great overall story. Since you don't really know who is going to die/get eliminated next, it makes you hope that your favorite character does not die. There are sixteen characters to choose from. Each one has a different story and a different life which would help you decide who your favorite character is.
The anime makes you fall in love with the character so that you can cheer them on to the end. But when your favorite character gets eliminated, it can be very saddening.  But there is always other characters in the anime for you to root for.