After a long campaign of going to door to door, creating absurd amounts of fillers, and willingly sitting on a panel and being questioned on the issues of Malden, the newly elected City Council and School Committee members were officially sworn into their positions.
Happiness was evident in the Jenkins House auditorium. Many citizens of Malden, especially the families of new and re-elected councilman congregated together to express their happiness for the hard work and dedication that each of the candidates put in during the elections before the inauguration.
Before taking the oath, the city councilors-elect and members-elect of the School Committee and the Northeast Metropolitan Regional Vocational School Committee were announced by City Messenger Peter Levine. The 2018- 2020 City Councilors are Peg Crowe of ward 1, Paul Condon of ward 2, John P. Matheson of ward 3, Ryan O'Malley of ward 4, Barbara M. Murphy of ward 5, David Camell of ward 6, Neal Anderson of ward 7, and Jadeane Sica of ward 8. Also, the three Councillors at Large are Craig A. Spadafora, Debbie A. DeMaria, and Stephen Winslow. The 2018 - 2020 School Committee includes Michael Drummey of Ward 1, Robert McCarthy, Jr. of Ward 2, Jennifer Spadafora of Ward 3, Leonard Iovino of Ward 4, Tara Beardsley of Ward 5, Colleen Leon of Ward 6, Catherine Bordonaro of ward 7, and John H. Froio of Ward 8. Mayor of Malden Gary Christenson was also present for this event.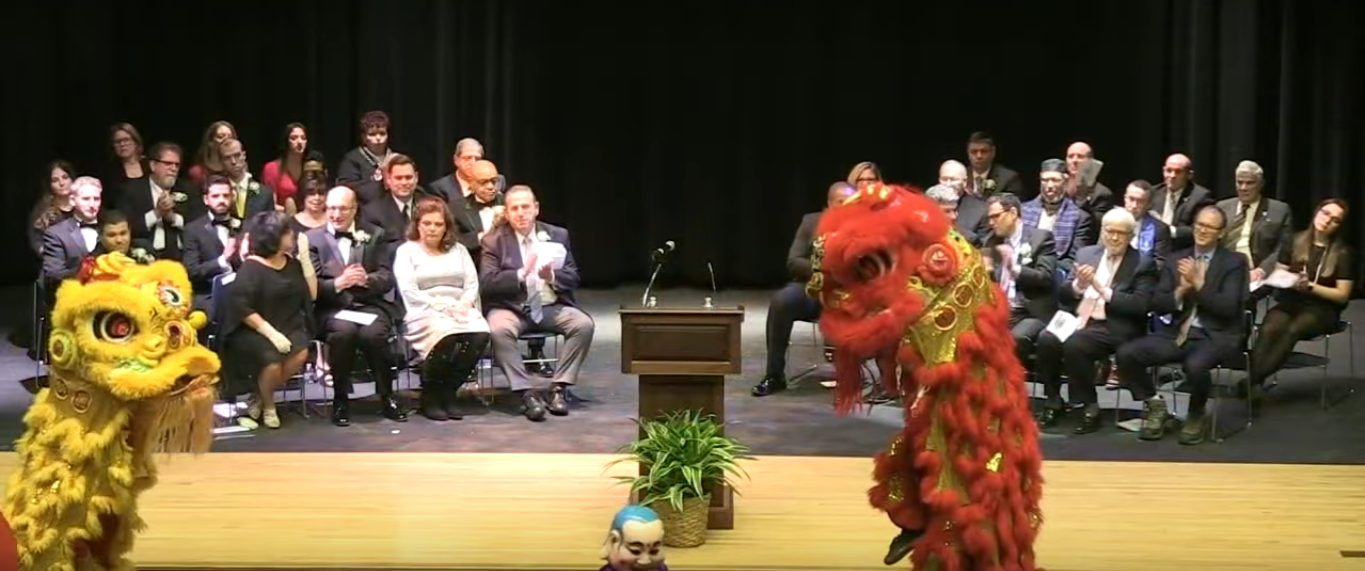 Following that was a recitation of the Pledge of Allegiance by the Malden Girl Scouts and Boys Scouts, which included Malden High School's very own senior Harrison Zeiberg. The National Anthem was beautifully sung by Malden resident, and sophomore at the College of Holy Cross, Julia Hall. Reverend John Mulloy of St. Joseph's Parish gave the Invocation.
The Mayor Christenson spoke to citizens and the city-elects. Notably, he thanked all the past city councilors and school committee councillors by saying "[their] contributions in making Malden a better place for us all are deeply appreciated". Also the Mayor announced that his and all of Malden's objective for the new year is to "move Malden forward".
Finally, after countless days of preparation and hard work which was noted by the Mayor of Malden, the City Councilors, and School Committee Members were administered the Oath of Office by Mayor Gary Christenson.
However, the ceremony did not end just there, Iman Hamid Bourote, from the Outreach Community and Reform Center presented a prayer focusing on the topics of peace and community. After, the Wah Lum Kung Fu and Tai Chi Academy performed the "Dragon Dance" in which their were music and the dancers performed cool tricks inside of a dragon, a dance that is said to bring good luck. The entertainment continued with a musical performance from the Malden High School Choral Arts Singers led by Todd Cole.
The ceremony ended with a Benediction from Reverend Otto O'Connor of the First Parish in Malden. Julia Hall also closed by singing God Bless America.