Debra Buckley, who teaches entrepreneurship here at Malden High School, was recently awarded the New England Enterprising Educator of the Year. As one of the many school partners with the National Foundation for Teaching Entrepreneurship (NFTE), Buckley is the only educator to receive this award in all of New England.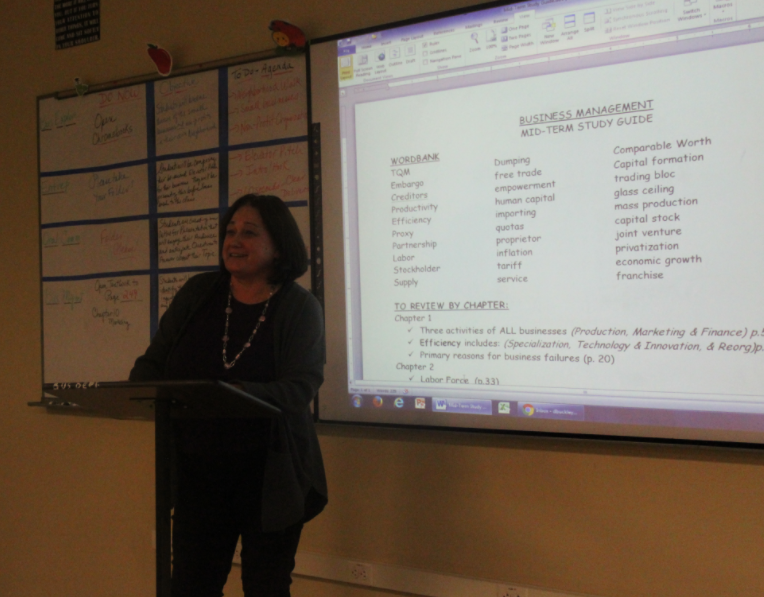 Buckley has been teaching entrepreneurship for about 10 years after some past entrepreneurship teachers have left the school. Buckley enjoys teaching her class and the trips that come along with it, such as going to New York in the fall and Babson College in the spring, to showcase the students' business ideas and compete against other schools. Buckley has taught many students including Allyson Kummins, who recently graduated and was accepted into Babson College which is a private business school in Massachusetts.
Her students, previous and current, have been interested in the material in her classes as she also teaches the business management class. Freshman Alex Cogliano is one of her students and he believes that he has been taught some very useful lessons that he can use in the real world. He believes that "[entrepreneurship] is an exciting class, and one that [he] look[s] forward going to everyday. The environment is positive and [he] enjoy[s] learning what [Buckley] is teaching" He stated that "[Buckley] is well deserving of receiving the award".  
On Entrepreneurship, Buckley explained that "[She is] fortunate to have a year long class", and most schools do this as a summer program. Buckley said she has had some interesting guests such as one that offered money to students who answered questions correctly. Buckley feels very humbled to accept the award and hopes to keep teaching for years to come.