The math department has gained a new teacher, David Kamishlian.
For Christopher Mastrangelo, Principal of Malden High, there was no hesitation in hiring Kamishlian. Coming from Brighton High School, another Urban High School District, Kamishlian was already familiar with the inner workings of MHS and according to Mastrangelo, "he had a real understanding of educating in an urban district."
Kamishlians' resume had been pushed through as a recommendation to Mastrangelo. There had been a lot of applications for the job and his application had been forwarded to Mastrangelo by the interview group consisting of S.T.E.M. directors, teachers and students, and he had been a strong recommendation.
Within three minutes of talking to Kamishlian, Mastrangelo was able to see why he was such a strong recommendation."He was a great hire, a great find" as Mastrangelo explained during the interview.
Cara Joyce, who is the teacher-leader of the Math Department explains what stood out most about him was that he was a teacher with a lot of experience in not only teaching but in leadership.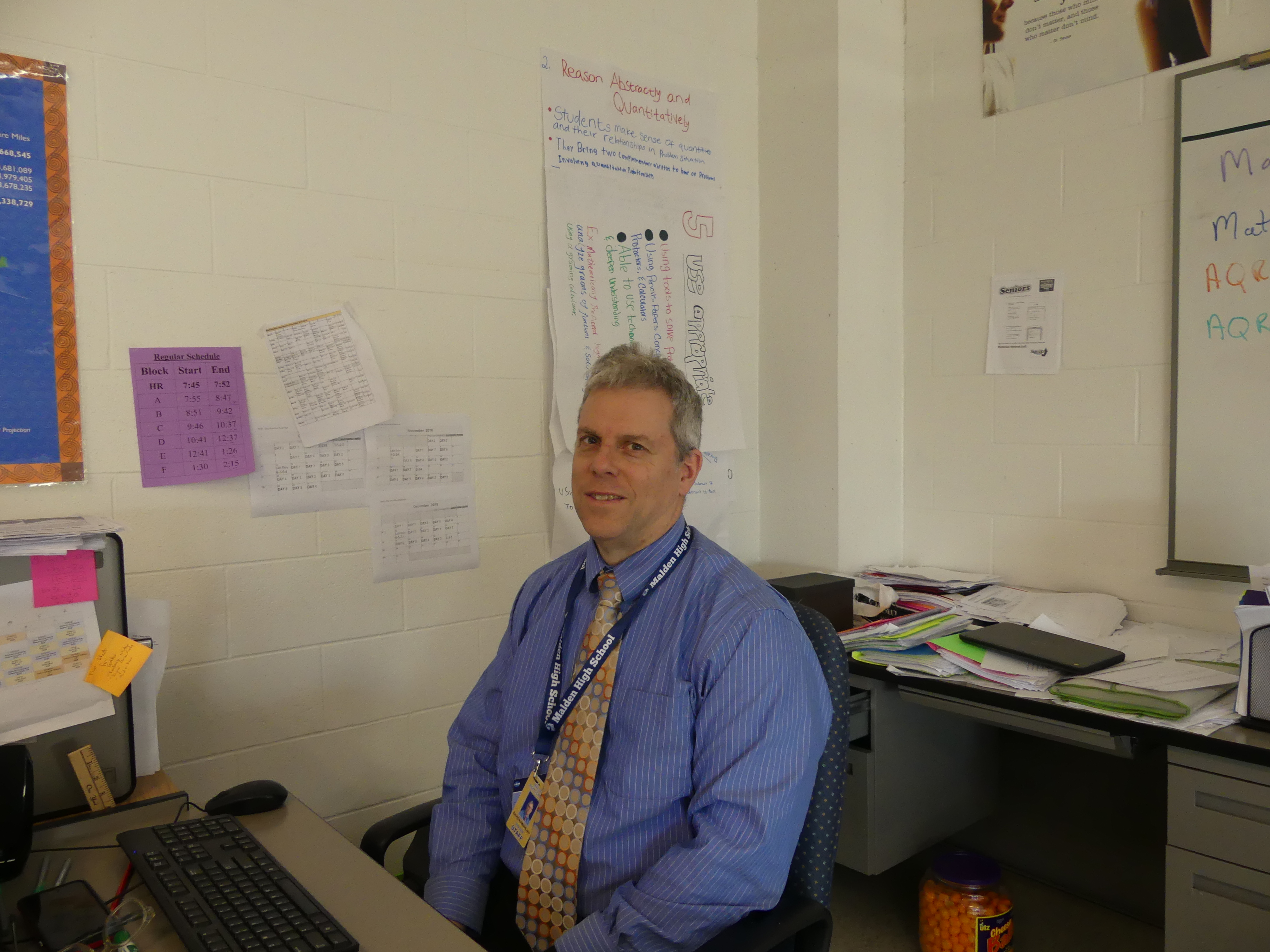 Kamishlian has been teaching since 2004, for 14 years. His first two jobs were at middle schools and then he moved to Brighton High School. One of the main reasons she believed he was hired was that he had an interest in the students. "He had a profound interest in what the one student on the panel had to say."
Kamishlian had the idea to become an educator after his son was born. Before going back to school to get his Masters in Education, he had programed cell phones, worked with robots, and even worked a little on artificial intelligence. Then his son was born, and he had a different outlook on life and wanted to do more.  When he visited a fourth grade class he became interested in it, so he went back to school and got his masters in education.
Kamishlian had always been a fan of math, but he had felt history was more meaningful, in which he talked to a principal in Boston who he lived across the street from, who had told him that there was a gap in math and that students had a high need for math.
The team Kamishlian had met, and being a teacher leader in Malden was what caused Kamishlian to actually take the job in Malden. Just like any new student or new teacher, Kamishlian got lost around the school sometimes and still has not figured out his way around the entire school yet.
Outside of school he enjoys to ride mountain bikes on trails locally but also in New Hampshire, and at home he does all the cooking for his wife, son, and daughter.
For the future he plans to be commuting to and from school on his bike. Some professional achievements that he is proud of is he stopped a middle school from closing with the help of fellow teacher and surrounding parents. Which then later turned into a STEM school and helped rising eighth graders get into Algebra 1.
His only hesitation taking the job would be the commute from his house in Cambridge. Other than that he plans to stay at Malden High for as long as Malden is welcoming to him.