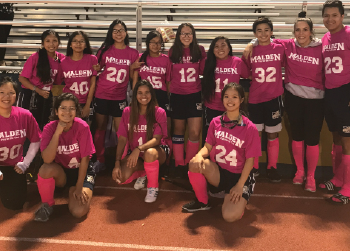 Managing Editor of Photography and Design, Jesaias Benitez and the Field Hockey Team after their pinkout games. Photo submitted by Jesaias Benitez. 
The discussion surrounding whether or not opposite genders should be allowed to participate in and play on intramural sports teams is always depends on the nature of the sport; it is more "socially acceptable" for a girl to play on the football team than for a boy to play field hockey, a traditionally more feminine sport. The Massachusetts Interscholastic Athletic Association (MIAA) specifically states "no student shall be denied in any implied or explicit manner the opportunity to participate in any interscholastic activity because of his or her gender"(MIAA Handbook July 1, 2015-June 30, 2017). Opposite genders should be allowed to participate on co-ed teams without restrictions.
In the past years, it would be seen as abnormal, however experiencing it at first hand and in the recent years, the uncomfortable and variety of looks from standing out from the rest of the team has no effect anymore. Being a prospector before joining the sport, it's an interesting, yet beneficial experience. Some view and argue participants in a co-ed team is unfair to competitors due to having opposite genders going against them, but the nature of the situation always depends on the sport; depends on the experience of the players. Based on the perspective of an individual whether its a board member of the MIAA, a parent, an administrator, a competitor, or a fellow teammate, there are mixed emotions about allowing opposite genders joining and creating co-ed teams.
There can be a variety of significant differences between a male and female body, but those differences are no excuse from preventing opposite genders participating in sports. There are many advantages and a few disadvantages to participating on a co-ed team. Some consider the physical aspect of co-ed teams as a safety concern from administrators alongside staff and faculty to parents and guardians. It's completely understandable due to the differences in autonomy and other physical differences between genders, but fall short when comparing the time and effort displayed as a whole and individually in games and practices.
From being a female and playing football to being a male and playing field hockey, one regulation that is clearly expressed from athletic directors to coaches is that everyone is given an equal opportunity regardless of gender. Many believe partaking in a co-ed team creates competition within a group, but from first hand experience it's the complete opposite.
Finishing up my last season of field hockey and only playing for two consecutive years, no matter what the gender, all competitors had a greater advantage than I did. After practicing and learning new skills, I have been able to thrive in the sport and become a well skilled player. Sure, it may have been a different experience if I partook in a same gender team, but a co-ed team along with five other males not only made it an easier experience to tackle, but more memorable, knowing I was able to join a team that was open to new opportunities, working together, and communicating with each other to meet our goals.
Being able to learn the sport and observe the interaction between same gender and opposite gender teams is what significantly stood out to me the most. I was able to better understand how a co-ed team can learn from each other, learn new skills, and most importantly coexist by working with each other, not against each other.