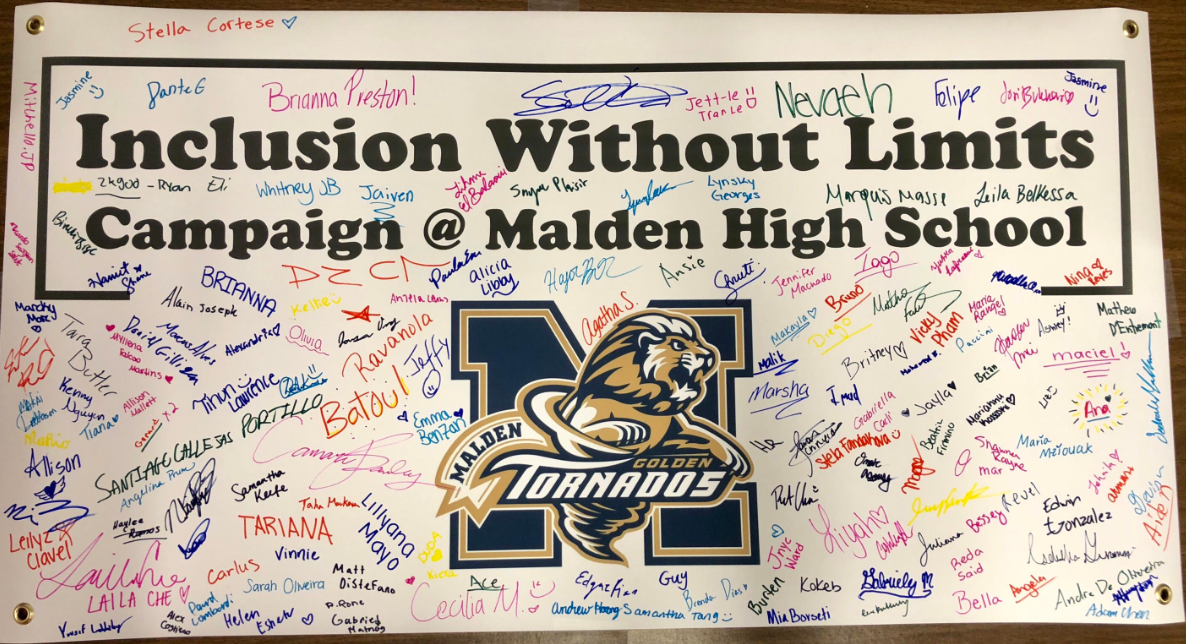 A banner signed by students for the Unified Basketball team. Photo by Stacey Sousa.
Choose to Include is a new initiative being promoted at Malden High School. It's goal is to get students with intellectual and/or physical disabilities more involved in activities around the school.
The person behind this initiative is Stacey Sousa, a Malden High Alumni of 2012. She is a current third year Doctor of Physical Therapy candidate at Boston University. In the final year of the program, students have to take part in an academic practicum in an area of interest. When it came time for her to decide what she wanted to do, she "decided to take part in a practical experience related to health promotion to enhance [her] knowledge and skills and took this opportunity to give back to the Malden community where [she] grew up and went to school."
Sousa said that one of her main influences was participating in the annual Special Olympics at MacDonald Stadium, which is an event that she "enjoyed and loved." Sousa started this program with the goal to "demonstrate the capabilities of students with disabilities and the important role they play as members of the Malden community."
With this goal in mind, Sousa reached out to Malden High, and faculty members, Barbara Scibelli and Charlie Conefrey, reached out to her. They introduced her to the current programs in place, but she still "wanted to create and implement a program to make further change for students with disabilities and create the foundation to foster greater opportunities." Conefrey became her mentor, and she says they worked well together, saying he was "open to ideas and willing to help in any way."
The Choose to Include campaign has already taken steps towards fulfilling their goal. For one, Malden High School partnered with Special Olympics and MIAA to create the Unified Basketball team.
There was also a campaign held on November 14, 2018 which displayed information regarding research related to the benefits of social inclusion, and appropriate use of terminology.
Apart from that, a giveaway of MHS merchandise was held on instagram. Sousa says this was done "to increase participation of students to raise awareness by spreading the word on social media." Over 70 students participated, and six winners were chosen at random.
Sousa says her overall "vision for this project is for Malden High students to create an inclusive high school where students with disabilities are active members within the Malden community taking part in sports and community service and each individual is respected and treated equally." She is also "hoping MHS students interested in Special education or who have a similar passion in helping students with disabilities, can take over this project, run future events, and expand available opportunities for social inclusion."
As far as the ongoing plans with this project, Sousa is currently working on starting a Unified Track team in the Spring, and hopes to create other sports teams including volleyball and football. She also hopes to create a Unified Club where students with disabilities can take leadership roles alongside their peers in inclusive community service opportunities.  
For more on this project, follow @ChooseToIncludeMHS on Instagram to see how to get involved.