After just finishing up a math tournament at Tufts University, Felix Li sat down at the Malden Public Library to await the decision letter from what has been his dream school ever since middle school. A deferral earlier in December had made Li somewhat cynical about his chances. But regardless, it was on the eve of Pi Day, March 14th, at exactly time 2π, 6:28 pm, Li opened up the letter he had been anticipating yet dreading for the last three months. When he finally opened it, Li was jubilant beyond words. He had just been accepted into the Massachusetts Institute of Technology.
"It was a dream," recalled Li. "The next day when I went to class I was still thinking that."
For Li, beyond just the fulfillment of a childhood dream, it was a culmination of his high school years that has seen him grow as a student, a leader, and ultimately, a person.
Li went into his freshman year as a shy student who kept a close-knit of friends. While he still considers himself to be introverted in some ways, he exercised every opportunity he had in his four years of high school to push his boundaries and step out of his comfort zones, which saw him doing everything from Poetry Out Loud to helping, or at least attempting to help, thwart a bear attack in Minnesota.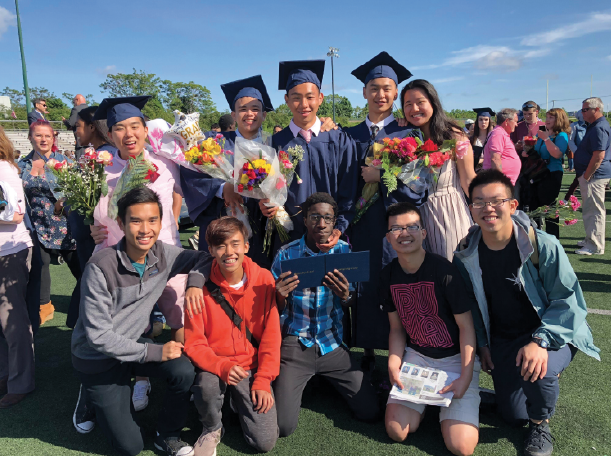 Going into his freshman year, Li made one of his goals to improve his public speaking, understanding its importance. In order to do so, he decided to join the MHS Speech and Debate Team as well as Youth & Government, eventually becoming the Chief Justice his senior year in the latter.  Li attributed his growth as a public speaker as well as his developing interests in politics to Youth & Government. 
Senior Birukti Tsige, who went to middle school with Li and also collaborated with Li on various extra-curricular activities in high school, including Speech and Debate, Malden Youth Civics Council, and National Honors Society, has taken note of Li's growth as a speaker.
Tsige explained that "before high school, [Li] was always known as this smart but reserved kid."
"Then freshman year, I have a class with him and he stands up and starts speaking. I was just in awe because he is not timid or quiet. Suddenly, he just exuded confidence which was a really incredible transition. He has gotten better and better over the years, as I have seen him in [the Malden Youth Civics Council] and Speech and Debate. Even though he is still introverted as a person, when he needs to be a good speaker and give a good speech, he is so incredible. It just shocks me."
Throughout high school, Li became quite engaged politically and came to realize the importance of civic engagement. Li admitted that going into MHS, as he was already certain about pursuing STEM, he was in the mind-set that he "could not mix STEM with humanities and politics." However, as he got more involved with public speaking, he realized that politics "was not something that you can ignore" and that in order to"be a good student or citizen you have to be politically engaged to a certain degree."
Li expressed his desires to continue to engage politically in college and beyond, even though it is not something he is pursuing career-wise.     
Besides Youth & Government, Li also credited the Summer Search Program for his growth throughout high school. Li explained that through the program, he was able to form mentoring relationships and therefore the program became his "outlet outside of school."
Academically, Li will pursue a major in computer science at MIT, while keeping the possibility of double majoring or minoring in environmental science open. After taking the computer science program at MHS for four years with Paul Marques, Li has found his passion for programming and problem-solving.
Marques, who Li also pointed to as one of his mentors, hailed "his attention to detail."
"He always does A-plus work, finishes ahead of time, is very inquisitive and makes sure every t is crossed and i is dotted," explained Marques. "He really holds to the specifics of the program and thinks outside the box.
Li signaled to his parents as his source of academic motivation. "They instilled in [him] from a really young age the importance of being a good student."
"Even when they took a step when I went to high school, I put the same pressure on me to make my parents happy. My parents' happiness attributes to my own happiness."
Beyond just admiration academically, Li is also well-liked by his peers for his general kindness and consideration.
"He may, if you don't know him, look shy, but once you know him, he is very affectionate and fun to be around," said senior Daniel Augustin, who is a close friend of Li.
"The thing about Felix is that he is just such a good person and good in the purest form," said Tsige. 
"It's not that he brags about it and does these overly extravagant things, it is just the really small things he does. Like he always holds the door for people, when we are walking and he sees trash he just always picks it up. He also always carries around a wooden spoon and a metal straw. He does not make it a big deal but just does it without anyone looking."