As the season for Malden High's Girls Varsity soccer team continues, the girls keep their heads up and keep bringing their best onto the field at every game. Their most recent game against Somerville on October 17th resulted in a loss with a final score of 0-4 , but they have a lot of hope going forward.
The girls' first win so far was against Medford on September 11th, with the score being 3-1. Captains Bia Segato and Nour Chouiki played hard, with Chouiki getting the first goal of the game. Segato later scored the remaining two goals, bringing the girls' first victory of the season.
According to coach Enrique Caceda, the team "had great expectations coming into the season," and began the season with a "good start but have struggled a bit lately."
Sara Dzaferagic, a sophomore with her second year playing varsity soccer, explains how "there has been a lot of changes with the ten seniors that graduated.'' Having a lot of the team's major players graduate has been a big deal since the team now consists of a different group of girls, many of which have never played together before.
"There have also been a lot of injuries in the beginning of the season that really hurt our team, but [they are] just trying to stay positive," Dzaferagic explained.
Injuries have been a major setback for the girls this season. During the beginning of the season, five of their major players were already hurt and had to sit out during games. However, now most of these players are back on their feet and beginning to return to the field with a competitive mindset.
Currently, the main thing the girls are set on doing is trying to qualify for States. Sarah Whitehouse, junior and outside midfielder, explained that they "can only lose a certain amount of games before [they] will be unable to qualify for States," and expressed hope that the "team as a whole will be able to achieve the goal of making States... that will be a huge deal to us."
Senior captain Nour Chouiki, outside midfielder and forward, also has hopes to make it to states, "so [they have] been positive."
To make it to States, there are a lot of things the team is working to improve on. Coach Caceda says that in general, the team has been working on "possession and getting the underclassmen valuable experience."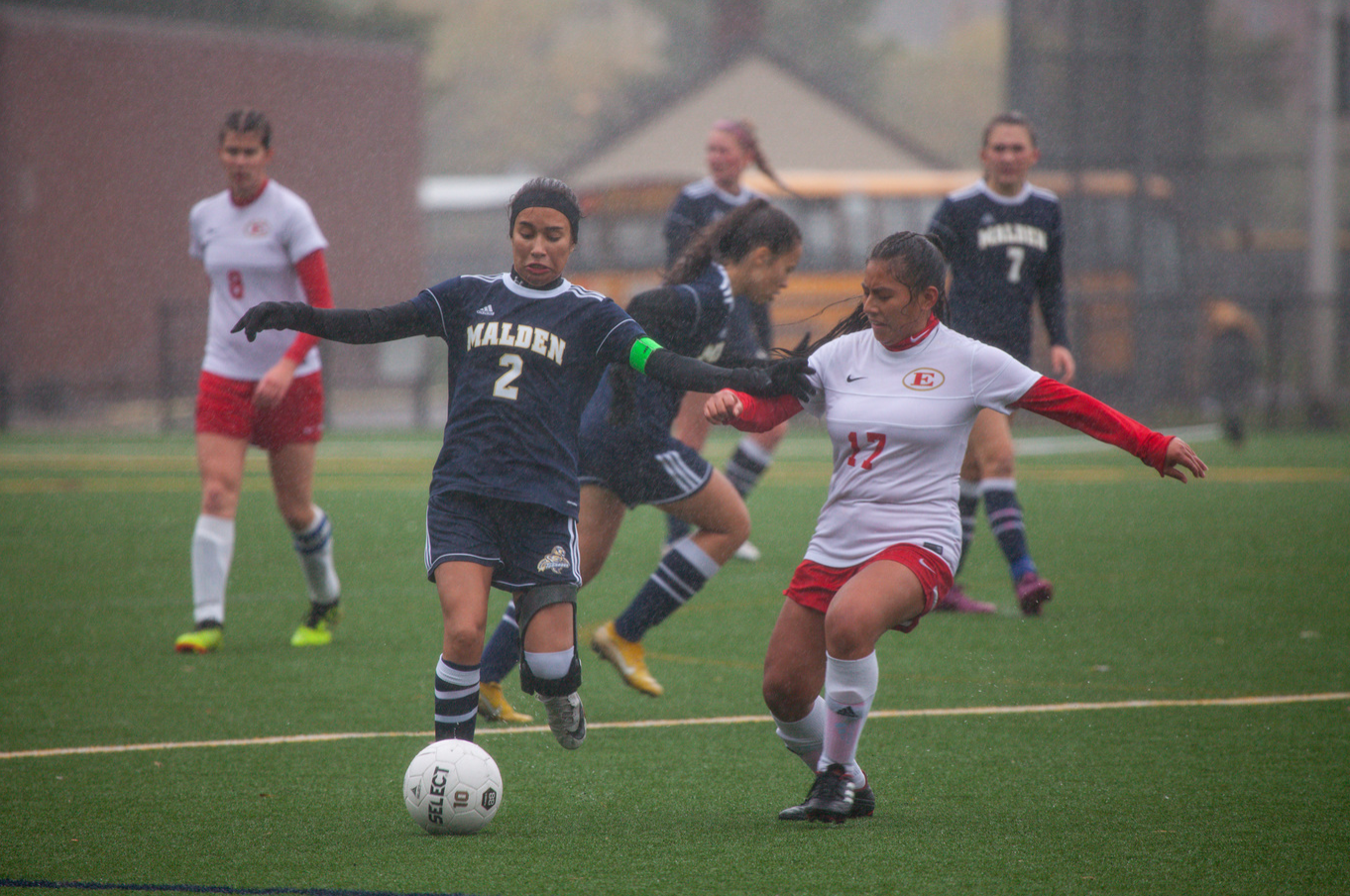 The girls have been working on more specific things too. "Some improvements [she thinks] the team can make would be making better passes," Whitehouse suggested. The team also has not been connecting passes, but Whitehouse thinks that if the team begins focusing on this, they will "definitely have a better opportunity at winning."
In addition to this, Chouiki believes "the team can improve on playing faster and passing more," since "if [they] are hoping to make it to States [they] need to win every game, and [they] cannot give up any losses."

Despite their 2-9-4 record, the team seems set on winning their upcoming games. According to Caceda, the team has only experienced "one game where [they] were completely out played," and feels that it is his duty to "have the girls ready for every game despite our record or previous results."
The girls seem hopeful to keep working hard and improving, too. "Even with the major players that have graduated, [they] still have a solid team this year, and [have] been really excited to see how this season plays out," Dzaferagic said.
"Despite our struggles, [the girls] have continued to work hard at each and every game," Caceda added.
Looking forward, the girls are really hoping to work together this year to end their soccer season strong.