Lover is Taylor Swift's seventh studio album and her first release with Republic Records, after parting from Big Machine Records in November 2018. Fans began speculating about the album as early as February of this year. Swift discreetly announced the album when she posted a thirteen-day countdown to social media, which was also featured on billboards in popular cities like New York and London.
After posting the countdown on social media and causing a frenzy, Swift continued to post new content every day leading up to the release of the album's lead single, "ME!," featuring Panic! At The Disco's Brendon Urie on April 26th.
True to her brand, Swift sent her fans on an elaborate Easter egg hunt by placing hints about the future album title and song lyrics all throughout the music video. She finally announced the album and its official release date of August 23rd on June 13th during an Instagram livestream. Swift also announced the second single, "You Need to Calm Down."
On August 16th, Swift announced the tracklist of the album in a series of Instagram posts. Just one day after the album went on sale, Lover became the top-selling album of 2019 in the U.S., selling 450,000 copies on the first day alone. Later it went on to top the Billboard 200 Chart, with 867,000 copies sold in one week which makes this Swift's sixth #1 album. On September 27th, Lover was certified platinum.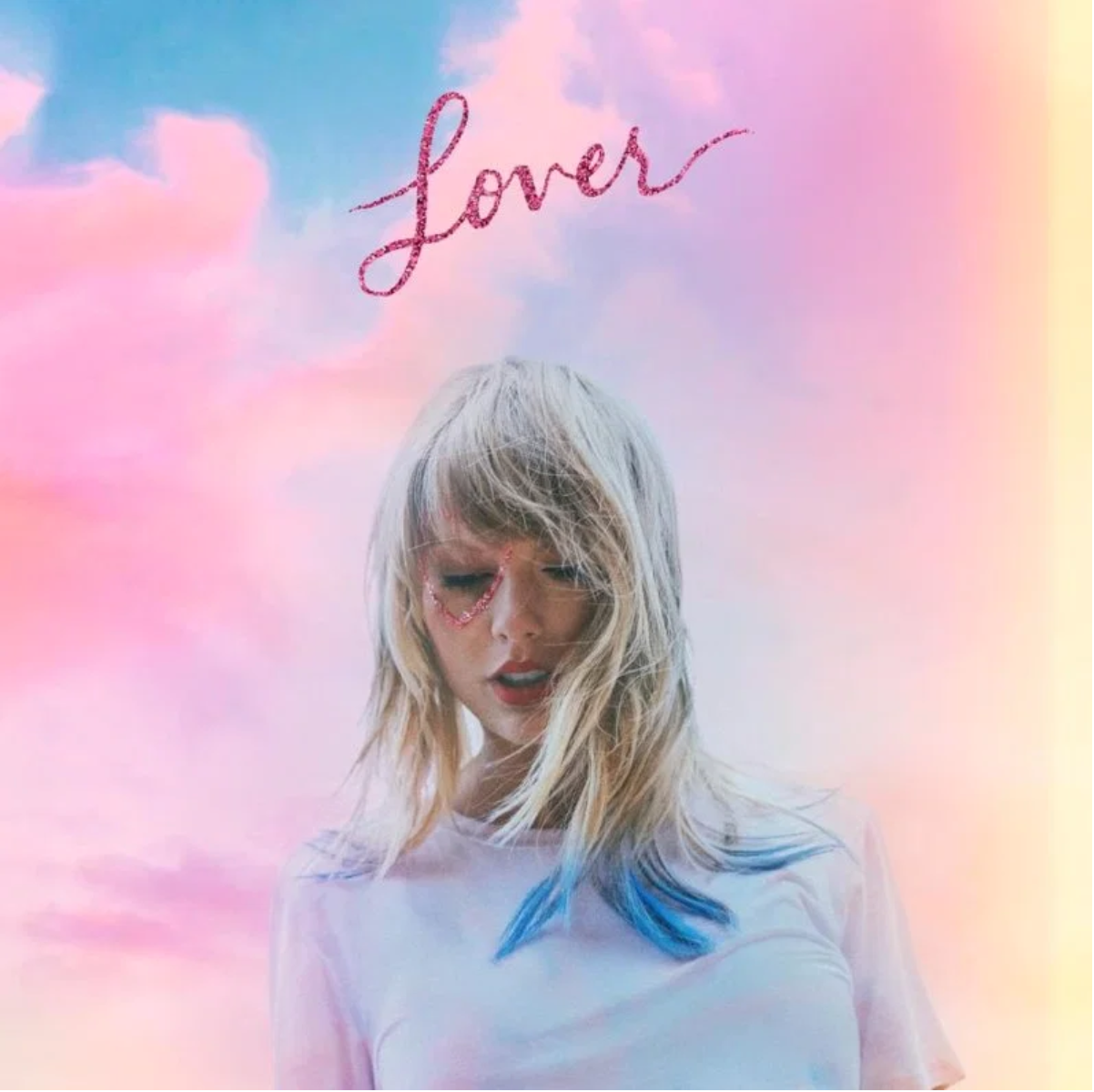 Track One: "I Forgot That You Existed"
The opening track on the album is a song called "I Forgot That You Existed," which at first might seem to be about last night's homework, but not the case here. Based on lyrics like, "I forgot that you existed / It isn't love, it isn't hate, it's just indifference," it shows that Swift is letting go of the struggles and negative feelings described in her previous album, reputation. This song is the perfect way to start the album and transition into this new chapter of her life that focuses on the different types of love she encounters. Overall, a very upbeat track highlighted by short piano chords and faded vocals in the background, which seem to be a common aspect of many other songs on this album.

Track Three: "Lover"
Skipping to the third and arguably one of the most popular songs on the album, "Lover," which shares the same name as the album. Being a fan of Swift for such a long time, you're used to hearing many heart wrenching songs filled with tragedy, but this one feels like a weight has been lifted off your shoulders. Just an innocent and heartwarming song about Swift's partner of three years, Joe Alwyn. This track was released as a single before the album and on the first day it reached #1 on the US iTunes charts, making it her 35th song to do so.

Track Five: "The Archer"
"The Archer" was the third song to be released from the album, after "ME!" and "You Need To Calm Down." The song was actually teased in the music video for "ME!" in a very stealthy manner. In one of the scenes, there is a band of angels that resemble cupids, which are often depicted as archers who shoot arrows. One appearance might be a coincidence, but in the music video for "You Need To Calm Down," guest star Hayley Kiyoko is seen shooting an arrow into a target with the number 5 on it. This being the fifth track on the album, it doesn't seem like too far of a reach. Additionally, among Swift's fans, the "Track #5 Theory," is one that suspects the fifth track on her albums to be the most vulnerable, emotional ones. This track definitely fits the bill as Swift is singing about her insecurities in a relationship.

Track Seven: "Miss Americana & The Heartbreak Prince"
On the surface, this song be interpreted as one about a high school romance, but if you listen closely to the lyrics, there are so many layers to it. Swift told Rolling Stone that she wrote the song "a couple of months after midterm elections," and she wanted to "take the idea of politics and pick a metaphorical place for that to exist." What better way to do that than to compare it to a traditional high school?

Track Nine: "Cornelia Street"
In 2016 and 2017, Swift actually rented an apartment on Cornelia Street in Manhattan. The song focuses on the role that the street plays in her memories of a former relationship. Swift explains that sometimes in our lives we will assign memories and feelings to a certain place in our minds. During the week of September 7, 2019, the song peaked at #57 on the Hot 100.

Track Ten: "Death By A Thousand Cuts"
A personal favorite on this album, a catchy song about saying goodbye to someone you love. The title "Death By A Thousand Cuts" suggests that the song is about a slow, torturous ending to a relationship. Contrary to most of the other songs on this album, this one was not written based on Swift's personal life. For this track she took inspiration from the Netflix film Someone Great. After watching this film, Swift recalls that "for... a week [she] start[ed] waking up from dreams" that involved her living out the plot from the movie. Eventually she got in the studio with producer Jack Antonoff and they recorded the song.

Track Twelve: "Soon You'll Get Better" (Ft. Dixie Chicks)
This heartbreaking song is an ode to Swift's mother, Andrea, who was diagnosed with cancer in April 2015 and rediagonsed in March 2019. In Elle Magazine, she expresses that her mom's cancer has taught her that "there are real problems and then there's everything else." She continues to say that she used to be so anxious about the "daily ups and downs," but now she saves all her energy and prayers for real problems. Understandably, Swift admitted that this was the most difficult song on the album for her to write.

Track Fourteen: "You Need To Calm Down"
Possibly one of the most iconic songs on the album, one dedicated to the critics who post hurtful comments online with underlying themes of self-love and acceptance. On the track, Swift continues to show her support for equality, following her letter to Senator Lamar Alexander earlier this year and a petition she started for legal equality among people regardless of gender or sexuality. Therefore, it is not a coincidence that the song was released in June, which is recognized as Pride Month.

Track Sixteen: "ME!"
Similar to track fourteen, this track featuring Brendon Urie revolves around the theme of self-love and confidence as well. When announcing the single, Swift said that the song is about "embracing your individuality" and "really celebrating it." She adds that with pop songs, it is easy to get a melody stuck in your head and she wants it to be the one "that makes them feel better about themselves."

Track Eighteen: "Daylight"
The album closes with the song, "Daylight." This track is very fitting as the final song because Swift sings about the struggles she faced in her past until she met someone that helped her see her life in a new, brighter perspective. For her, the song "recognizes past damage and pain," but "shows that it doesn't have to define you." Compared to most of the songs on Swift's previous album reputation, this one feels much lighter and relieving. One of the lyrics featured in the song is, "because it's morning now / It's brighter now" which paints a picture of starting fresh at the start of a new day. Swift acknowledges that she has made mistakes before, but based on the lyrics in the song, she has chosen to "step into the daylight and let it go."

In the album's lyric booklet, Swift included a foreword to her fans. During the outro of "Daylight," her voice is heard reading an excerpt from this foreword. The excerpt reads, "I want to be defined by the things that I love, not the things I hate, not the things I'm afraid of, or the things that haunt me in the middle of the night. I just think that you are what you love."