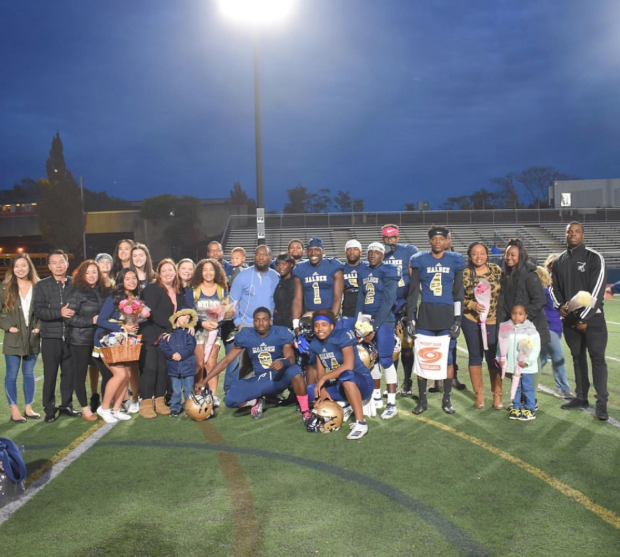 The Malden High School Football Team went up against the Newton South High School Football Team for their senior night. Although the team did not win, it was still a very close game. The game went into overtime three times but in the end, Malden lost 33-35. 
Senior Jamari Youman transferred to Malden High from Florida ready to help the football team get closer to a win. Youman caught four touchdown passes, including two in overtime, and had a pick six in the fourth quarter.
One of the senior captains Ishmael Sylus, who was injured three weeks before the game, said that "[it] was hard to manage the team while injured because [he] was said [he could not] be out [on the field] with them but [he is] here now." Sylus had a lot of advice for the players on how to get better. 
Though he was not satisfied with how the team had been playing over the last few years, he believes they have a lot of potential. He claimed that "[the team needs] more execution, [they need to] work with each other and not against each other." Sylus believes that the team "[needs to have] more heart, [and they] will to win." He also adds that his favorite part of the team is being a part of a brotherhood and knowing that his teammates always have his back. 
Sylus stated that "[the team] fought until the end, and [he was] proud of the team, they really showed heart, [and that this is] real Malden football." 
Sylus has been playing football for five years. His friend, also a senior football player, Kahli Hardmond, convinced him to play football, and got him interested in the game, but now the love for the game motivates him. "Football keeps [him] going," he said. Sylus does hope to go to college and play football there, though he is not so sure what college yet. 
Sylus' most memorable game that he will carry on with him is the Thanksgiving Game from his freshman year, "watching the seniors play made [him] want to play and keep the legacy." 
Other team captain, senior, Jerry Mervil, said that the Senior Night game was the most memorable and the most fun game that he had played at Malden High School. Though Malden had a tough loss, Mervil was still proud of his team. 
"[Mervil felt] like overall the team performed very well, better than the last few games[...] but it was just a tough loss," especially with the intensity and high stakes and then after three overtimes "[they] ended up losing." Despite the loss "[he felt] like the team took a step and learned from it, so it just did nothing but make [them] closer."  
Mervil's favorite part of being a part of the team was being a leader. Mervil does believe that the team needs more improvement and that the best way to improve is during the off season. "Improvement all starts with off season. [The] off season is the biggest part of football life." He believes that if the team "[works] in the off season through skill training, weight room training, watching films from last year, [and overall] seeing where [they] lacked and try to improve those qualities," they will start seeing improvements. 
Other senior team captain, Peterson Maxis stated that "[they are] finally coming together as a team and playing with each other [and] not against each other." He expressed that "every game [they have] played were winnable games, [it was] just little mishaps shooting [them] in the foot." 
Maxis says that the main improvement the team needs to make is knowing where they need to be on the field, "lineman not standing tall, D-line giving push and changing the line of scrimmage," further explain that it is all just "simple things," they can work on. He said that the main challenge is staying out of each others' ways since there are multiple athletes and playmakers. Maxis plans on playing football after highschool, and plans on going to prep school next year. He also stated that his brother motivated him to play since sixth grade because even though he did not really understand football, he still wanted to be like him. 
Coach Stephen Freker stated that "[Sylus, Maxis, and Mervil] are three of [their] key players, with all three of them starting two ways, on offense and defense." He explained that "[Mervil] has played many positions on offense, including starting several games at quarterback, as well as running back and receiver. He has thrown several touchdown passes and scored four touchdowns including an exciting 85-yard kickoff return touchdown in the game against Haverhill."
Peterson has been impressive with running back and linebacker which caused the coaching staff to admire his leadership abilities.
Sylus is another two-way starter at receiver on offense and cornerback on defense and has helped the team compete in all of their games this season.
Freker also stated that "all of [their] seniors will be hard to replace and [it is too] early to forecast who will replace [their] captains, but there are a lot of good candidates among [the team's] underclassmen."