With more and more restaurants and businesses being brought into Malden, the city is happy to welcome Wanyoo Gaming Café as one of them. Wanyoo Gaming Café is located at 96 Pleasant Street.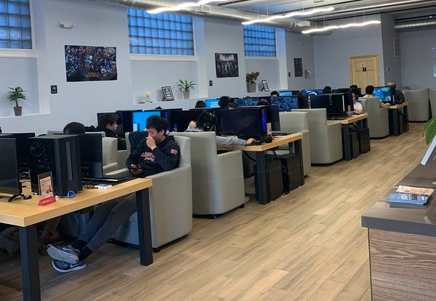 Wanyoo first opened back in 1998 in Shanghai, China. It was the largest gaming cafe chain in China. Wanyoo's website says that it was designed to be "the largest and best Internet Cafe in Boston, offering services from basic internet services to E-sport tutoring." Wanyoo is equipped with high-end PCs, game machines such as a PS4 and equipment for e-sports. E-sports is a form of competitive sports using video games.  
In Wanyoo there are gaming PCs with games such as League of Legends and Counter-Strike: Global Offensive.  They have nine console stations that "allows console gamers to come in and play with their friends using [their] 144hz curver HD monitors."  There are also Team rooms, in Wanyoo, where team players can go in and play as a team. Wanyoo's gaming PCs are able to "handle all types of games smoothly with high internet speed."
Co-owner, Zhichao Chen, stated they want to create an atmosphere where people can come in and have fun.  "This is a place for [people] to socialize and have fun and meet new friends as well because not a lot of the kids can physically play sports. But for video games, [it does not] matter how big or strong they are, they can play. They can do an E-Sport."
Chen says that Wanyoo was built in Malden because they saw "great potential" and believe that Malden is "going to be a gaming district" especially with Borda Borg next door. Chen also feels that Malden is "a place for people to come… and entertain."
To play at Wanyoo a person would have to make an account and prepay.  They would need to give them their name, phone number and student ID to verify their name.  When a person logs in on a PC their account will be charged by price per hour. If they do not log in then they will not be charged.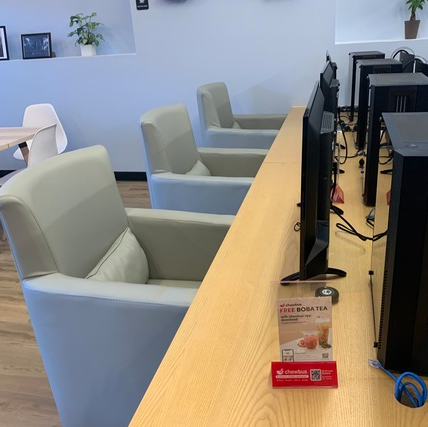 Since Wanyoo is relatively new to Malden, they are having a grand opening promotion where it is $2 per hour to play in their lobby and $4 per hour to play in their gaming room.  Though Wanyoo charges per hour, Chen added that the gamer does not have to play for the full hour but can be for a shorter time if they want. Wanyoo is not only for people to come in and play video games but can also be a place where people can come in to do work or homework.  Players can also bring in their Nintendo Switch to play Super Smash Brothers for free on one of the three monitors that Wanyoo provides. This is a limited time offer Wanyoo is giving to its customers.
Chen believes that people should come to Wanyoo because not everyone has all of the gaming equipment at home.  Therefore people can come to Wanyoo and have the experience of playing on one for a cheaper price than to buy a PC that costs around $800 according to Chen. Wanyoo is also a place where gamers can communicate with one another all in the same place while playing.  Chen wants them to "make new friends," and play "healthy." Chen also believes that playing together in the cafe can decrease depression in the players.
Chen would also like kids at Wanyoo to play E-Sports, "We [do not] want kids to only play games but we want them to play E-Sport[s]. To play games  professionally, with ethics, with sportsmanship." Wanyoo also has a Wanyoo Cup Tournament. When Chen was in college, he had minored in special education and noticed that not every kid can play a sport but can play video games.  Chen would also like for parents to come to the cafe and play with their kids since kids now do not really communicate with their parents.  
Wanyoo also works with a lot of colleges such as Northeastern, Boston College, Emerson College, and Boston University. Chen explained that the colleges send two teams to play in Wanyoo.  Wanyoo is currently having a League of Legends tournament that is practice for players, where they are allowed to come in and play a team and possibly win the championship.
Wanyoo also offers a different kind of vibe to their players with service bells at each station, servers who cruise the area to make sure they are doing the right thing, offering any help and even cleaning the whole station after each session, within 10 minutes, before the next player comes. 
Once the grand promotion is over, the cost for the lobby is $5 per hour and $8 per hour for their gaming rooms.  Wanyoo also does birthday parties.
The Gaming Cafe is a place for people to have fun and relax with friends.