Malden High's Step Team is well known for their performances every year at pep rally and Junior Varieties. The team also goes by "Mu Eta Sigma," which is the phonetic pronunciation of MHS in Greek. 
The Step Team was created by former principal of Malden High, Dana Brown, about 10 years ago. After he left, the team became a student run club without much guidance. Despite this, the team has proven to be very successful in putting themselves out there and making a name for themselves.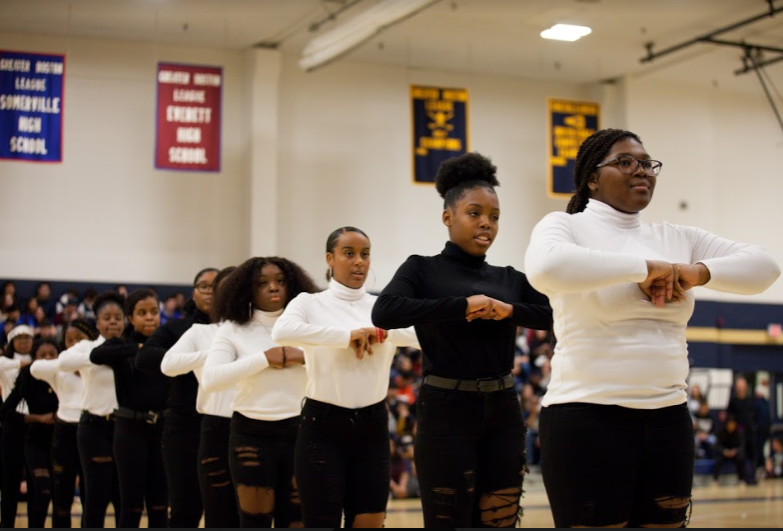 One of the captains, junior Keila Dumerant, explained that since the Step Team is a club, and not a sport, funding is not easy to receive. Since the club is not receiving financial support from the school, they have found a temporary way to earn money by selling concessions at the Al Locke basketball games at Salemwood. Before, it was difficult for the members because "everything was coming from out of [their] pockets." 
Christina Pierre-Rene, also a captain of the Step Team, has been doing step since eighth grade. It started as something she and her friend did, and she joined the team her freshman year because her sister was a member as well. Pierre-Rene became captain her sophomore year, and has continued stepping into her junior year. 
As one of the captains, Pierre-Rene's job is to organize the events that the team will perform at and help create routines. She often works with current Barbara Scibelli, their advisor, to find possible opportunities for the Step Team to perform at. In the past, they have been the ones to reach out to perform at school events like JV's, because they are always excited to be performing. As for coming up with routines, essentially what they do is take inspiration from performances they find, and make it their own. 
Pierre-Rene revealed that coming up with formations and organizing everyone can also be a difficulty. For instance, for Pep Rally, she had to consider the layout of the floor in the gym so as to be considerate to both the team members and the audience. 
As for captain Dumerant, she believed that the hardest part of step is being a captain. She said that as captain, "you have to accommodate everyone" and "keep the environment positive." 
Sophomore Myrvline Gilles has been a part of the Step Team since her freshman year. She mentioned that one of the hardest things for her personally is "memorizing the steps" and being coordinated in performances, since they are always moving around. 
Micaela Henry, also a sophomore, described her favorite part of being on the team as being "the connection [she has] created with the girls" all while doing "one of [her] favorite things," dance. Henry is looking forward to growing with her teammates as their audience and outreach expands. She considered being able to perform and "share [their] art form with others" a "truly great experience." 
The Step Team is constantly working hard to promote their group in the community. In the near future, they are planning on starting a step program with the local recreation center that will be offered in Malden. In addition, Henry expressed that she hopes to eventually compete with her teammates as it will teach them all some "core values in teamwork and competition." 
Captain Dumerant wants people to know that "step is for everybody," and it is worth checking out. It is a great opportunity for people to get out of their comfort zone and get over their stage fright. Dumerant knows there are people that are scared of being on stage, but with step, you're not alone up there. "We're all different people, but at the end of the day, when it comes to step, we're one.