Warning: This review does contain some spoilers for the movie Clouds. 
From the producer of Five Feet Apart, comes a heartwarming tale of a true story. Disney Plus has given people a new way to rewatch their favorite shows from their childhood, and continues to release new movies and series that appeal to many teenagers and children. One of those movies being Clouds. Clouds was released in 2020 and were directed and produced by Justin Baldoni. 
A young musician is given only months to live and begins to write music and make the most of the time he has left. Zach Sobiech (Fin Argus), a senior in high school with Osteosarcoma, a type of bone cancer, goes to school as a normal teenager, but after a sudden asthma attack reveals a collapsed lung, he is given the news he is now terminal.  
With only a few months left to live, Sobiech decides to stop his chemo treatment and live life to the fullest. He and his best friend Sammy Brown (Sabrina Carpenter), form a group called A Firm Handshake and record Youtube videos for their songs "Fix Me Up" and "How to Go to Confession." A recording label sees their videos and brings them in to record the song "Clouds."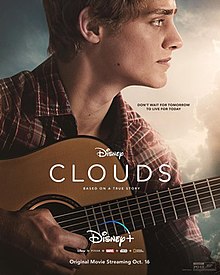 The song "Clouds" was an overnight hit and soared to the top of the charts. Sobiech continued to go to school and live his life to the fullest. Zach and his girlfriend had plans to go to prom, but when things get tough with Zach's health, those plans are rearranged. Sobiech and Brown get invited to perform at a big area, and, along with Zach's family, Brown turns the concert into the high school's prom.  
Although Zach is not feeling his best, he still goes out and attempts to perform his song. He struggles to breathe during the performance and the crowd takes over for him. "Clouds" continued to soar on the music charts even after Sobiech had died. 
This movie is a heartwarming take based on true events. There was a lot to love about this movie including the story behind it. The characters resembled the actual people remarkably well. With all the dedication and commitment from the actors and the producers, it's no wonder it took Zach's story seven years to hit the big screens. I recommend this movie to those who like the movie "A Walk to Remember" as well as "The Last Song" and "Five Feet Apart."  
If you would like to read more about the real Zach Sobiech, you can click here.