Nearly one year ago, Malden High School had its last day of in-person school before it closed due to the COVID-19 outbreak. At first, we all thought this would last one month, which then extended to three months, then seven months, which leads us to the present day. With the distribution of the COVID-19 vaccines just rolling in, the big question comes to mind: when will we be going back to school?
Malden High School Principal Chris Mastrangelo said in a recent email that Malden High has set dates on when students will be able to return to in-person school. Students in grades 9 and 12 (freshmen and seniors) will return first in a hybrid schedule on March 22, while students in grades 10 and 11 (sophomores and juniors) join them shortly afterward on April 5. 
Mastrangelo acknowledges the concerns that come with returning back to in-person school, but stresses that "safety is always [the] first priority." He added that the Malden High faculty and administration have been "working hard to assure that the school will be as safe as possible for the students to return." Some students may not feel comfortable with going back to in-person learning just yet which is why students are given the option whether or not they want to "stay on the distance learning platform," or proceed with the hybrid model. 
Like many teachers, Mastrangelo looks forward to "seeing the kids," adding that "it will also be great to see the entire staff back in one place."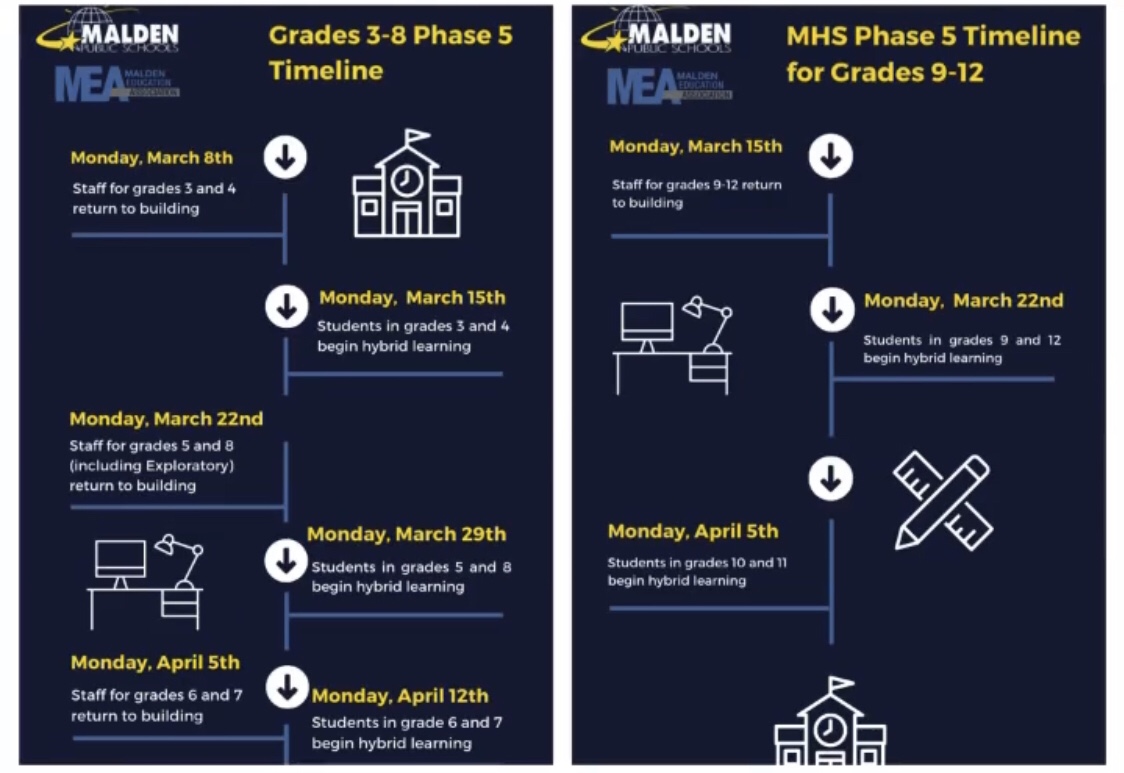 Biology teacher Jessica Webber stated that "[she is] hesitant about students going back to in-person learning." She explained that she wanted "to be in school with [her] students," however, she is "worried about going back too quickly amidst the pandemic." Webber expressed that she knows "in-person [learning would be] best for students [...] but [she worries] that there will be increased transmission in schools." 
For Webber, being that she is a Biology teacher, her biggest challenge while returning to the building would be "labs," as she explained that "it will be hard to maneuver students into the classroom safely." 
Sophomore Saura Rathore hoped that students would have the opportunity to return to in-person school at some point during the 2020-2021 school year because she feels as if a large "majority of the students [would] agree that distance learning seems to be too much of a burden." Rathore agreed that if we do fully return to in-school learning, there should be precautions that everyone should follow.
We will continue to cover this topic as students will be entering the school soon. Are you going back to in-person school? If so what are your thoughts on proceeding with a hybrid learning model?