How could Tartar sauce help the Class of 22? Well, order that and some fish to go and you will find out. On March 23rd, the Class of 2022 held a fundraiser with Kelly's Roast Beef and Seafood restaurant. 
In the case of this fundraiser, customers were able to go to Kelly's Roast Beef on Revere Beach Parkway and order food. Once they showed the cashier the flyer, 15% of the order total would go towards the Class of 2022. However this did not work for delivery, only takeout and dine in orders.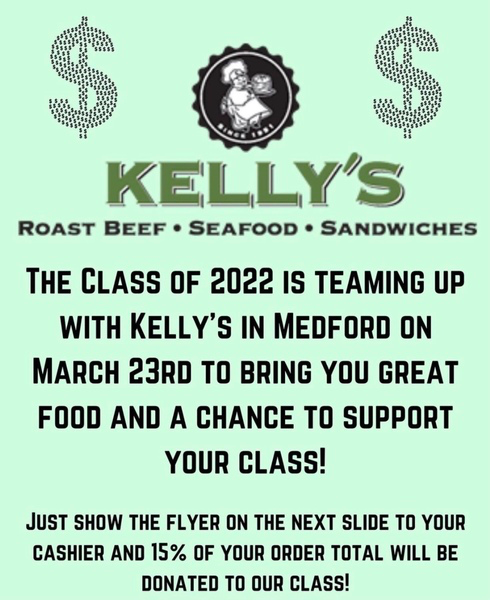 Sammi Nie, the Treasurer of the Class of 22, is in charge of assets, balancing accounts and more, but when it comes to the student council everyone "plays a role."Nie further explained that the Class of 2022 decided to team up with Kelly's Roast Beef because of the location and variety. 
Given that Kelly's gave people an immediate result, the council figured people would be "compelled" to support the fundraiser. For example, if the class were to buy popcorn or candy online, they would have to pay for delivery and wait days, but with the Kelly's fundraiser, they were able to get food instantly. Kelly's offered a "great" percentage of proceeds and because of this, the Class of 2022 saw a great opportunity to raise money. 
Daniel Jurkowski, class advisor, is responsible for "supporting the class advisors" and "helping with any and all logistics. "Jurkowski explained Vice President Sarah Oliveira was the "point person." She was the one who reached out to management at Kelly's and set up a date for the fundraiser. The only logistics to work out after that was "getting the word out" to everyone at MHS and the Malden Community. 
Mayor Gary Christenson was one of their biggest supporters and oddly enough their very first customer. In fact, Christenson helped "promote" the event on his social media helping stir up business. Overall, he considered the fundraiser extremely "successful," and any money at all is beneficial to the class. Next will be Junior Varieties, with hopefully the same fortunate outcome. 
As always, Mayor Christenson wants to do everything to "support" the students, especially during these hard times when it can be "difficult" to raise money. For Christenson, it didn't "hurt" to get a fish sandwich with tartar sauce, one of his "all-time favorites."