This school year has been incredibly tumultuous for everyone, and at the start, a lot of things were unknown. Sports were delayed by months, the transition to hybrid was very slow, and for a while, nobody really knew how Junior Varieties was going to happen, if they were going to happen at all.
Luckily around mid-March, the Class of '22 was given the green-light for producing the show. According to Class Secretary Christelle Jean, it was a mad dash to get acts and auditions together once they found out they could have a show in the first place. For a few months, they were even planning on using Macdonald Stadium. It was incredibly challenging, especially financially, since "[they] would be in charge of sound direction" and sound in an open stadium would have been much more difficult to control than a closed space such as the Jenkins auditorium.
In addition to sound issues, before authorization from the CDC, they did not even know how many people they were allowed to host, which is "why [they] chose an outdoor venue, to maximize the number of people that could attend." There was a lot of communication with the Mayor, the CDC, and the health department, and when they finally found out they could use the auditorium, it was limited to 30 people. However, once restrictions were lifted, the limit was raised to 250 people, which Jean stated was "the best news [they] heard all year."
During their preparation, CO '22 Treasurer Sammi Nie stated that the scripts they made for each person and job were vital to the flow of the show. For example, mic runners had to pass around microphones, wipe them down after specific acts, etc. Curtains needed to be drawn and raised, and spotlight placement was incredibly important as well.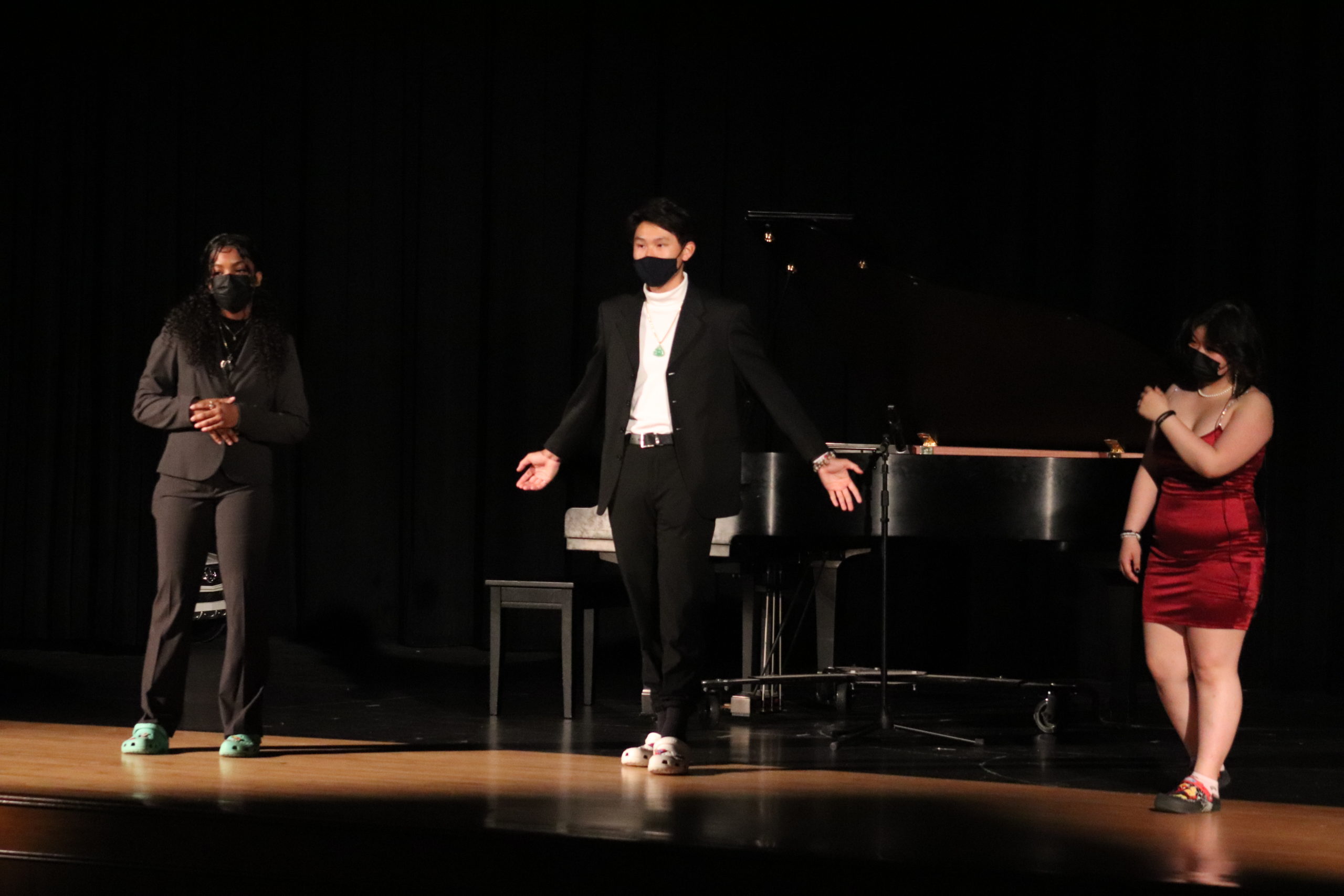 The show itself was quite a success. Throughout the entirety of the production, hosts Jason Ong, Tivian Nguyen, and Whitney Jean Baptiste went on an adventure searching for a missing painting. It was incredibly comedic and engaging, with guest appearances from the CO '22 advisor Dan Jurkowski and Art Coordinator Tony Giech. According to JV Coordinator Mayada Giha, the original script featured a segment featuring "Blinding Lights" by The Weeknd, but was scrapped and rewritten in a day, although "[they] had to rewrite the script a few times because ideas kept changing." For example, originally, Nedlam was supposed to steal the painting and the painting would have been the CO'22's funds. Host Whitney Jean stated that they wanted to "spice [the show] up" which is what led to them parodying the famous "I Want it That Way" scene from the TV Series Brooklyn 99. Jurkowski was involved in the bit, and he stated that he was a bit nervous, fearing that he would "forget [his line], and just completely bomb the skit" although he did end up having fun with it and was glad that the crowd loved it as well.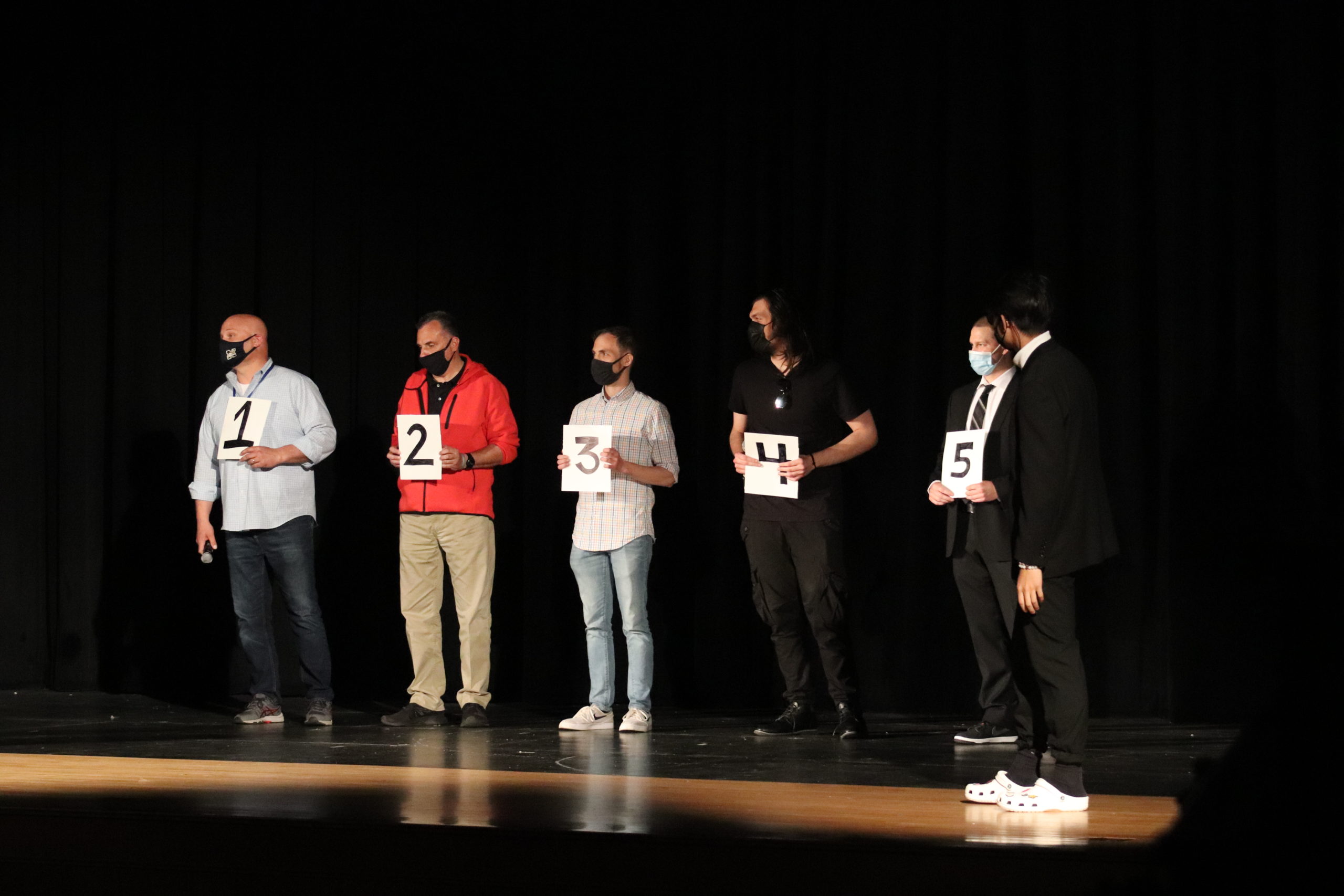 In addition to the riveting story, the quality, production and professionalism were amazing. CO '22 Vice President Sarah Oliveira stated that due to COVID limiting their fundraising opportunities, "tickets had to be more expensive than usual." With this, Oliveira and Nguyen thought that they should try and make the show a bit better and achieve a "Met Gala look." They set a budget and with it, they bought lanterns, a red carpet, and just did whatever they could to capture the Met Gala vibe. Oliveira added that "It was very much made of spur of the moment decisions, in an attempt to capture [our] vision, which [is] a reinvented JV's." Alongside the decorations, Oliveira was also in charge of figuring out seating and ticket arrangements. Confirmation emails were sent out to get confirmation numbers, and those were used to check-in at the door. Oliveira described the seating as restaurant-style, where you "come in, tell [them] how many people, and [they] seat you where it's available."
Despite technical difficulties at the start, the show started off quite well with Gabriella Frois (who sang in last year's show) opening by singing "Mama Knows Best" by Jessie J. In addition to her energetic performance and amazing vocals, the use of lighting in her act was phenomenal. According to Nie, they sort of just "played around with [the lights]" and looked for whatever fit best for each act. Factors like brightness, color, and positioning were all taken into consideration for each act.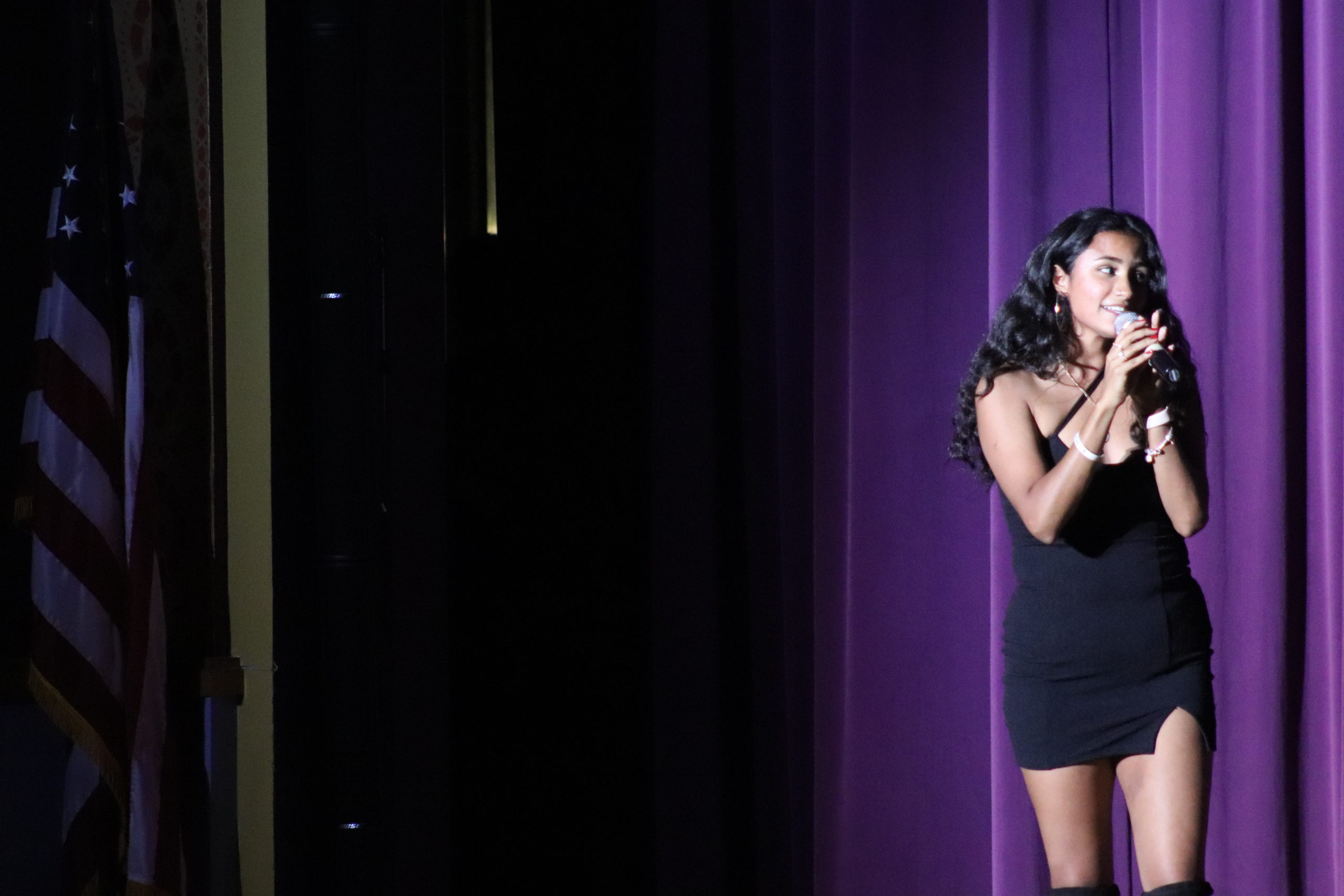 Next, pianist Donald Ford, performed "Pure Imagination" originally sung by Gene Wilder. Ford stated that he chose the song due to its use in a Glee episode since he felt the moment was incredibly emotional. At first, he expressed that it was quite challenging, to the point where "it took [him] a day to learn just a few seconds," but as time went on he began to get the hang of it. He also said that performing up on the stage reminded him of why he loves being a pianist, stating that "quarantine made [him] forget how it feels to perform, so going back up felt amazing." Ford's act was driven by the sense of wonder that the song holds, and the cloudy background projected behind him only heightened this. In addition to Ford, both Massimiliano Lam and Alyssa Littlejohn played classical music pieces, Rachmaninoff and Chopin, respectively.
Another notable act was Micaela Henry singing "Leave Me Lonely" by Ariana Grande and Macy Grey. In addition to this, Henry also performed with the All'gether One'gether Step Team. Captain Christine Pierre-Rene stated that "[the step team] wanted to leave a statement or impact" so they dressed up as security guards, which also tied in to the police brutality protests that went on last May. Pierre added that this was the first time the team was "actively trying to incorporate the show's theme into their act." The complexity of their performance is undeniable with the use of lighting, switching colors, warmth and intensity. After Friday's show, there was a heartwarming moment where the captains were given surprise graduation gifts. Pierre stated that "[she] was so confused" as she was ready to walk off after the act. Traditionally, team captains usually got their solo at the end, but Pierre believed that "[she] didn't need a captain's solo because [she] felt the statement [they] were making was bigger than that." Henry added that they had a "secret group chat" to coordinate the moment.
There were a total of four dance routines throughout the night, the first one being Leila Imani dancing to "War of Hearts" by Ruelle. Afterwards, CO '22 Social Media Coordinator Lauren Mallett (who is also our Managing Editor of Print) danced to "Bring Me to Life" by Evanescence. The third was Suiyenah Chen dancing to a medley featuring "Superlove" by Tinashe and "Black Mamba" by Aespa, among other songs. Finally, the penultimate act was Antonia Bilodeau dancing to Ember Island's cover of "Creep" by Radiohead.
In addition to Frois and Henry, many other singers flexed their vocal skills during the show. Leila Imani performed for a second time with Christine Dumo, in a duet singing "Minefields" by John Legend and Faouzia. Luana Paniago accompanied not one but two singers during the show, the first being Kearah Gomes singing "Never Enough" by Loren Allred, and during the final act, Isabella Geronimo singing "Falling" by Harry Styles. In addition to this, Oliveira performed "Put Your Head on My Shoulder" by Paul Anka, which she chose due to the fact that it would highlight the lower range of her voice. In addition to this, she wanted to create a "warm atmosphere" to set the mood, which she achieved not only with the song but with the stage lighting as well.
The return of JV's really symbolized the return to normalcy for Malden High and its students. For over a year the community has been stuck at home and just recently the MHS doors have opened up. The process has been slow but it's likely that the end is near. Nie stated that "it represents the school quite highly so [they] wanted something inspirational, and to keep the bar high." Even the storyline was linked to this idea as the hosts solving a mystery "represents us jumping over hurdles." Nie added that the ending where they discovered they found the wrong painting was meant to signify that "our obstacles are never going to end, there's still gonna be hurdles, but we can still overcome them," which was incredibly poetic.
Leila Imani and Christine Dumo perform "Minefields" by John Legend and Faouzia in a duet.

Kearah Gomes performs "Never Enough" by Loren Allred, from The Greatest Showman (2017).

Isabella Geronimo, accompanied by Luana Paniago, in her performance of "Falling" by Harry Styles.

Sarah Oliveira sings Put Your Head On My Shoulder (Originally Released by Paul Anka in 1959)

Leila Imani dances to "War of Hearts" by Ruelle (2014).

Suiyenah Chen dances to a medley of Superlove by Tinashe, Boss B*tch by Doja Cat, Sweet but Pyscho by Ava Max, and Black Mamba by Aespa.