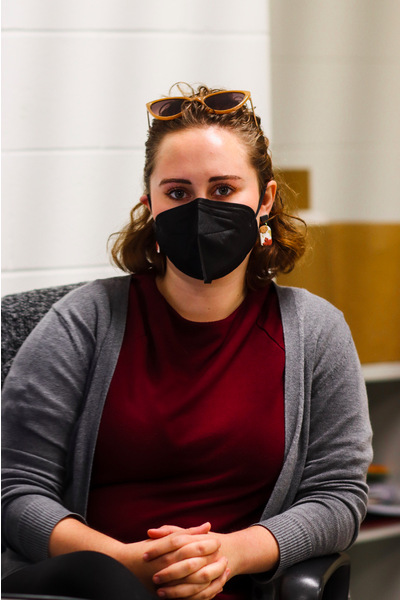 As the new school year begins, Malden High greets a new addition to its math department. The Malden community welcomes Katarina Bettencourt, as this is her first year as an official teacher at Malden High.  
Bettencourt's passion for teaching all started back when she was in high school, in Peabody, where she grew up. She admits that she has "always enjoyed working with younger people." Bettencourt was also impressively a volunteer for coaching for field hockey, working with ages varying from five to thirteen. 
Afterwards, she then went onto college, and initially started studying Elementary Education. During her freshman year of college, she worked with preschoolers on literacy skills.  However, after taking the Elementary Mathematics Methods courses she decided to change her field of study. She switched over to Mathematics Education from grades eight through twelve.  Since then, Bettencourt has tutored students grades K-9 in mathematics. Last year, she taught mathematics at a high school in Boston and then spent the summer teaching a mathematics enrichment course at Phillips Exeter Academy's summer program.
At this point in Bettencourt's life, she knew this was her desire for her career path. Bettencourt's main goal and hope has always been to "improve students' educational experiences", specifically by "improving their confidence in their mathematical skills." In general, she has high expectations for herself to create an environment where her students can enjoy learning math. 
Before becoming a teacher, Bettencourt actually completed her pre-practicum experience at Malden High. She spent one day each week for a semester observing and helping out in Mr. Abrams' classroom. Through her experience, she found that she undoubtedly "enjoyed working with the students at Malden High" and "greatly appreciated the collaboration among teachers."
Boyle House Principal Stephanie Sibley mentioned that during her interview, Bettencourt demonstrated that "she was really able to make a connection with students."  Math Teacher Leader Kayla Scheitlin added that Bettencourt  "cares about making her students feel seen and confident in their mathematical abilities." Scheitlin continued saying that "the choices she makes in lesson planning are deliberate, clearly aiming to support her students' learning." The committee in charge of hiring Bettencourt overall mutually agreed that she had really good knowledge of math. 
Bettencourt says that she expected a "great deal of collaboration" among her colleagues and she already sees that expectation being met. Since coming back to school after the pandemic, there is no longer the same time carved out of the schedule for teachers to collaborate. Bettencourt stated that she has found many of her content teammates are willing to find time during lunches and after school to get together.  They plan to talk about ways they can "best support the students" and how they can improve future lessons.
When it comes to students, after coming back from remote learning, Bettencourt hopes to see students excited to be working together in person again. She also has high hopes for students to give themselves and one another "grace," while also maintaining "faith in their individual and collective abilities." Bettencourt spoke about how students have "been through so much as individuals,"  and as a community and it is important to recognize that. She wishes this year for everyone to be understanding with one another and ourselves.  She wants us to "support one another" in this learning community.
Ms. Bettencourt's room is located in H416. She is open to any new visitors or students who seek more knowledge of math and to get a better comprehension. Bettencourt also offers an enrichment program where she helps tutor the students who need extra help.