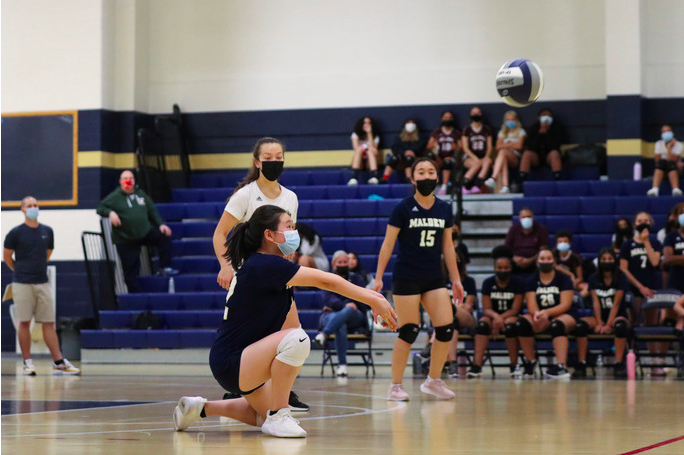 Malden High School's girls varsity volleyball team threw themselves into the tenth game of the season on September 29th. With a record of 5-4, they had to fight to win this game to make it into the state championships. After a whirlwind of emotions, the team won three to nothing, marking it as "one of the best games of the season" according to their coach, Daniel "Dan" Jurkowski.
The match started off with an exciting first rally, and both teams scrambled to get the upper hand from the start. By the fourth rally, Lynn English was able to serve an ace against Malden, and with that energy take the lead. After a debilitating few rallies for Malden, they flipped the tables in rally 17 and served their own ace. Malden kept that upper hand until they won the first set 25 to 17.
During the second set, Malden seemed to have an influx of players swapping on and off the court; each rally seemed to rotate more and more players off the court. This strategy seemed to be working, though, as Malden scored 4 for 4 and earned themselves a score of 11 to 3. Although they did not get another large margin again in this game while scoring, they still won the set 25 to 17, which coincidentally matched the score of the first set. Coach Jurkowski claimed "they all scrambled around for a lot of points and even if they didn't make all of them, they did great."
With high hopes for Malden, the third set began. Malden's setter, Linda Le, jumped into the game shortly after for the first time. She had been out previously because of a knee injury from an earlier game, so the players and viewers alike were excited to see her back. According to Varsity Coach Daniel Jurkowski, "getting [Le] back on the court was a huge highlight of the game."
With obvious elation, Malden jumped back into the third set and immediately got the upper hand. Lynn put up a tough battle for this set, but after some of the longest rallies of the game with great returns from both teams - over 20 seconds each, much to the delight of Coach Jurkowski - Malden finished the set 25 to 20. In turn, this ends the match 3 to 0.
At this point, Malden has won just over half of their games, with an overall score of 6 wins to 4 losses, and Coach Jurkowski is "proud of how far [they] have come this season. [They've] had a very good season this year so far." With the team working towards the state tournament right now, this game set sights high for future matches, although they still have half the season to go at this point. 
MHS' Girls' Varsity Volleyball team gathering together, ready to face Lynn English. Photo by Jessica Li.

Junior Meryem Hakkaou (#23) making a serve, increasing Malden's 9-point lead. Photo by Jessica Li.

Kelly Le (#3), a junior defensive specialist, saves the ball. Photo by Jessica Li.

The grinning team players huddle to celebrate their lead. Photo by Jessica Li.

Senior setter Linda Le (#5) brings her team closer to victory by serving in the second set. Photo by Jessica Li.