Junior outside hitter Rachel Lin (#12) serves. Photo by Jessica Li.

Senior middle hitter Riley Strano (#22) strives to spark Malden's comeback with her serve. Photo by Jessica Li.

Senior libero Lissette Curran (#4) serves. Photo by Jessica Li.

Senior middle hitter Riley Strano (#22) makes a deep serve. Photo by Jessica Li.

Junior Rachel Lin (#12) serves. Photo by Jessica Li.

Senior outside hitter Melissa Calixte (#8) lands a serve on Needham. Photo by Jessica Li.
Due to the forfeiting of Bridgewater-Raynham, the Malden Golden Tornadoes were up against what would be their final opponent of the Girls Volleyball season - the Needham Rockets. Despite the town's notable number of victories, the team dove into the match with substantial resolution; it was the first time in five years that the girls team made states. According to Senior Linda Le, the team was collectively excited about qualifying for state championships with their record of 11-9.
After an hour-long warmup consisting of serving, partner-passing and 6-on-6s, it was decided that Malden would start the game with its serve. Immediately following the sharp sounding of the referee's whistle, the two teams scrambled to get the ball and gain points. Owing to Junior Kelly Le's successful serves, the score became three for Malden and one for Needham. It seemed initially that Malden had the upper hand, but at this point in their season, Needham had won nearly every one of their matches. As Senior Co-Captain Riley Strano stated, "it's a very competitive team," making Malden's two-point lead expectedly short-lived.
Upon getting the ball, the Rockets performed a series of serves and aces which Malden unsuccessfully attempted to hinder, bringing the score to 10 for Needham and five for Malden. Finding it difficult to embrace the ideal bump-set-hit pattern, Malden primarily earned points by serving, pushing and freeing the ball while Needham landed spikes that plummeted to the floor. A lack of communication left the players unsure of who was to dive for the descending ball — something elaborated on by Jurkowski. "We always need to talk more, especially our backrow for serve-receiving."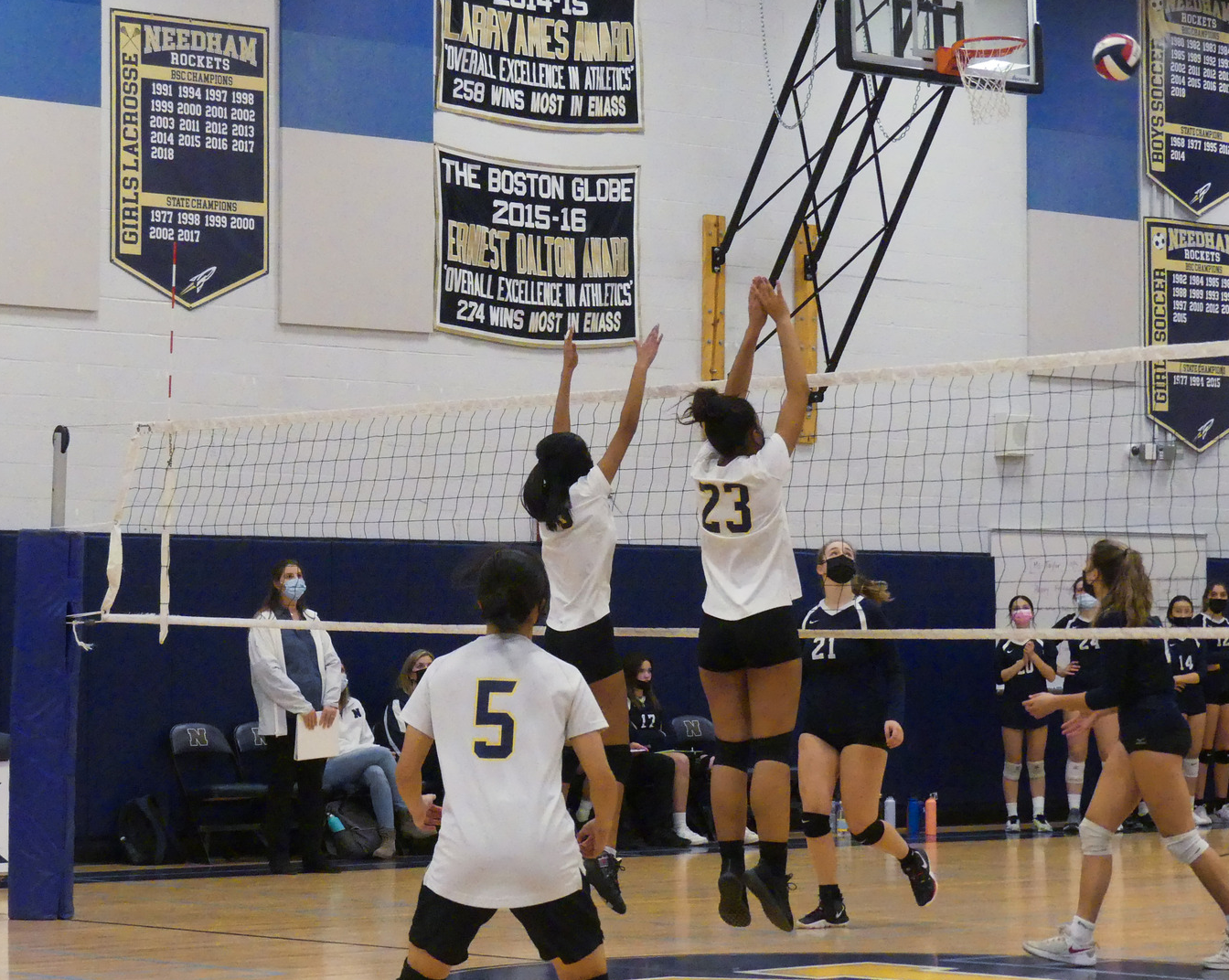 After some time, the team members grew to better deny the opponent's powerful hits; much to the delight of the girls, Senior Marla Candido actively blocked Needham's spikes, and all players made attempts to dig the ball, with several saves proving effective.
Even so, Needham maintained its tight grip, gradually extending their lead from 15-10 to 19-10, and later, to 21-10. Malden determinedly kept a steady fight, being focused on continuing their trend of increase from 11 to 13. The Rockets, however, showed quicker in gaining points; within a few seconds, the scoreboard's red lights displayed "24-13," and the first set was eventually wrapped with the score 25-13.
This time, Needham began the set by serving, quickly bringing them a 3-point lead despite the Tornadoes' numerous successful passes from back and front row. When Malden was up to serve, it was clear the girls' energy levels had been restored, as the score increased with the improvement in quantity and quality of receives and sets: the score became 7 for Needham and 3 for Malden. Players, particularly Seniors Linda Le and Lissette Curran, stepped up to spike more frequently. In spite of the tower formed by Needham's tall players, some efforts were successful, causing the score to jump from 10-3 to 16-4, 17-5 and 18-8. The outcome of the prior set persisted, though, and as the crowd roared, the second set closed off at 25-10.
The trend established in the past two sets would follow into the final set of Malden v. Needham. Using code messages as a means to communicate, the Rockets showed intense focus and cooperation. They swung and blocked, the ball reaching the ground in seconds and only occasionally getting out of bounds. With these red flags and the end of the game nearing, the Tornadoes would likewise pour their all into serving and digging the ball. When it came fast, players lost form, but eventually became accustomed. The scoreboard hence read "10-4", and later, "12-4", increasing in both sides' favor to "17-7".
Malden picked it up at 17-8, earning more points. Sophomore Ramneet Chahal had put a halt to the previous trend of players' hits being short and not going over the net; she performed an effective spike, bringing the score to 18-10. Jurkowski encouraged the girls from the side, voicing compliments for their "hustle," and uplifting them to continue their efforts even when they failed.
The fight to win this last set comprised driven efforts from both towns. When Needham gained three points, so did Malden; and again, as they gained two, so did Malden, increasing the score to 22-12. Malden would proceed to follow Needham once more, but the final point went to the Rockets, leading to a decisive end to the MHS Girls' 2021 Volleyball Season.
"Communication," "height" and "energy" were major contributing factors to the loss, according to Le, Strano and Jurkowski. Subject to a tornado of feelings, "none of [the members] wanted the season to end, so...[they] were trying to hold in [those] sad emotions." Even so, the seniors with their significant playing time reflected, commenting on their pride to have "made history."
"The big goal at the beginning of this year was to make states...and we achieved that", cheered Strano. Le echoed this, saying, "the [Rockets] were top five in our bracket...so it was a great experience to play against a difficult team." Jurkowski concluded, "you never want to be content with losing, especially 3-0, but...I'm very happy that the girls were able to experience that - they had a great season - and especially for our seniors to go out on a high note for us…they earned it; they deserved it; and it was a big accomplishment for our program."
Senior Marla Candido (#23) spikes. Photo by Jessica Li.

Players perform their celebratory "Ace!" gesture after scoring. Photo by Jessica Li.

Junior outside hitter Rachel Lin (#12) receives the ball. Photo by Jessica Li.

Senior Lissette Curran (#4) performs a successful spike. Photo by Jessica Li.

Senior setter Linda Le (#5) sets the ball to a hitter. Photo by Jessica Li.

Team members huddle cheerily to celebrate gaining a point. Photo by Jessica Li.