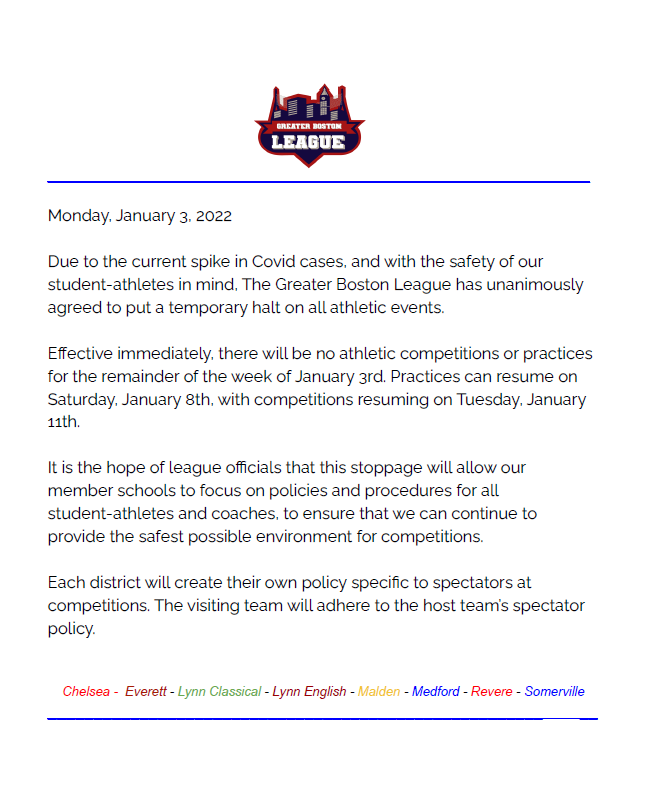 The Greater Boston League (GBL), composed of eight schools in the area, made the decision earlier this week to put all sports practices and athletic events on hold due to the recent spike in Covid-19 cases. 
The schools affected by this mandate are Malden High School, Chelsea High School, Everett High School, Lynn Classical High School, Lynn English High School, Medford High School, Revere High School and Somerville High School.
According to a statement put out by the GBL, practices can resume on Saturday, Jan. 8th, with competitions resuming on Tuesday, Jan. 11th. Each district will create its own policy for spectators at events, but MHS has implemented the limiting of spectators until Jan. 17th.
"It is the hope of league officials that this stoppage will allow our member schools to focus on policies and procedures for all student-athletes and coaches, to ensure that we can continue to provide the safest possible environment for competitions," further reads the statement. 
Malden High School Principal Christopher Mastrangelo informed that MHS will continue to have student-athletes who test positive isolate themselves. Administration will continue to stress the importance of wearing masks properly and to communicate with school medical personnel about potential exposure within sports teams. 
"We are in constant communication with member schools about positive cases within our league to mitigate exposure and help with contact tracing. It is our hope that the halt will allow for our positive athletes to move beyond the contagious stage, [and] allow us time to monitor any positive cases that would have arisen during the 5-day halt to help limit spread" stated Mastrangelo. 
"As much as I love track, I believe that the GBL made this decision in order to protect their athletes and it is the right decision," said Marcos Ruiz, senior captain of the Indoor Track team.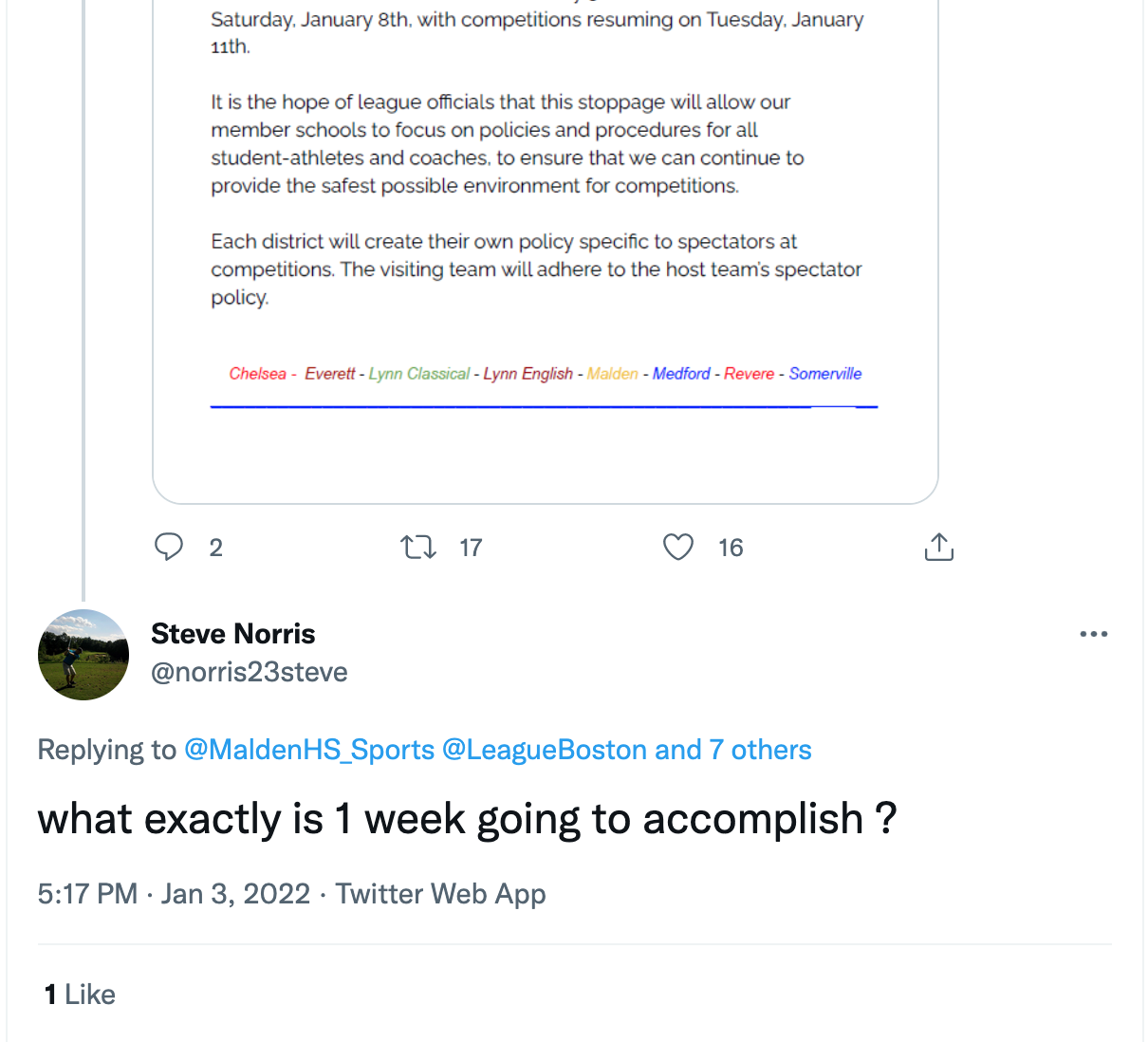 So, what is meant for the student-athletes to do after school now? "I think it depends on how disciplined athletes are, our coaches are being amazing and sending out workouts for us to do but it is up to us to do them, we can take this whole week off and not do anything and that would impact us in the long run or we can run on our own and make sure we're staying in shape," expressed Ruiz.
As user @norris23steve on Twitter said in response to the GBL's statement, "what exactly is [one] week going to accomplish?" If students are still in school full-time, taking their masks down to eat at lunch, and being in close contact with each other, will taking a week off of sports show a significant decrease in the numbers?
Ruiz admittedly agreed that this temporary hold is "not going to stop everything, people still have lives outside of school and sports." 
According to Malden High's athletic director Charlie Conefrey, in a WCVB interview, they are using this opportunity to "get a firm grip on [their] rosters — who had Covid over break that we didn't know about, who's in quarantine, who's coming out of quarantine, [etc.]." 
Schools in other districts are also putting policies in place to ensure the safety of their students. In Southern California, where there has been a similar rise in positive cases resulting in sports cancellations, they issued a set of "protective policies" to be implemented in their K-12 schools. 
One of these policies requires testing for asymptomatic close contacts before they return to school. Students are tested immediately after exposure and then again on the fifth day.
Last week, the City of Malden distributed rapid Covid test kits to its students and encouraged them to test before returning to school on January 3rd from winter break. The difference from Los Angeles County is that these tests were not mandatory and the results were up to the discretion of the student.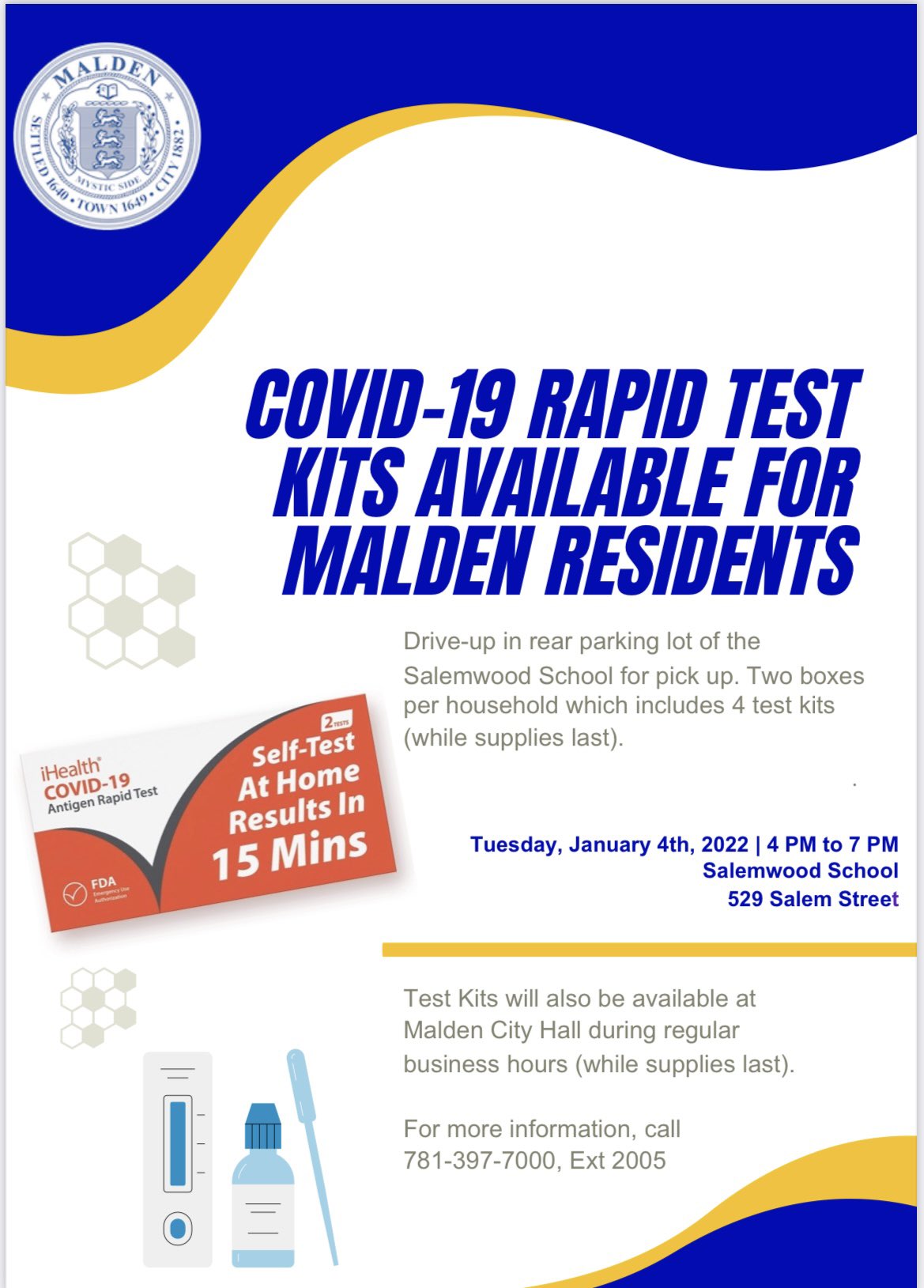 In a survey posted by MHS senior Juliana Davidson and former school committee representative, she asked if students would be testing themselves before returning to school. 84.4% of students who participated said that they would, and the other roughly 16% had reasons as to why not.
Their answers ranged from "I don't have one," "It seems like a hassle," to "I already tested positive." This wide range of responses from students and a lack of clarification on how to handle specific instances of quarantine, missing schoolwork, and positive cases has caused uncertainty among the student body. 
When junior Noelle Hayes tested positive for Covid-19 over the winter break, she was worried about missing work, especially with midterms coming up so soon.
After contacting the school to let them know of her condition, they told her that she could return after five days. 
As stated by the Center for Disease Control (CDC) and the Massachusetts Department of Public Health, if you have tested positive, you are required to stay at home for five days and may return to school after that, if your symptoms have subsided. 
However, "I did not feel comfortable doing that and jeopardizing other people's health around me," commented Hayes. When she reached out to her teachers, they reassured her that they would post the work on Google Classroom so she could continue quarantine for a full ten days. 
"I feel like our school is doing more than most schools, but I think we could be doing a lot more," said Hayes, in regards to how MHS is handling Covid. "I think we should be updated on how many students have Covid and what precautions we should be taking."
The mask mandate remains in effect regardless of vaccination status. The school has an ongoing Pool Testing program that takes place on Mondays from 10:45 am to 12:45 pm (lunch block) in the T area outside Cafeteria B. To participate, you must sign up with this link.