After plenty of hard work, Malden High School's swim team finished their 2021-2022 season undefeated. Even though their season was interrupted due to the Omicron surge in January, the team felt they were able to accomplish many things and achieve their overall goals.
Being undefeated, they were incredibly proud of themselves. "This season has been way better than last year, but we still had a few hiccups here and there because some of our team members had gotten COVID," sophomore swimmer Joyce Zhou explained.
Long-time swim coach and Malden High math and science teacher Jessica Bisson felt that the season had been good, though it had been "a little crazy, with all the COVID." With trying to keep everyone safe, making sure they had sites for end-of-season meets, and having enough swimmers, it was not an easy season.
Halfway through the season, they had to return to virtual meets, similarly to last year. "I wish all the meets had been in person with the other teams as those were fun," sophomore Joao Victor Santos expressed. Zhou agreed, adding that "it made it less exciting for all of [them]." 
Bisson mentioned that she could definitely feel a different level of enthusiasm when meets went remote, compared to when they were having in-person meets. "I think the swimmers do really well when they are swimming against another team, rather than just being at our own pool, and then seeing how we did later."
Despite those slight setbacks, the team was able to cheer for one another from the sidelines. This certainly boosted the mood as last year, they could only clap.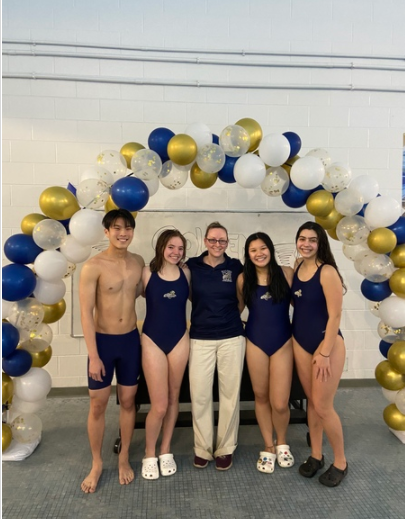 Senior captain Tony Giech described the season as "a bit different to what [he has] seen in the past years." He had no idea what to expect because of how different life has been since the pandemic first started. However, he still felt that it has "been really amazing to see [their] team come together."
Bisson felt improvement all around her as she coached the swimmers throughout this season. "We have a lot of new swimmers, and it is always good to see the improvement every year," she said.
Throughout the season, the team bonded during meets and outside of practices. Santos expressed that he had "built great friendships throughout the season." Bisson also explained that against all odds, with everything going on she was happy to see that they've still been able to "become a close-knit team."
With lots of hard work, the swim team was proud to take home the title of GBL champions. This left a great feeling in the teams' hearts, as the graduating seniors were able to finish their last swim season with Malden High on a good note. 
Giech felt a lot of gratitude and pride in the team, "it has just been really amazing to see our team come together, and really work hard to win the GBL Championship."
As the season is coming to an end, the swimmers reflected on the season, while also having high hopes for the next one. Though Giech is graduating, he hopes that "they continue to improve, make new friends, make new connections, because that is what swimming has done for [him.]"
Zhou is excited to see new members on the team and see just how much they grow. She also cannot wait to start "racing against other schools again." Bisson is ready to welcome new swimmers next year, and cannot wait to meet them, and hopefully grow the family that is the Malden High School swim team.