With spring coming into focus, the girls ice hockey team, composed of girls from Malden, Medford, Saugus, Revere and Everett, closed their season out with a game on Tuesday, February 22nd. Though this season may not have been the best for the team, losing 16 out of their 20 games, the team has come together in different ways.  
Medford High School senior, and one of the co-captains of the Lady Mustang hockey team, Isabella Sasso noted that her goals for this season were to "communicate on the ice, and work as a team." Sasso believes that these goals, set by herself, were achieved.  
"At first I feel like we all played as individuals, not together, but as we did team dinners, practiced and hung out more I felt like we bonded together and started to play as a team as our season went on," added Sasso.  
While the Girls Hockey team for Medford has always been combined with Malden's, due to the lack of people interested, this year the team ventured out and invited the cities of Everett and Revere as well as the town of Saugus to join the team. Sasso mentioned that, "as a captain on the team with so many new faces, I wanted everyone to feel comfortable in the locker room."  
She found that there were things that worked well in this form and found other factors that did not work so well. "What worked really well was making sure everyone's voice was heard. In between periods we had conversations in the lockerroom and we encouraged the girls to speak up if they saw something that we were doing wrong or right that we don't see on the ice. That way we are getting feedback from everyone and the girls feel comfortable enough to speak up," noted Sasso.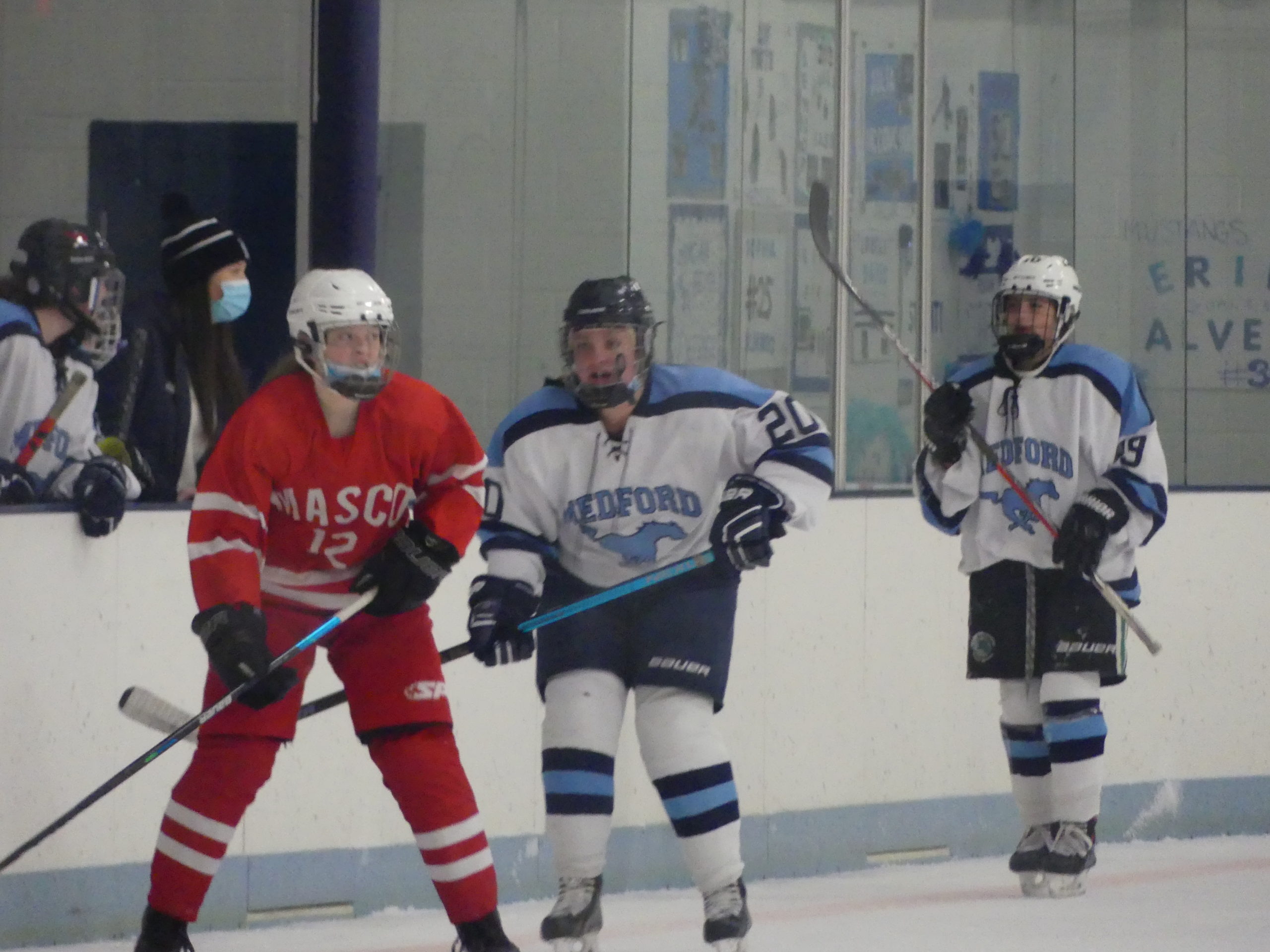 Sasso found that focusing too much on the negatives did not work for her. She went on to explain that "when we were down in a game I found that sitting in the locker room and talking about all the things we did wrong would get us down on ourselves and we would go out and not perform the way we knew we could, but when we talked about positive things we would go out with our heads up and work till the end."
Sasso believes the past season she has played has contributed to the success and failures of this season. "This year, I was very anxious that I wasn't going to get a senior season, due to girls not coming back and not having a coach," said Sasso. "But then we got Coach Brittani, Coach Mia and Coach Sam, and I was just grateful for even having a team." 
She added that, "this season may have been hectic and crazy, but I know the future of our hockey team is in good hands." In addition, Sasso believes that this season "was the start of a new era." With new teammates and new coaches, she felt that the season was one that both herself and they will remember.
Olivia Tufts, also co-captain of the Lady Mustangs and a senior at Medford High, had a goal similar to Sasso's in the sense that she wanted to "have a team that bonded." She went on to explain that "knowing that I had middle school girls and girls from Malden, Revere, Everett and Saugus, I really wanted to make sure that we all got to know each other so we would work well on the ice together." 
Tufts found that having practices the day before a game was present in the performance the day of a game. "When we had a good practice, the things we worked on in that practice would be applied in the games," noted Tufts. Though she found things that worked for the team, Tufts believes that the team needed to shoot more on net when they could. 
"I'm so happy with how my senior season turned out, even if we didn't have the best record," Tufts said. She expressed her gratitude to all her teammates for always lifting each other up and giving her "an amazing final hockey season." 
"I will always be thankful to all of my coaches throughout the years," Tufts concluded.
"One of my goals for the season was simply to have a senior season," exclaimed Medford high senior Julia McDonough, assistant captain of the Lady Mustangs. In the fall, before coaching staffs were announced for the hockey team, the season was up in the air where returning players were uncertain if there would actually be a season for them. "I was so excited to learn about the new coaching staff and their plan for the upcoming season. I will be forever grateful for the middle schoolers and girls from other cities and towns who contributed to an awesome season," stated McDonough.  
While the team may not have had the best record to show for their season, McDonough "knows we were winning in other aspects." She elaborated that "the need for team bonding translated into this season, which I would say was successful." She mentioned how throughout the season, the captains of the team would organize team bonding before a game. By doing this, they were able to find that the team felt "more connected on the ice and overall just played a better game." 
A collective highlight of the season was their senior night against Melrose. McDonough noted that "the underclassmen truly did an outstanding job to make this night one to remember, and beating Melrose really topped it off." Sasso expressed how the team was able to come together and their playing showed in the score.  
For Tufts, the Melrose game was redemption. "We didn't have the best record and we had previously lost to Melrose, but I was so happy that we pulled through," stated Tufts. 
Mcdonough concluded that it was also amazing to have all of her family there to see when she scored the game-winning goal that night.
With their season ending with a 4-16 win to loss ratio, the Medford High Lady Mustangs are hopeful for the season next year. With a younger team and a new coaching staff, the program is projected to run for a while longer.