Reporter Karen Rivera also contributed to this article. 
In a surprising development, the Malden High administration has decided to station monitors outside of the bathrooms on the third floor of Boyle house. This decision has garnered different reactions from students across the school.
Marta Cabral, who is the Holland house principal, stated that as of now they are starting with a pilot in the third floor Boyle house bathrooms, but the school hopes to "review the data that we collect from it and learn from how the rollout has been [on] the third floor and then implement it in the other bathrooms for next year."
The students must sign in and out of the bathrooms with the monitor outside, and bring a pass from their teacher to be let into the bathrooms. Only three people are allowed into the bathroom at once in order to time the students and keep the wait organized. 
Many students have expressed that they do not see a point in only implementing the monitors in a few bathrooms while there are still many others around the building that have been left unattended. 
Senior Sharon Pan expressed that "the fact that there is only one bathroom being signed in and out is [kind of] weird because if they do it in one… I feel like at the same time it might not help with the issue." 
To note, teachers must have a planning and prep period implemented into their schedules, meaning that the school and administration can not force them to use this time to monitor the bathrooms. The teachers and staff located outside of the bathroom have volunteered, stated Cabral. For this reason, the school as of right now can only manage to keep one bathroom monitored. 
Principal Christopher Mastrangelo explained that the reasoning behind the bathroom monitors is that "we have too many kids that are making too many poor decisions," from hanging out in the bathroom to graffiti. 
Mastrangelo expressed his frustration by noting that "Malden High School has never dealt with this before, this has never been an issue… I mean we've had pockets of issues from time to time but not to this level… So what we are trying to do is this pilot outside of the third floor Boyle."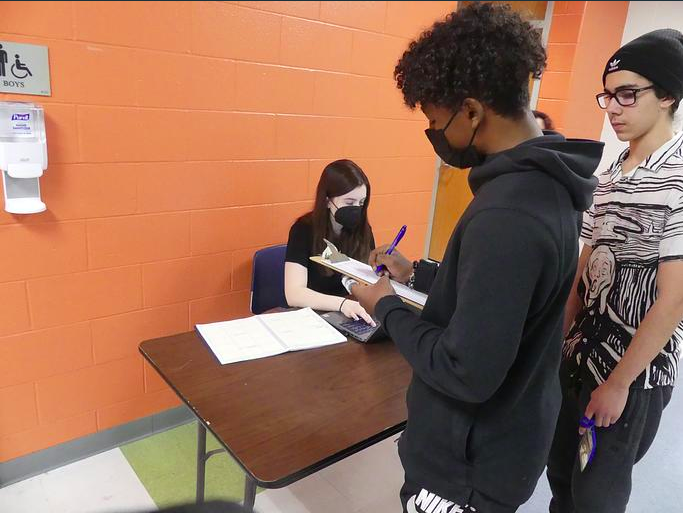 The question that arose from both students and staff was whether or not having this new system would keep the crowds and destruction out of the bathrooms and prevent the chaos that has been going on. 
Mastrangelo said that they have had some people say, "Well, there are only teachers outside of the Boyle House bathrooms so they'll go somewhere else," to which his response was, "But what does that do? It creates a safe space for kids that want to go to the bathroom and don't want to deal with the nonsense." 
Many students shared that they are doubtful this system will bring any significant change and ultimately, it is a hassle for the students who are doing the right thing. 
Senior Armani Dure expressed his frustration, believing that "it is really unnecessary. I don't think this is really going to be a deterrent for people doing negative things within the school. It's honestly just a detriment to everyone who's doing the right thing."  
Dure added that he "sees people rushing to [the C5 hallway], I've heard stories of people just leaving the school… so it's not doing anything, it just takes the most available option away from them." As a result, Dure believes that the bathroom monitors are not mitigating any of the problems that they are meant to solve.
On the other hand, some students think those bathroom monitors are an apt solution to the problem of students crowding the bathroom. Senior Jimmy Hou stated that while he initially thought the crowding was frustrating, over time he became apathetic to it. "This has happened to me so many times," he said.
Senior Lucas Williams added that he believes the new system is "a better thing now because we don't have 37 people walking in there vaping and hanging out." 
Williams explained that "it is really uncomfortable walking in the bathrooms and having that many people in there." He further mentioned how he is content with having the sign-in sheets as it allows for two people in at a time. 
While they may be a minority, a few feel as though the monitors are completely unnecessary. Senior Sheldon Wasajja stated that he had never seen any students crowding around the bathroom and that the monitors are just an inconvenience.  
No matter what anyone thought of the solution, most seemed to express the same sentiment towards the problem of crowding; disgust. Senior Leslie Rodriguez stated that "if you go to the bathroom just to hang out or to smoke or to do nothing but use the bathroom, it's disgusting and it's pathetic." 
Rodriguez added that "it is not fair at all. There's always that one group of kids that ruins it for everybody so I feel like they should just stop. You're in high school, you need to grow up, you're going off to college or you're going to become an adult soon. You need to learn to be respectful and you need to learn a lesson."
Mastrangelo noted that 1,700 kids use the bathroom appropriately, less than 100 don't. "It is so insanely disrespectful… we're doing all these wholesale changes based on the actions of a small percentage of our kids. The way you combat that is the larger number stands up to the smaller number," he stated. He made it clear that Malden High School's goal is to create a safe space for the students who need to use the restrooms appropriately and put an end to the destruction and shenanigans that have been going on over the last eight months. 
Mastrangelo made it clear that Malden High "needs people to just stop." He warns that if they "find the kids that are doing the graffiti and ripping this school apart we're gonna take it to the highest level of school discipline we can, [because] it's ridiculous." 
Overall, there is still much uncertainty regarding the bathroom monitors, despite only being located in one bathroom. While most students are not big fans, the administration seems hopeful to expand the policy even further next year. Even so, both faculty and students seem exhausted and frustrated with the issues plaguing the bathrooms.