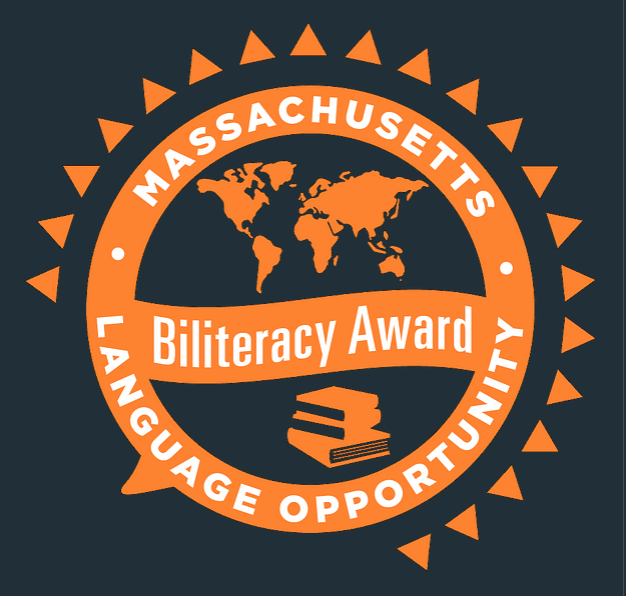 The Malden Public Schools district is piloting the MA Seal of Biliteracy award for Malden High School juniors and seniors this spring.
The Massachusetts State Seal of Biliteracy was established under the LOOK Act of 2017 and is administered by the Massachusetts Department of Elementary and Secondary Education.
According to the Massachusetts DOE's website, "The Massachusetts State Seal of Biliteracy is an award provided by state-approved public schools and districts that recognizes high school graduates who attain high functional and academic levels of proficiency in English and one or more other world languages by high school graduation. The State Seal of Biliteracy takes the form of an insignia that appears on the transcript and/or diploma of the graduate."
Since the seal's establishment, Director of School Counseling and Testing Erin Craven has been working on bringing it to the high school, but the start of the pandemic in 2020 put a halt on their progress. This year, she is working with the Director of World Languages & Fine Arts, Diane Brookes, to finally offer the unique opportunity to juniors and seniors. 
The school will pilot the project in six languages: Spanish, French, Italian, Portuguese, Mandarin and Haitian Creole. Craven expressed that the goal will be to expand this list to include any and all interested languages by 2023. 
Craven explained that in coming years, they would like to offer the seal to all underclassmen, focusing on sophomores and juniors, with the idea that the award would be achieved by senior year. 
There were changes made to the award requirements for the Class of 2022 seniors this year, as many would not have been able to take the required ELA MCAS due to the pandemic. Legislation passed in December which now allows 2022 graduates who earn the modified competency determination (scoring at least "meeting expectations" on the MCAS) in ELA to also satisfy the English language criteria for the award.
The State Seal aims to encourage students to study another language, provide universities and employers with a method of identifying people with language and biliteracy skills and prepare students with a skill that will benefit them in global society.
"I think utilizing the seal of biliteracy as a formal recognition for students' capacity to communicate in multiple languages is a good way for MPS to show students and families that communicating in multiple languages is a great skill, both in school and in life," stated Craven.
The deadline to register for the test was March 11th, and it will take place on April 27th during Flex block. This opportunity will be offered once again in spring 2023 and for years to come.