Lauren Mallett also contributed to this article.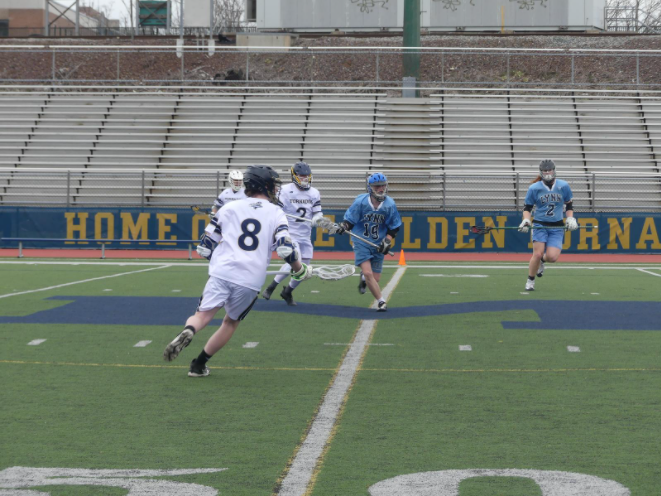 The middle of the season has quickly approached, and the Boys Lacrosse team is looking to take the championship. With a current overall record of 7-4 (5-2 in the GBL), they have high hopes for the rest of their season.
Boys varsity lacrosse coach Jonathan Copithorne expressed that despite many of their players being "hit with the injury bug pretty bad" and facing"fairly significant injuries," the team has "made progress."
Copithorne stated that since the beginning of the season, the team has "improved…It looks like we're starting to find our groove a little bit, we got a tough schedule ahead."
Senior captains Ethan Heon and Gary Luo expressed their concern about the injuries, stating that it "set them back for a few games."
Heon stated that "it's been an alright season, you know, we've had a couple of losses that shouldn't have happened but it's been going alright and we're remaining positive."
Though both captains are currently sidelined due to injuries, they remain confident in their team's ability to make it to the GBL championship.
"We just need to win two more games and we're in there," stated Heon.
Luo said that it's "definitely weird because I've been out and just watching. It's definitely interesting now because both captains are out, but it's rewarding to see how everyone has improved so much."
Despite the low expectations Luo had for the team going in, he feels that the boys have "shown that we can compete with the other teams in the GBL" as the season progressed which "made me happy that they proved me wrong. It definitely raised my expectations."
The captains noted that much of the team's success has come from new players whose skills have come as a "nice surprise" and from returning players whose skills "improved."
Luo extended his compliments to junior Isaac Geran, a returning varsity player. Luo expressed that he is "arguably the most improved player on the team this season."
Both Luo and Heon also shouted out some new faces on the team for "securing them some dubs."
They expressed that junior Nelson Jiang and sophomore John Summers have been "essential players on the team."
"He's an animal, he's getting all the ground balls, it's ridiculous," Luo stated while speaking of Jiang.
Heon also extended his compliments to Summers, calling his work on the field and fast learning skills "impressive."
"[Summers] came from hockey so we were expecting something from him, and he's good at face-offs in hockey so he's brought that to the table," Heon said.
Heon also expressed that the team overall " really surprised" him about what they could do and how fast some of them learned.
"It's been a good experience for me and for the team. Bringing new kids from baseball and other sports and kids that have never played before. So it was really good seeing what they can do," stated Heon.
As far as Luo and Heon's roles as captains, they both expressed the same sentiments towards their position on the team, describing it as "fun" and "rewarding."
"It's been fun you know, being able to do what everyone did to my freshman year," Heon joked.
"Telling me to get balls after practices, telling me to get the cages every five seconds of my life and I enjoy just having fun with [the team]."
Now with just six games left in the season, the team's goal is to "make it to states" and "keep improving."
Copithorne expressed that his hopes are to "keep getting better, build some momentum--and if we can upset a couple of teams, it looks like we can extend our season by making it to the tournament, so we'll see how things shake up." However, his ultimate goal is to "continue to get better and grow as a program."