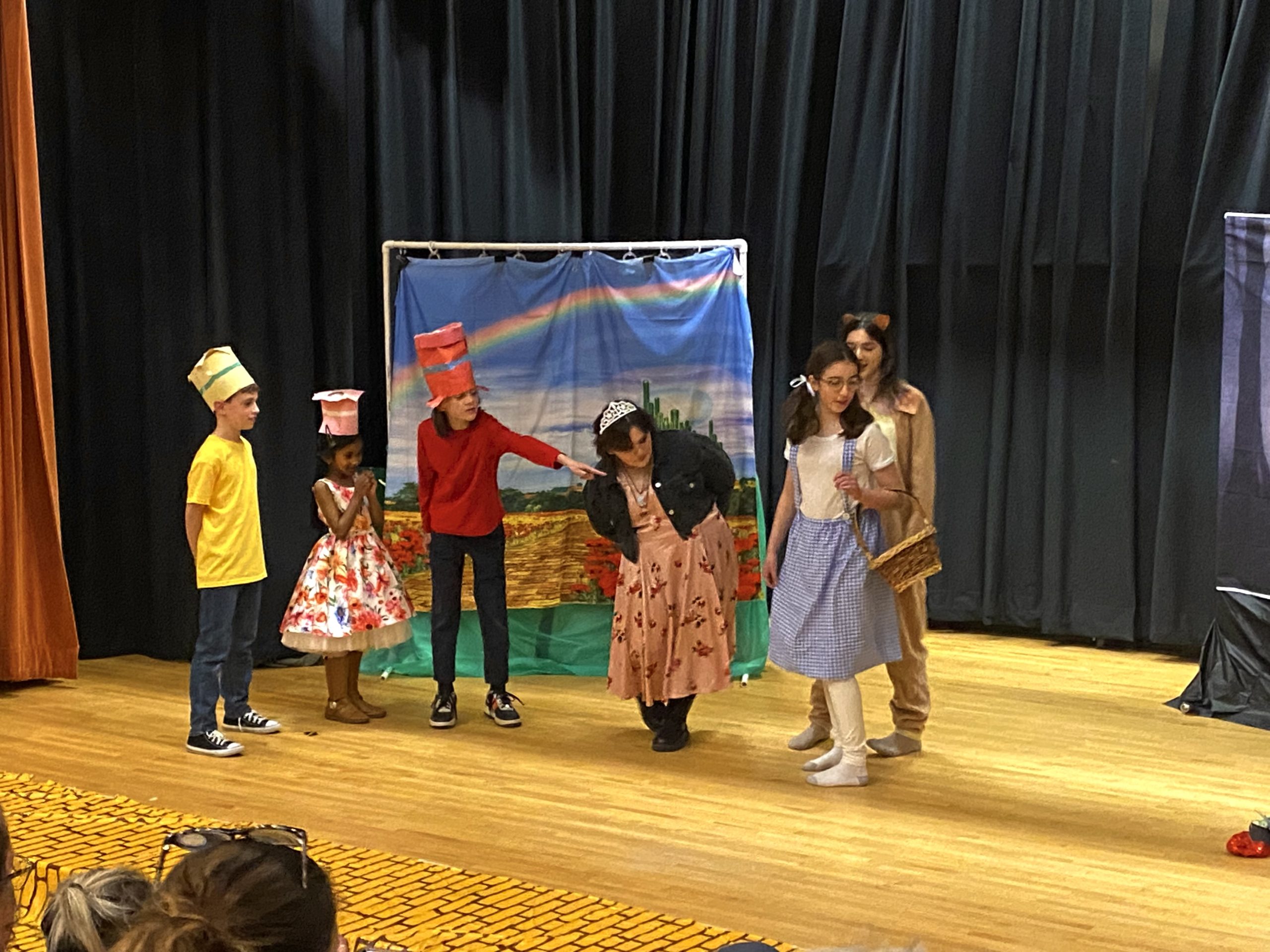 Play production is a theater elective that virtually every MHS student is familiar with. They put on numerous productions per year and showcase talent equivalent to many years of expertise. One might wonder where these exceptional individuals get this experience. Small, low-budget productions staged in middle schools are the answer for many.
Forestdale, one of Malden's many K-8 schools, presented The Wizard of Oz on Wednesday, May 5, 2022, a timeless story told through collaboration and hard work.
The school year was nearing an end, and Forestdale's Class of '24 had yet to put on a play or musical. Ashley Bratsis, a math teacher, hastily coordinated auditions, rehearsals, costumes and set design with only a few months to spare. Students from all grades were working tirelessly to get this story on stage, and with little money to go off of, it was critical that everyone work cooperatively to bring this story to life.
Bratsis explained how, despite their challenges, "the students got creative and made a lot of things from scratch."
When it came to the actual performance, the students did not disappoint in putting their own spin on the classic story. Instead of a standard narrator, Forestdale's presentation featured six separate roles, each representing a different color of the rainbow. The narrators had an important part in moving the plot forward and keeping the audience informed of what was going on in each scene. Furthermore, the roles of Dorothy and Scarecrow were played by more than one actor. This kept the audience on their toes because the actors could change whenever anybody went backstage. 
The overall atmosphere of the play was very lighthearted and fun, and you could tell that the entire cast felt like a family. If someone slipped up their lines or dropped their prop when they were not supposed to, nobody in the cast was afraid to laugh together. "Drama always brings smiles to the kids faces," Bratsis elaborated. "It gives them something to look forward to."
Peyton Gaudet, a 6th grader, was initially a stage manager, but when the original Tinman was unable to perform, they opted to take over the role. "I was nervous at first," Gaudet admitted, "but after talking with friends, I decided to do it, and I'm glad I did." They went on to mention how much fun they had in the role and how they aim to be involved in drama again in the future.
Bratsis shared the importance of these memories in school, saying that "they are not going to remember if they get an A on a test but they will remember the feeling of getting on stage and performing."
Overall, The Wizard of Oz was not only a fun production to watch but also an opportunity for students to dip their toes in all elements of producing a play. That night, all of the actors and audience members left the Forestdale auditorium smiling, which is, arguably, the only factor that constitutes a "successful" play. In that case, The Wizard of Oz was as successful as a Broadway musical.