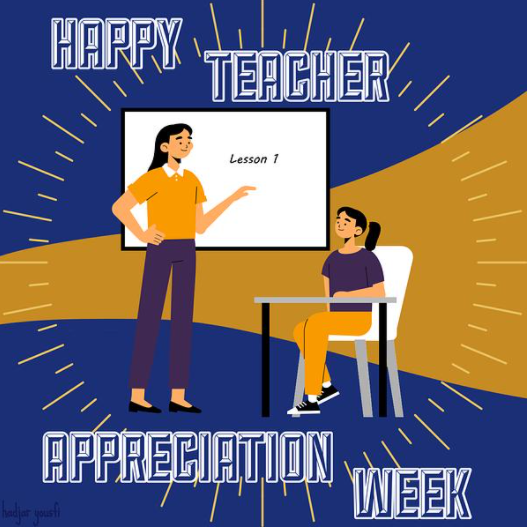 If you know Malden High School, then you will know for a fact that our teachers are so much more than educators. Our teachers are our friends and the most trusted people we may ever meet. This is why it is especially important that we show them our appreciation, not only during Teacher Appreciation Week last week, but all the time. 
All throughout last week, Principal Mr. Mastrangelo has encouraged us to talk to our teachers, and show them just how much we appreciate them as our educators.
Jenkins House Principal Jayson Payeur expressed a lot of gratitude for our teachers here. He explained that he is so grateful that they are "always working, supporting our students, supporting me and other administrators and helping us."
Not only have administrators been showing their support, but so have students. Many students have one or more teachers that they feel have personally touched their hearts. And that they are incredibly grateful for this Teacher Appreciation Week. 
Sophomore Tern Pierre Rene talked about her personal favorite teacher Mary Ann Seager, "even though I only had her for a semester last year, during COVID, she's always been so nice to me, welcoming and is always trying to help me out." Pierre Rene noted that during her class elections Seager was extra supportive, offering to provide her with posters, show support and even telling other students to consider her for class president. She also noted that Seager always "went out of her way to make school a better place for me." So, she really appreciates everything Seager has done for her.
Another student who really appreciates her teacher is Junior Hilda Chacon. She chose to speak about Sharon Kalagher. She exclaimed that she felt Kalagher was the best "Spanish/Latin speaking teacher ever!" Chacon added that she trusts Kalagher with everything, like her problems or just to talk since "[she is] a super fun, chill teacher to be around." She overall appreciates everything that she has done as a teacher for herself and her class.
Senior Jelani Garrett knows exactly which teachers have touched his heart the most at MHS. He noted that he was especially grateful for teachers Erin O'Brien-Mazza, Pasquale DiBenedetto, and James Valente. Garrett explained that Mazza and Dibenedetto's classes both helped him so much during COVID by giving him a safe space during a time of uncertainty. He also added that "the work he does in [Valente's] class is going to help me prepare for what I have to do in college."
This year marks Haley Mallett's first year as a full-time teacher at MHS, which also means it is her first official Teacher Appreciation Week as a teacher. "As a first-year teacher, I am very fortunate to have such a dynamic group of young adults in my classroom," she said. She is so glad to have students who not only care about history but about our future as a whole. Mallett also felt that teaching at MHS this year has "exceeded my expectations of what it means to be an educator in general."
DiBenedetto has been teaching at MHS for many, many years now and is certainly beloved by many. DiBenedetto feels that "Teacher Appreciation Week is all about the students," because he feels as though there would be nothing without the students. "I've dedicated half my life to [teaching], and I couldn't picture myself doing anything but this particular profession," he expressed. He has always tried to make himself available and prepared for his students no matter what, regardless of whether they have left or not. 
Payeur again is thankful for our staff and wishes that he "could do something more meaningful than just saying thank you." So, remember to thank your teachers for all that they have done for you and all the other students at Malden High School, all year-round.