All photos by Karen Rivera.
As part of Michelle Obama's Reach Higher initiative in 2015, she declared May 1st as national "College Signing Day."
This day was created to celebrate students who plan to pursue a form of higher education after the completion of high school.
However, College and Career center counselor Karina Martinez decided to put her own spin on this day in order to make it more inclusive for all students here at Malden High School.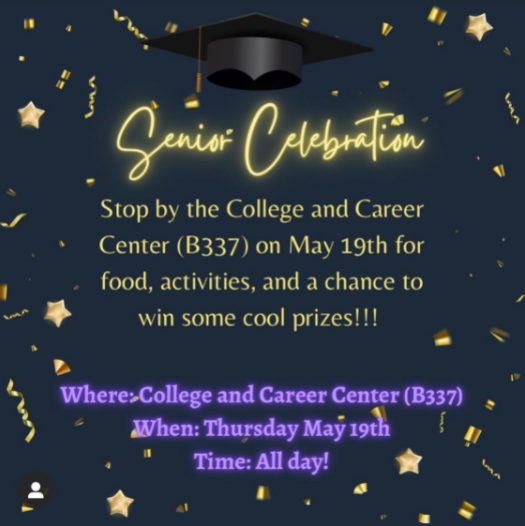 "Every year there's this big thing that I think was pushed by Michelle Obama like decision day to celebrate students who accomplished getting into college, but only around half the students at Malden actually end up going to college so I decided to rebrand it to just a general senior celebration to just celebrate all you guys' hard work and have some nice memories together," explained Martinez.
The College and Career center was filled with seniors participating in the various activities the counselors had set up for them all over the room.
Seniors were able to drop into the College and Career Center whenever they were free, as the celebration lasted all day.
There was a wall decorated with a backdrop and props for students to take polaroid pictures on, a station to write letters to themselves or to leave advice behind for other students, and snacks for everyone to share.
During period 6, pizza was delivered to the room for the seniors to eat as they enjoyed one another's company.
Martinez pointed out that her favorite activity they had going on during the celebration was the photo wall.
"I've taken a lot of polaroid pictures today and they've all come out really cute with the little props so that's been really cool," expressed Martinez.
Many students dropped in during the day and expressed their gratitude.
Senior Nicholas Wong thought it was "an amazing event."
"We all deserve something after coming back from Covid so it's just a great gathering all of us are having together," said Wong.
Many shared similar feelings towards the event, explaining that their favorite part of the celebration was spending time together.
Senior Jennifer Machado said she thought the idea was "really cool!"
"I think it's kinda hard to see all of our classmates at the same time throughout the day so I think it's nice that we're all able to gather together."
Senior Cynthia Dominguez said her favorite thing was "everyone just talking and everyone just vibing with each other… it's an amazing opportunity to meet people you haven't met throughout the year and especially get along with everyone you don't know."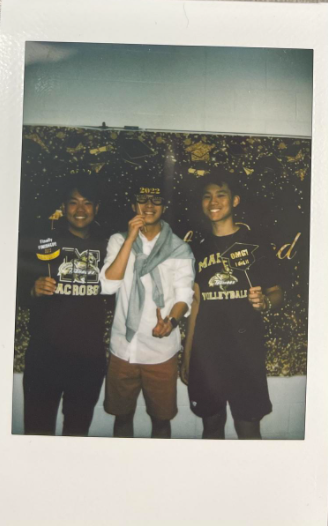 "It's adorable what they're doing right now…I love seeing everyone," Senior Aiden Thompson added.
While students met with one another, others also expressed their appreciation for the other activities and treats provided.
"I think this is really nice of them, so nice for them to provide snacks and they're also buying pizza so like, let's go!" Stated Senior Gary Luo.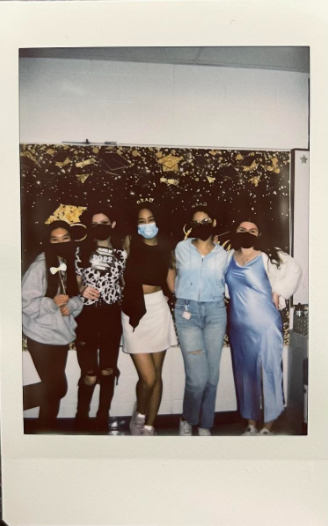 "The picture station is great! I've loved taking polaroids with all of my friends, it's a great way to capture these last few memories we are making together before we all part our ways in two weeks," expressed Senior Sammi Nie
Many students were huddled over the letter station, Machado thought it was "really cool."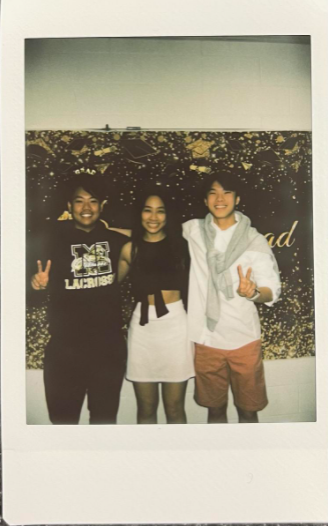 "I feel like life can be really busy sometimes so you never really have time to sit down and think about what you want for yourself as a person for your future. Like whether it's for your education or just wellness-wise, so I think it's just really cool that you can just sit down and like think about what you want to do," said Machado. 
With the seniors graduation approaching, their gratitude was extended to the college and career center counselors for putting on one last celebration for the Class of 2022.