After the fanbase waited patiently, Netflix released part one of Stranger Things Season Four on May 27th, 2022, and part two on July 1st, 2022. The season's official title was Every Ending Has a Beginning: Stranger Things Season Four. The new season was one of the biggest projects the Stranger Things crew has worked on so far, consisting of nine episodes, with each exceeding one hour in length.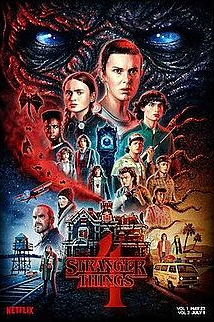 In part one of season four, the gang finds themselves against a new and even more powerful monster that goes by the name of Vecna [vek-nah], yet another character originating from the fantasy role-playing game: Dungeons & Dragons. Like other names that appear in the show from the game such as the Demogorgon and The Mind Flayer. While they fight with the latest threat from the upside-down they go deeper into the true history of the upside-down and its originality.
Fans will have to wait even longer for part two of Stranger Things which was originally supposed to be released in June but got moved to July instead. Out of the nine episodes, part two consists of only two episodes. Though both are said to be abnormally long, especially episode nine, which will end up being two and a half hours in length.
It is still unclear when the fifth and final season of Stranger Things will be released but the Duffer brothers, the creators of the show promised that the wait will not be as long as the wait for season four which took nearly three years.