Mack Keating also contributed to this article.
Malden High School's Class of 2025 recently hosted a homecoming for the first time in the school's history. The class officers set a theme for each day of the week with matching fundraisers and clothing challenges. The week culminated with a homecoming dance on Friday, October 7th.
The first day of the homecoming week was Flannel Day on Monday, October 3rd. Class Advisor Leanne DeRosa encouraged students to put on their "favorite fall flannel for maximum comfort and spirit." Before the school day began, the council raised money by selling fall treats including caramel apples and apple cider.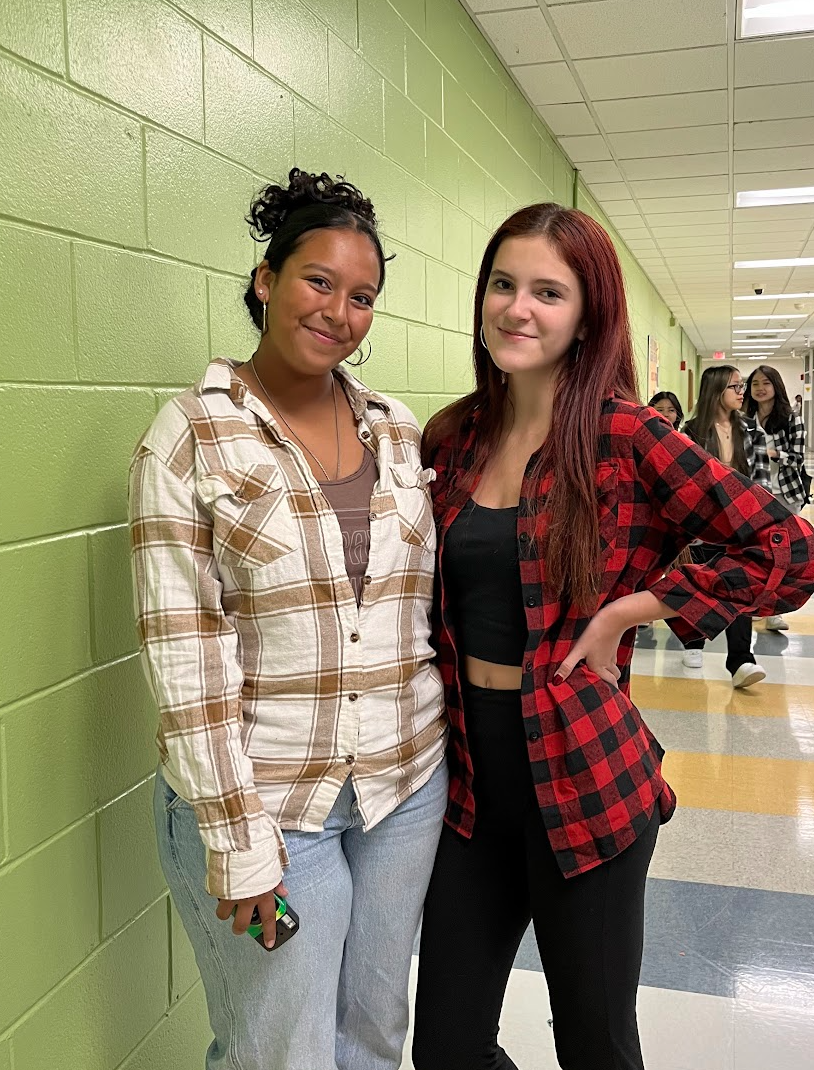 The next day was Character Day: students dressed up in costumes of their favorite entertainment icons. A large variety of costumes were worn, ranging from Daphne and Velma to Stitch to Ted (photos submitted below). On their way out, ramen was available to students for just $2.
Wednesday was Blackout Day. This day had the largest turnout of participants, with the hallways a flood of black. Chocolate and chocolate products were available for purchase at the Blackout Bake Sale after school. It was so popular that it sold out after ten minutes.
Students and staff participating in Blackout Day. Photos submitted.
The penultimate day of the week, Thursday, was Blue and Gold Day. DeRosa told students to show "school spirit with all blue and gold or Golden Tornado gear!" Pom-poms, hats, and scarves were sold during the school day in preparation for the evening's football game between the Golden Tornados and Lynn Classical Rams. A tailgate was hosted for two hours before the game started and offered hotdogs, hamburgers, and soda. Students were provided tickets to the game, which Malden lost 22-6, in addition to their tailgate ticket.
Finally, Art Day came around on Friday. As the name suggests, there were endless possibilities for students to express their creativity. Some dressed up as their favorite artists, while others showed off their makeup skills. As it was an early release day, students left the building at 11:00 to prepare for the dance later that night.
Students and staff participating in Art Day. Photos submitted.
Class President Lovely Anne Gerochi explained that the council put a good amount of effort into deciding on themes for each day, even polling the students about the process. She emphasized the goal of making the themes accessible so people can "participate without having to go out and buy new things every day." Although the group tried their best to include student input on the themes, they still met some backlash. "People did disagree with some ideas, but we also had people agree with our decisions," she noted.
Ms. DeRosa supported the council's strategy. "The officers did a great job of picking themes that most of the student body could participate in rather than specific themes that specific students wanted." She said that the overall goal was to allow everyone to "celebrate the spirit of the blue and gold and Golden Tornadoes throughout the week."
Malden High School Principal Christopher Mastrangelo described the week as, simply put, "awesome." While he expressed concern about drama relating to homecoming court campaigning, he was pleased by the event. "We have never had anything like it," he mentioned. "It will pump some school spirit back into this building."
With exciting new ideas coming to the school, the Class of 2025 is ready to find success in the new school year.