The Class of 2023 sweatshirts were released on December 8th; their colors are blue, yellow, and white. The sweatshirts were designed by Michael Lightbody, a social science teacher. Seniors were able to put their signature on the sweatshirt design that week (December 12th-16th) during lunchtime, or in Lightbody's classroom, Br462.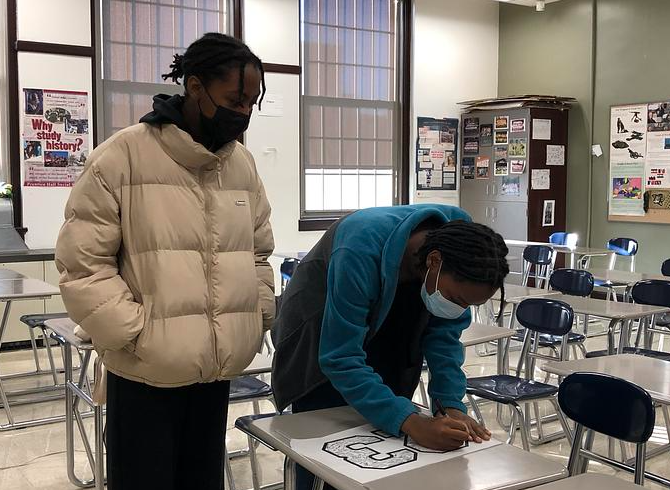 Lightbody expressed they had great success during that lunchtime. "I think students are finding the process fun trying to fit their names in as the template gets full," Lightbody said.
In Lightbody's view, he thinks that "the sweatshirt is kind of a right of passage for students leaving Malden High School or even the middle schools…They are a fun reminder of their time there."
Speaking of the process of sweatshirts, Lightbody went with the senior leadership's design and input the design and font from the class officers. For the printing, Lightbody said, "We use the Universal Print Shop in Everett. They have been making these shirts for years and for all surrounding high schools, and they are the same quality as the Fenway shirts the athletic office used. So, it was a no-brainer to see them for their expertise in making these shirts."
Lightbody thinks that the most satisfying part is the Nedlam head with the graduation hat. "I hope the seniors will get one of these shirts, not only because they are a great reminder of their time here, but it is really a great sweatshirt and should last for quite some time," Lightbody said.
The Class of 2023 sweatshirts got a lot of attention after it came out. It is not just a sweatshirt, it could be the commemorative clothing that represents a certain time. It could also be warm.