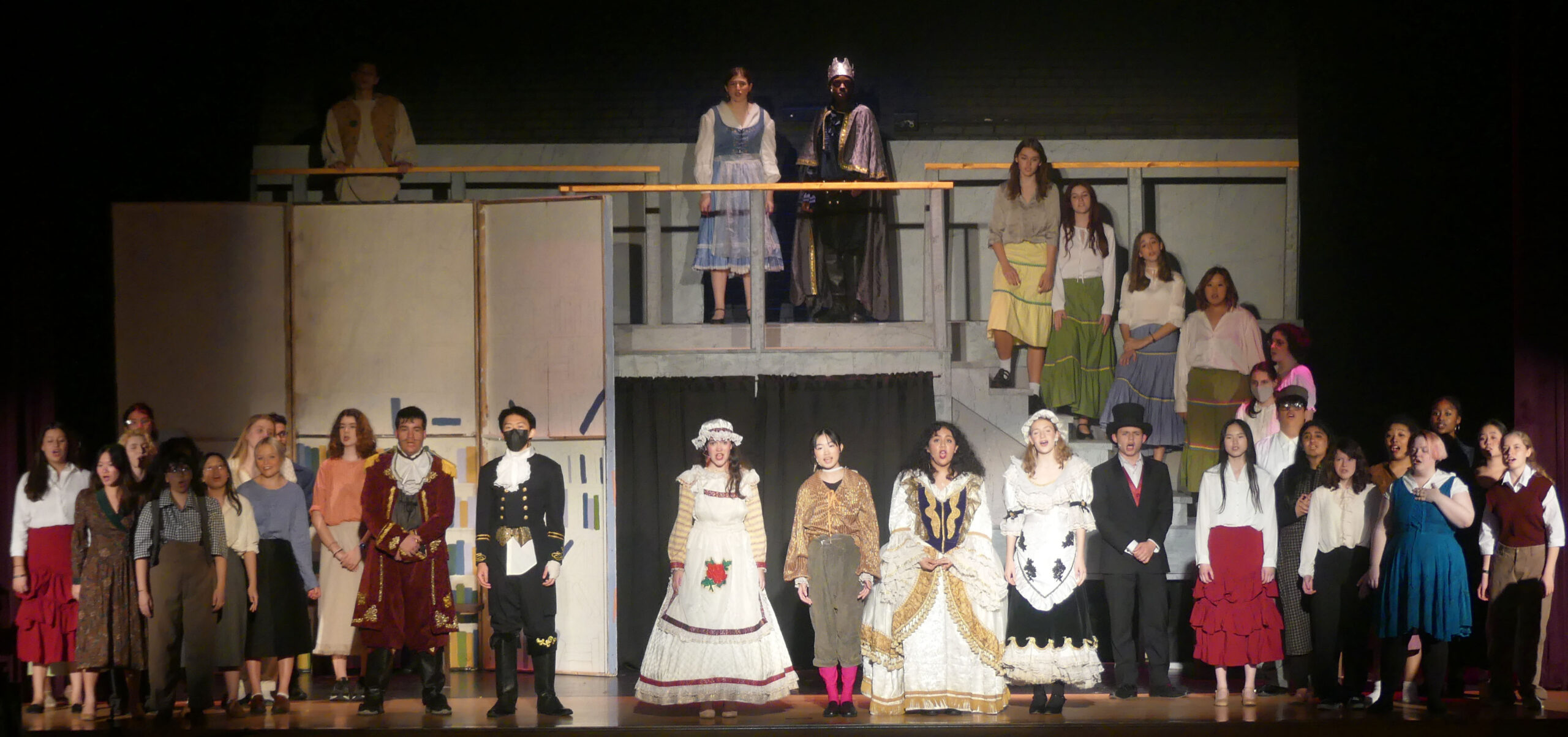 Malden High's Play Production recently performed their fall production of the famous Disney musical "Beauty and the Beast." It was their first production of the school year, and in total, three shows were performed; one was on opening night, November 18th, and the other two were on Saturday, November 19th. 
Leanne DeRosa, one of the Play Production teachers, exclaimed she was "shocked and grateful at the opening night audience [with] nearly 700 people there!" adding that she "couldn't believe it! The praise for the students and their work is always welcomed and appreciated." 
There was definitely praise for the cast and crew members who had been working since the beginning of the school year as well. Audience members were blown away by the production, commenting on everyone's well-done costumes and the quality of the show!
In the end, everyone seemed to leave the auditorium with big smiles on their faces while discussing who their favorite characters were. 
One audience member shared that "their favorite character was definitely Cogsworth. He was really funny," and that they "really loved his costume and his acting even more!" Other audience members seemed to be unable to "choose a favorite character because everyone was so amazing!" 
The intricate costumes seemed to be a fan favorite throughout the night. Everyone seemed blown away. This was also an experience for senior Mikayla Wilson, who was in charge of costumes and saw the rented costumes only a few days before opening night. For her, "the most enjoyable part was seeing costumes for the first time."
More work on costumes also had to be done backstage. Wilson had to help with all of the quick costume changes happening backstage, specifically with the main characters. Penelope Buckingham, who played Belle, expressed her gratitude when she stated that she struggled with the quick changes and that the crew in costumes "had everything ready, and saved the day," explaining that they were always "waiting to help us in and out of costumes in the 30 seconds that we had to change five layers."
At one point Cogsworth even had a wardrobe malfunction. Wilson commented on how the "wrench at the back of Cogsworth's costume got stuck" and could not be removed, but, overall, she described the opening night as "liberating" adding that she felt a sense of "accomplishment"
The Technical Director Kayla Morello explained that "everything happens as you go along. So certain things were done before others, [and] certain things weren't done until opening night. Sometimes things take a while to get off the ground, especially when it's people who are brand new to this doing it for the first time."
Morello also commented on being blown away by the sheer amount of people who came: "the amount of people who walked out of that theater saying that it was the coolest thing they've seen, that they were so excited—the response was overwhelming and so amazing."
Penelope Buckingham also enjoyed "the [high] energy [that came] from the crowd" and how "it was so fun to hear people's live reactions to things that we had been working on for so long… everyone was so energetic and VERY vocal about how they felt, and it was so fun to play off such a high energy audience."
Junior Brenda Vivas and sophomore Lovely Gerochi, both crew members in charge of scenic art, also felt as if the response was overwhelming. Gerochi felt as if it was "nerve-racking and scary," but in the end, they both agreed that as the show went on, "everything went according to plan" and they were "able to relax more." 
Mrs. Potts, a crowd favorite besides Belle and the Beast was performed by sophomore Natalie Keating. She described the role as "exciting" and "fun" since it wasn't the type of role she usually gets cast in, and although it was a challenge, it was ultimately a pleasure to try.
Keating further elaborated on this, explaining that "trying to portray Mrs. Potts' age" was challenging. Mrs. Potts is "a grown woman, a bit more on the older side, and I'm obviously a teenager, figuring out how to act much older than my age without overdoing it [was hard]." However, for a seasoned actor like Natalie who has done eight shows with the Greater Boston Stage Company in Stoneham, she felt the happiest and the most herself when performing.

However, Keating also explained that "opening night was a little stressful for people in the cast" who had never performed before, "so there was a lot of nervousness going around."
Rest assured, DeRosa thought that "it was one of the biggest undertakings" she has done in her directing career and "couldn't have asked for harder working students or a better adult creative team to work with."
Most important in the end was that all of the creators and the crew were able to achieve a sense of community—which DeRosa has stressed—and were able to pull off their first production of the year. This is clear from how the audience loved the show and wanted to see more afterward, which we can all look forward to in March when the Play Production competes in the Massachusetts Educational Theatre Guild's Drama Festival. This will be completely student-led work, and after that, there will be the spring play whose title will release soon.