Beatriz Oliveira, Daniel O'Toole, and Jessica Li also contributed to this article.
The boys volleyball team has had their ups and downs this season but were determined to step it up. They played Somerville earlier in the season which ended in a 3-1 victory. Malden made sure this rematch against them played out the same way as they wiped the court with a 3-0 score.
The first set was a quick sweep while the second and third were more head to head with a back and forth from both sides. Both teams had their slip ups and miscommunications which kept the tension high but in the end Malden took the victory.
This redemption from Malden gave the players time to reflect on the season so far and how both of the games went in general. "We played them earlier in the year and they took the set from us. They have a lot of young talent and we knew that today was going to be a challenge and we had to come out and play and we did that. We got a three nothing win which is exactly what we wanted," explained volleyball coach Daniel Jurkowski.
Timothy Du also commented, "we lost a set to them because we were lousy and we did not put in as much effort as we could have or play the best we could have."
Senior Kevin Lin said, "everyone played really well and there were a few downs but I believe that there were more ups than downs. Everybody got to play and everybody played well and I am really proud of them for that."
Through their victories and losses this could lead people to wonder how they keep motivated. To stay motivated throughout games and practice they use their "desire to keep getting better and to make sure that the state knows that Malden is still a volleyball school," described Lin.
He added, "everyone wants to be just as good as last year's team and everyone is motivated to try their best to improve everyday. I think the seniors have also motivated a lot of people as many of us were on the team last year which ended in a 19-1 and ranked #12 in the state. We want to be just as good as last year and no matter the results we want to be satisfied and feel proud of what we have done."
The team also feels as though they have advanced as Senior Jason Li said, "the team is doing and playing together up to the expectations we have set for ourselves. Being a team that other people fear is an accomplishment of itself. Even though we lack the strength of last year's team, a lot of us and a bunch of new guys have stepped up to fill in the roles that are needed."
As they speak of their advances they think they still need to "improve in some parts like communication and teamwork when we play our games and not playing down to our competition. We get too cocky when we go against a team that we know is not as good as us and we tend to play down to them," explained Du. Jurkwoski added that "the team has struggled with that recently with missing too many serves and giving the team free points."
As the seniors' high school days are coming to an end they want to be better than ever and finish off their years work on a good note. They want to make an impression on the JV team and even the younger players on varsity to keep them motivated to only improve further and never give up.
Overall the Golden Tornadoes Volleyball team has had an extremely successful season and plan to continue overcoming their competition, and improve as they keep moving up in the league. They hope to continue to inspire those who watch from the bleachers and even those who play on the court.
"I believe our team still has the same level of competitiveness and everyone is still very close like a family from last year. I realized that no matter what team I play for, as long as it's for Malden, everyone is like a family," expressed Lin.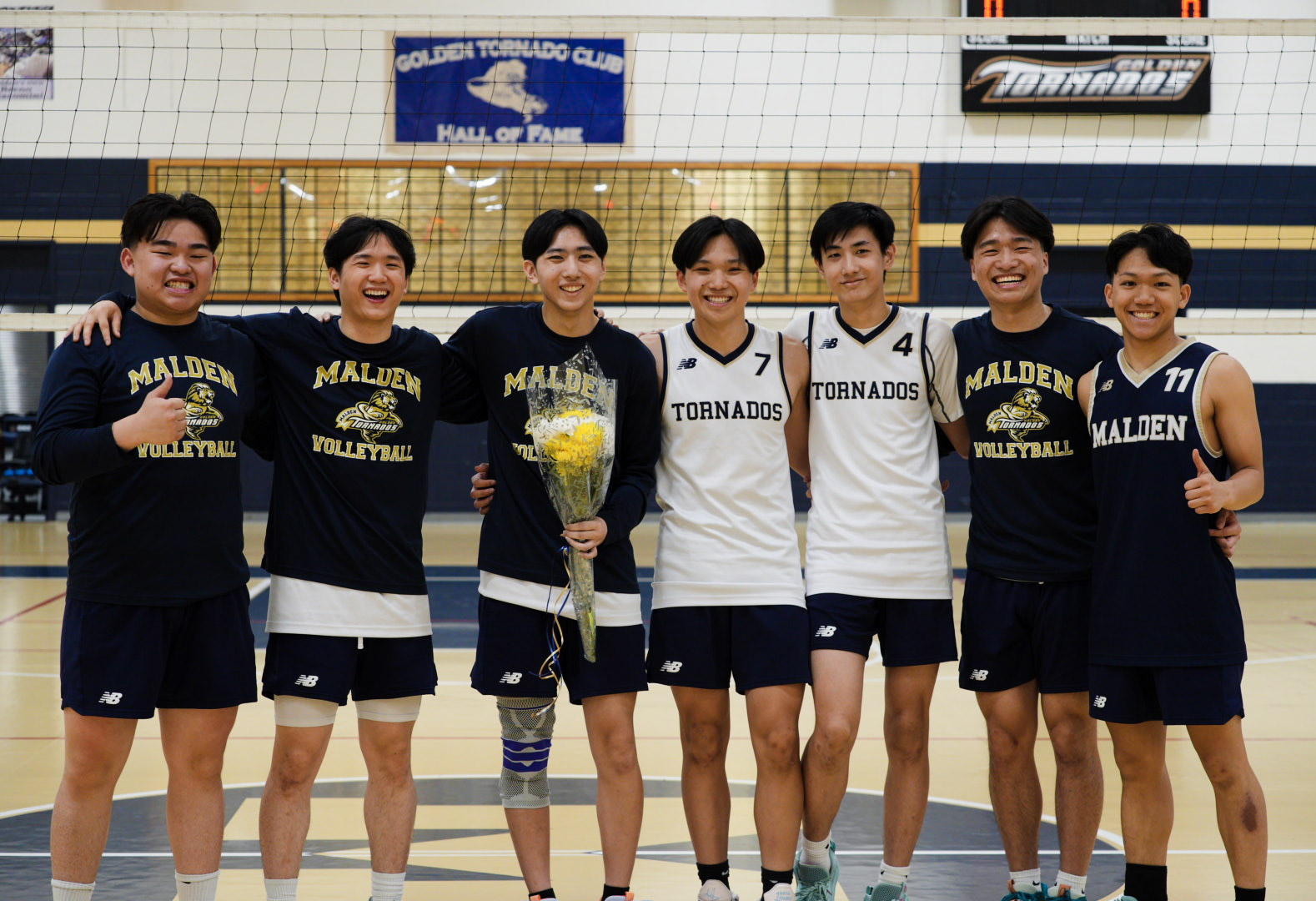 Left to right: seniors Timothy Du, Aiden Tham, Eric Mei, Jason Li, sophomore Edward Mei, seniors Kevin Lin and Kyle Lee posing for a photo. JESSICA LI
On the team's senior night, several players expressed their opinions on the season. Li commented, "I think our team has chemistry—we definitely have one of the best chemistry in the league as a team; everyone is close to each other on and off the court—great friends, like a big family."
For many, this will be their last time playing professional volleyball. Du, being one of them, maintains high hopes for the future of the program. Du believes the team is in good hands because "we all built a family here and then everyone's just going to continue our legacy as they go on."
Lin echoed this sentiment: "Everyone's super close to each other and make jokes with each other. Everyone's willing to help each other. And I think that's what's so good about us."
Coach Jurkowski also concluded the season on a happy note. "I've known a couple of these seniors since they were in eighth grade. So it's been kind of a wild ride, but I'm super proud of how they've become," he reflected.
He continued, "I'm just super happy for them. They're going to college next year and the things they've done in school and the community has been pretty great to see. So, it's been fun to watch them grow."
The team concluded senior night with a 3-0 victory over Medford, finishing 14-6. Having ranked 28th in Division 1 and qualifying for the MIAA tournament, the team looks to capitalize on their season and make a solid run towards a state championship, enjoying the last moments of being part of the Malden Boys Volleyball team.