The classic DC comic book hero, Blue Beetle, takes the screens by flight with a new Warner Bros movie about the symbiote-like Blue Egyptian Scarab and its host Jaime Reyes.
The Malden Public Library decided to host a Movie Night on the film starring well-known actors and artists such as Cobra Kai's Xolo Maridueña, pop artist Becky G, and actor George Lopez. The film was released in theaters on August 18, 2023, with a budget of over $103 million. The film is rated PG-13 and the Malden Public Library invited young adults grades 6-12. This action-packed film has fans patiently awaiting a second film as the movie's cliffhanger has them questioning whether a second movie is due or not.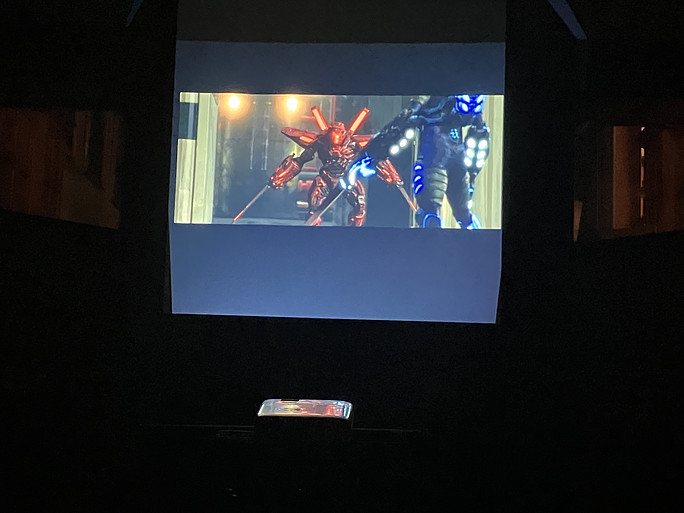 The screening took place in the Maccario room, as have past movie nights, and was hosted and coordinated by Patrick Brennan. "The movie nights don't take long to plan, DVD releases change so it's hard to plan them very far in advance," stated Brennan.
Blue Beetle portrays the superhero and villain films that DC Comics is known for. When Jamie Reyes comes across the Blue Egyptian Scarab it chose him to be its host. Like a symbiote, Jamie becomes the superhero fans know and love, Blue Beetle. Jamie also had the support of his family. This film shows how important family can be to people and how far people are willing to go and to protect the ones they care about.
For the duration of the movie, the audience found themselves chuckling through funny moments and commentary that younger kids who attended the movie enjoyed. When it comes to what genre of movies bring in a bigger crowd, "it really depends on how popular the movie was. The more popular films that people have already seen people tend not to come in but animated and superhero films seem to be a favorite," stated Brennan.
When hosting movie nights, the Malden Public Library wishes to bring in a crowd. Some ways they promote movie nights are through their social media accounts such as X and Instagram, or in person at the MHS library and the Malden Public Library, where they post events that are happening in the library and with posters and boards placed across the library.
With another successful movie night, Malden's teens/youth are patiently waiting for the next event to be announced.