Driving up Route 1 Northbound on Friday night, one might have seen two lines out the doors at Dave's Hot Chicken. The fast-casual restaurant chain celebrated its grand opening in Saugus with a bang, inviting New England Patriots players Marcus Jones and Ja'Whaun Bentley in for a meet-and-greet.
Rick Soltes, the restaurant's director of training, was extremely excited about the turnout. "We had so many people coming out here [for an autograph]. If they want one, I just need a review or a slider," he chuckled.
In 2017, the first Dave's Hot Chicken opened in Los Angeles, CA. Since then, the chain has opened up over 100 locations in four different countries across the globe. An industry research firm "Technomic" named it 'America's Fastest Growing Restaurant Chain."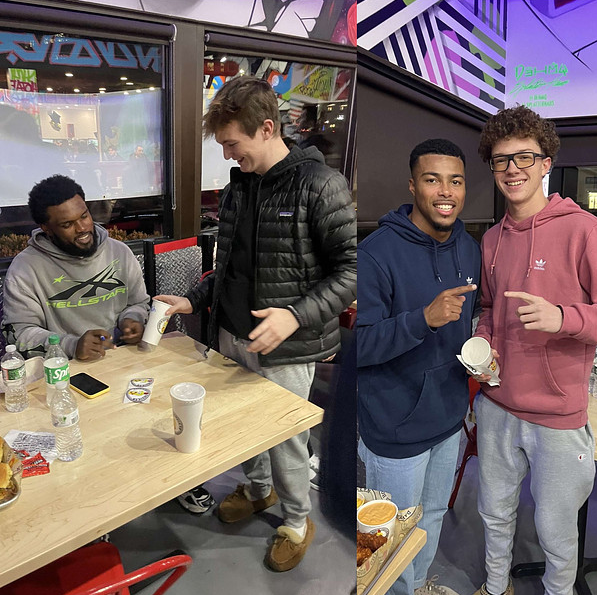 "Just based on this grand opening, you can see how much this means to people," Bentley explained. "I'm just glad I had the opportunity to chip my face in and play a part in all of this." The 27-year-old has emerged as one of the top linebackers for the solid Patriot defense over the past few years.
The menu is straightforward, offering just four different meals consisting of only tenders and sliders. There is a two-slider, two-tender, slider & tender, and single-slider combo. All are served with fries, but they offer a few other sides including mac & cheese, kale slaw, and cheese fries.
With such limited options, how are they so successful? Not only does the restaurant serve high-quality chicken, but they also offer seven different "heat" options. This allows customers to decide how hot they want their chicken to be. The seven choices are: no spice, lite mild, mild, medium, hot, extra hot, and reaper. The reaper spice is made with one of the hottest chili peppers in the world, the Carolina Reaper, and even requires a waiver to order.
So, fans of chicken and the Patriots flocked to the restaurant to get a taste of the excellent food and meet two football players while they were at it. There were two lines flowing into the parking lot, one for the food and one for the meet and greet. While customers waited to get an autograph or a picture with Jones and Bentley, restaurant staff came out and took their order, even offering a free milkshake to buyers who reviewed them highly.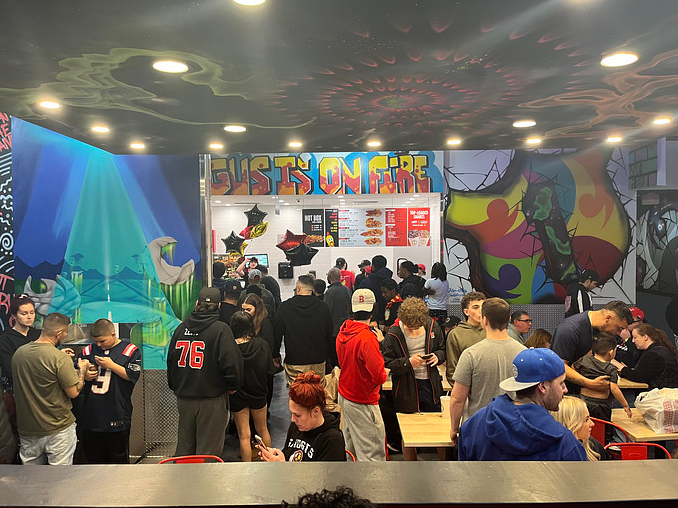 "I'm just happy that Dave's Hot Chicken is coming out here. It's just good food and a great community," Jones expressed. "I'm glad to be here and be a part of this opening." The young cornerback was named first-team all-pro with New England last season as a punt returner but will be on the sidelines for the remainder of this year with a torn labrum.
Four-time Pro Bowl linebacker Matthew Judon was planning on attending but had issues with travel. To make it up, he decided to come the next day for a meet-and-greet with influencer Marc Lewis, who also attended on Friday. This brought in another huge wave of buyers that allowed the chain to thrive for a second consecutive day.
Soltes and Bentley both described the sliders as "fire", with Soltes being a big fan of the medium spice with cheese. Jones also noted that the "fries were bangin'" and to "make sure you get the sauce."
It could not have been a better start for the business, looking lively as ever within those first two days. The genius idea to bring in a few Patriot defensive stars paid dividends and brought in hundreds if not a thousand customers to help support the newest Route 1 attraction. If they continue to bring in the chicken lovers, it is safe to say that Dave's Hot Chicken will be around in Saugus for a long time.