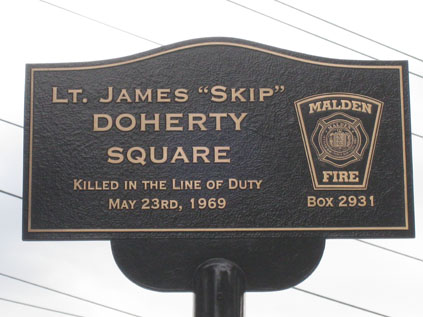 On Oct. 10, 2014,  the city of Malden dedicated the intersection of Highland Avenue and Pleasant Street to Lieutenant James "Skip" Doherty, the last Malden fireman to perish in the line of duty.
Lt. Doherty was responding to a fire alarm at the Malden Hospital in the open cab of Ladder 3, when at  the intersection of Highland and Pleasant, a collision occurred between his truck and the Deputy Chief's car, leading to his death.
The dedication took place at 2:30 pm, the time of his death, at that intersection. Fire Chief Jack Colangeli "felt it was long overdue for us to recognize one of our own who died in the line of duty," but that the ceremony "went extremely well with a large turnout," transcending the span of 49 years that separated Doherty's death and his memorial.
Chief Colangeli and members of the Malden Fire and Police Departments were joined by local Maldonians as well as Mayor Gary Christenson, former Fire Chief John Garrity, and Commissioner Tom Denehy. Medford, Everett, Revere and Saugus firefighters were also in attendance. Flanked by the Malden Fire and Police Honor Guards, Chief Colangeli addressed the crowd, followed by remarks from Mayor Christenson, Commissioner Denehy, and former Chief Garrity, with Garrity remarking that "it was one of the saddest days of [his] life." As the ceremony approached its end, a gleaming plaque was revealed to the crowd adorned with the Malden Fire Department crest, Lt. Doherty's name, and the date of his death.
While Lt. Doherty's plaque will remain a reminder of his death and life for years to come, it will also serve as a testament to the standards and practices of the Malden Fire Department.
Riding in an open cab and likely without any of the safety measures taken today such as wearing a seatbelt, his life was in danger to begin with compared to what is faced en route today. Improved communication and navigation systems allow "firefighters [to] know which routes fire apparatus are responding to from an emergency call," commented Chief Colangeli, preventing the sorts of collisions that Lt. Doherty was involved in and protecting the lives of the brave men and women who serve to protect ours.
For people walking by the green grass and dignified patina of that intersection and memorial in years to come, they may not know of the history behind that place or the man who died there, but today, everyone remembers the name and the sacrifice made that sunny afternoon in May of 1969.